Parker Tube Fittings with Superior Plating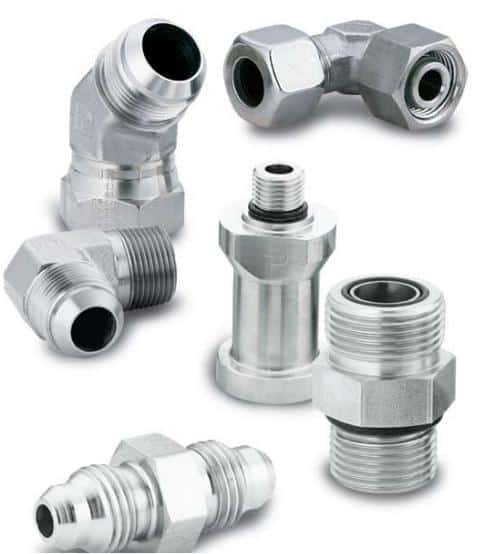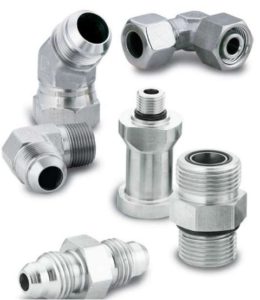 Prevent the ravages of red rust longer – tube fittings with Parker Superior Plating have unrivaled corrosion and rust protection.  See for yourself in the salt spray photo above.  At 480 hours with no red rust formation, the Parker fittings far exceed the 96 hour SAE requirement and resist red rust formation many times longer than the competition.
The Extensive Cost of Corrosion
Tube fittings aren't typically replaced at the first sign of corrosion, however the cost of ownership begins to increase at this point because adjacent components begin to corrode at an accelerated rate. Consequently, corrosion resistance on fittings and adapters can be considered either a long-term investment or shor-term price decision.
Corrosion can migrate to hydraulic hoses and even to costly hydraulic components.  The cost implications of fitting corrosion with mobile equipment or industrial user can loom large if left ignored.   Consider this Scenario: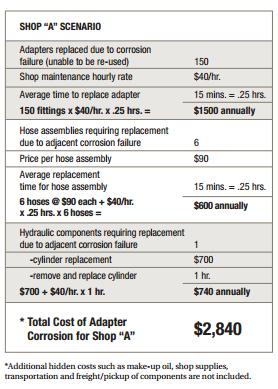 The cost of corrosion accounted for $276 Billion per year.  Yes, B as in Billion! Do You Fit in one of these Categories?

Red Rust Deterioration of Fittings can cause:
system contamination
potential leaks
fitting connection problems
aesthetic quality concerns from end user
maintenance difficulty
improper function of adjacent components (valves, pumps, cylinders)
accelerated corrosion of adjacent components
Talk to a specialist with our Hose & Fittings Group to see how you can prevent red rust in your application.  877.813.4245