Material Handling Equipment
Helping build your machines to be efficient, reliable and intelligent
The market for material handling equipment is expanding faster than ever and the machines that are built for it need to be more efficient, reliable and intelligent in order to compete.  Whether you're building forklifts, scissor lifts, industrial trucks or cranes, Cross Company works with the most advanced technologies to optimize your machine.  We can provide hydraulic system design, control system design, control panel design and build, electrification, IoT and many other services. 
Our Hose and Fittings stores also have a full range of hydraulic hose assemblies, adapters and quick disconnects, as well as over the steave hose for forklifts.  Our precision measurement division, J.A. King, can calibrate much of the measurement equipment used in manufacturing, including torque wrenches, hard gaging, calipers, scales and more.  We also offer forklift truck scales from several manufacturers which turn the lift truck into a mobile scale.
Increase efficiency: Maximize your customers' uptime and minimize their downtime by using high quality parts, hoses, fittings and engineering services
Improve innovation: Our engineers keep up with the latest technologies in the mobile market,  including IoT, electrification and hybridization.
Improve your manufacturing efficiency with standardization: Streamline your product and service parts by standardizing across machines.
Improve the quality of movement with finer controls and more precise handling
Reduce the risk of repetitive stress lost time with operator-friendly ergonomic design
A range of expertise for material handling equipment manufacturers
Manufacturers of material handling equipment need a supplier who understands the complexities of mobile equipment. We offer a range of products and services tailored for mobile equipment manufacturers. Take a look at each below: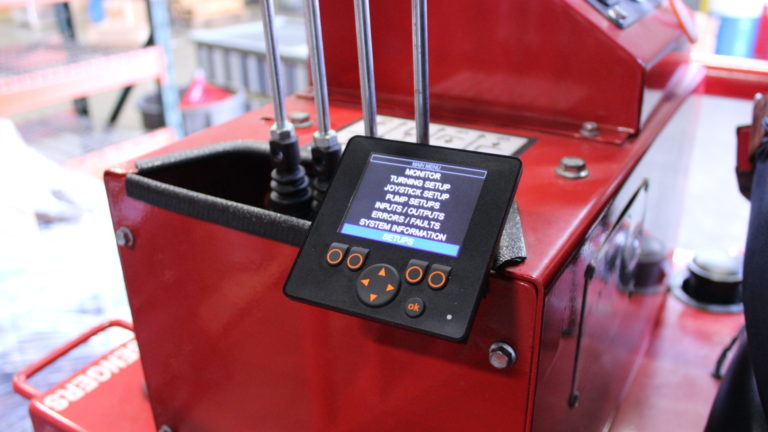 Products for material handling equipment manufacturers
High quality products for harsh environments that are perfectly spec'd for your application
Services for the material handling equipment industry
We get you up and running fast and help support you in every part of the paper industry life cycle.
Resources for the Material Handling Equipment Industry
Take a look at all the material handling equipment industry resources from the experts at Cross.
Things to Consider When Choosing a Controller for Mobile Equipment What is the best control platform for your mobile machine? For some markets and machines, simple relay logic could be the best. It is easy to troubleshoot, and most people understand this technology. However, this limits your ability to control…
Technical Guide: Hydraulic Steering 101 for Off-Road Vehicles Lynn Charlson, self-taught inventor, designer, and mechanical genius, was a pioneer in the field of hydraulic power, and founder of the Char-Lynn Company in 1942. Back in the 60's and 70's, low-speed high-torque motors and steering valves were referred to simply as…
Technical Guide: How to Identify Flange Fittings One of the challenges for a hose user is how to identify the fitting on the end of your hydraulic hose. This particular style of fitting is referred to as a Flange Head Style Fitting.  The most common sizes range from 1/2 inch…
Technical Guide: The Hose Selection Process – S.T.A.M.P.E.D. The S.T.A.M.P.E.D. acronym is an industry-wide standard that should begin every conversation when replacing an existing hose, or selecting a hose for a new application. The easy to remember acronym stands for Size, Temperature, Application, Material/Media, Pressure, Ends, Delivery. Size In a…
See how our team can help improve quality, increase efficiency, and reduce risk