Equipment Safety Programs and Training
Have a hose, fluid connector or tube or hose fabrication question? Don't hesitate to call Cross Hose and Fittings. With over 50 years of experience, a Cross employee-owner can help you answer your question. From hose routing tips and troubleshooting to critical safety procedures, a Cross Certified Fluid Connector Specialist can assist you anytime, anywhere.
Safety is a crucial aspect of manufacturing, so it's something we take very seriously. Don't risk improper equipment handling and subsequent potential injury. We'll train you and your staff in proper (and safe) hose fabrication techniques and equipment handling best practices.
Interested in learning more about our hose and fitting training and safety? Contact a Cross team member today to discuss your application in detail and see how our services can benefit your operation!
Through the Parker SafetyWorks program, Cross is committed to helping our customer personnel learn, understand, and follow safety practices.
From hose routing tips and troubleshooting to critical safety procedures, a Cross hose and fitting certified fluid connector specialist can offer your team training at your convenience.
We'll keep you and your team up to date on best practices for hose fabrication, equipment handling, and hose repairs.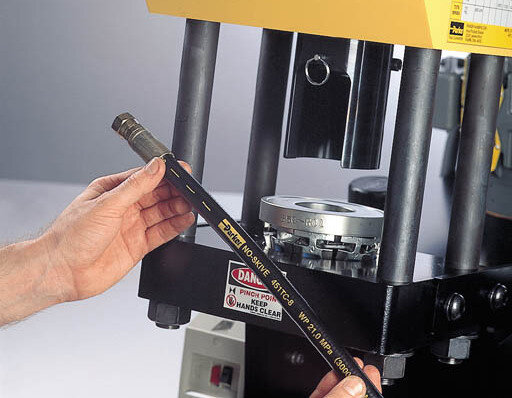 Safety Training Seminars And Services
The Parker SafetyWorks program is part of Cross's commitment to helping people in all types of jobs to learn, understand and follow safe hose assembly and installation practices. Pressurized fluids are often used to perform in working hydraulic, pneumatic and material-transport systems.
A failure in a fluid system can result in property damage, personal injury or even death. As a result, it is critical to follow safe practices in assembling and working with pressurized systems and their components.
Your safety is important to us. That's why at Cross, we'll work directly with you so we understand your unique needs, specifications, and end-use requirements. That way we can recommend and provide the safety training that you need. Reduce your liability, increase your safety, and improve your overall production with Cross Hose and Fittings safety training tailored specifically for your operation.
Frequently Asked Questions
Safety training for hose assembly equipment is a valuable service that can save you, your employees, and your business from work stoppage, accidents, liabilities, or even death. When working with hydraulic equipment, safety is absolutely necessary. Protect yourself and your employees from on-site accidents or worse.
Cross Hose and Fittings safety training is designed to teach proper use of hose crimpers, best/safest methods for hose routing, and safe practices for working with pneumatic, hydraulic, or material-handling systems. We can offer it on-site or in-store depending on your location and preferences.
The most important thing to us at Cross Hose and Fittings is the safety and success of our customers. That's why we began offering safety training for hose fabrication equipment as well as on-site best practices for hose safety. Contact Cross today to schedule safety training or to speak with one of our hose experts.
Get The Hose You Need Today
Avoid downtime and get the hose you need today. Visit one of our locations for hose fabrication and repair while you wait. Or shop online and get the hose you need delivered directly to you.
Learn More
Why Cross Hose and Fittings?
At Cross Hose and Fittings, the most important thing to us is the success of our customers. We want to provide you with the custom hose fabrication, hose fabrication tool rental, hose repair, or other service you need to succeed.
When a hose is leaking or a fitting isn't right, a whole project can come to a halt.
That's something we're always looking to avoid. Get your project up and running with a custom hose or tube assembly from Cross Hose and Fittings.
If you're in need of exceptional hose and fittings services from factory-trained hose experts, come by Cross Hose and Fittings. Our hose stores in North Carolina will get you fixed up and ready to go.
See how our hose and fittings team can help improve quality, increase efficiency, and reduce risk