Hard working equipment needs high quality products and services
Municipalities have a variety of equipment to keep them running, from street sweepers to waste collection vehicles to snow plows.  However, all share one common characteristic: you want them out working, not in the garage being worked on.  Whether you are building machines for municipal markets or you're a municipality running them, Cross Company provides the products and services you need to make sure your equipment is up, running and working more efficiently than ever!
Cross Company also has a complete product and service offering for water and wastewater operations.  Please visit our water and wastewater industry page to find out more.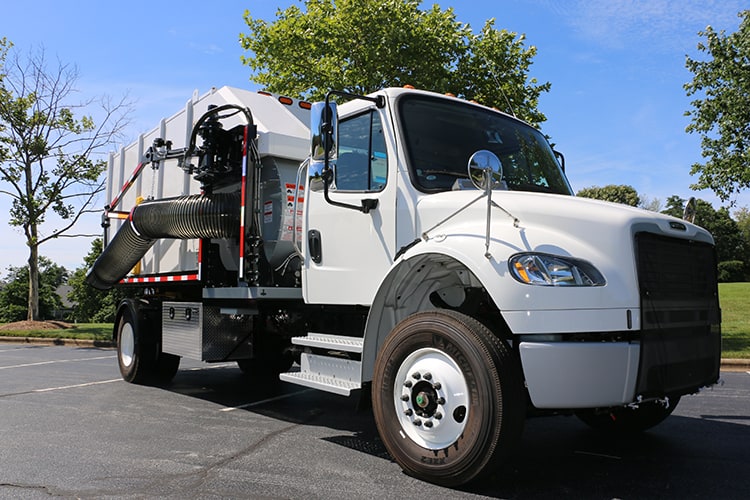 For Municipalities
Increase efficiency and equipment utilization by having your machines out working, not being worked on in the garage.  And if they are in the shop, get them back up and running faster with Cross!
Reduce the risk of a breakdown by using high quality parts and factory-quality hose assemblies
For Municipal Machine Builders
Improve your profitability by driving machine sales, resulting in higher market share and possibly higher margins per machine
Reduce the risk of machine breakdowns with less plumbing or wiring which require less maintenance
A range of expertise for municipal equipment
No matter what sort of machine you are building or what sort of vehicle you need to keep up and running, Cross Company has a range of products and services to help.  Take a look at each below:
Products for municipal equipment
High quality motors, hoses, fittings and valves which keep your equipment up and running.
Services for municipal equipment
Whether you are running a fleet or building machines for the fleet, we offer a variety of services to make your equipment as efficient as possible.
Complete solutions for municipal equipment
Cross's engineers can help outline, budget, design, execute, and deploy large and small scale mobile machine integration services.
Municipal Equipment Industry Resources
Take a look at these Cross Company resources which are relevant to the municipal equipment industry.
A Guide to Selecting the Right Hydraulic Filter Filtration, whether prioritized or not, is one of the most important components in a hydraulic system and can be the difference in a machine running for 10 years or having expensive component damage within a matter of seconds. Here, we'll lay out…
A Guide to Selecting the Right Hydraulic Motor Selecting the right hydraulic motor for your application may not be as straightforward as you wish it were, but getting it right is critical to the overall performance of your machine. While it is likely that more than one design will work,…
Technical Guide: Hydraulic Steering 101 for Off-Road Vehicles Lynn Charlson, self-taught inventor, designer, and mechanical genius, was a pioneer in the field of hydraulic power, and founder of the Char-Lynn Company in 1942. Back in the 60's and 70's, low-speed high-torque motors and steering valves were referred to simply as…
Reduce Downtime and Repair During Leaf Collection Season Whether you're a local municipality with large leaf vacuum trucks or a homeowner with a consumer grade leaf vacuum machine, Cross Hose & Fittings has the right hose for you. We offer six different types of leaf and lawn collection ducting, made…
Technical Guide: How to Identify Flange Fittings One of the challenges for a hose user is how to identify the fitting on the end of your hydraulic hose. This particular style of fitting is referred to as a Flange Head Style Fitting.  The most common sizes range from 1/2 inch…
Municipal Equipment Industry News and Events
Take a look at all news and events for municipal equipment from our manufacturing partners.


Flexaust Leaf Vacuum Hose As we head into leaf collection season, take a look at this product highlight video for leaf vacuum hose from

Parker Resource Do you know which crimp is needed for your hose? Take a look at the crimp guide from Parker which shows a

Parker Resource In recent years there have been concerns about the permeation of LP Gas through LP Gas hose. While wet or sitting in
See how our team can help improve quality, increase efficiency, and reduce risk