Vendor-Managed Inventory System
Our Vendor Managed Inventory System is designed to save you time and money. By having Cross Hose & Fittings take care of stocking your inventory, your employees won't have to, freeing up their time to tend to more important duties. We can provide bins with descriptive part labels, and will organize your inventory making it easier to locate items.
When we visit, our services include replenishing your stock of hoses, fittings, tubing, and DOT couplings, checking your current inventory levels, drop off any custom orders, discuss any new requirements, and any other hose inventory management your business needs.
Think of Cross as an extension of your own company. We want to get you the inventory you need to succeed. As well supply you with the hose equipment your application needs. When you succeed, we succeed.
At Cross Hose and Fittings, we understand that time is money. And that the more time wasted ordering parts, waiting for them to arrive, and installing them (or potentially returning them if they're wrong), the more lost revenue.
Your time is a valuable asset. We want you to be able to focus on you operation and not have to worry about parts or equipment being delivered on time.
Cross Inventory Management allows you to hand over a portion of your operations. Focus on what's important and we'll handle the rest.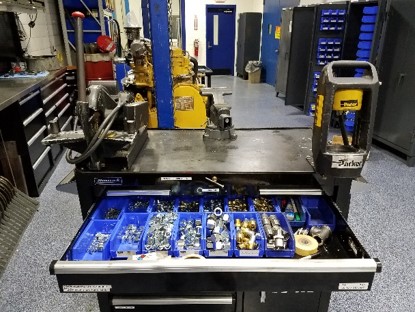 Creating Tangible Value For Your Business
The inventory management program at Cross Hose and Fittings isn't just designed to increase convenience. It also creates tangible value for your business or organization.
Letting Cross manage your inventories increases your overall uptime by allowing you to always have the exact hose, tube, or fitting on hand when you need it. No more trips to the hose store or waiting for a specific part to be shipped. It also saves you time, as everything you need is in your facility and always stocked.
Cross inventory management is also able to reduce your overall costs. More efficient inventory management means less stock on your shelves, which reduces inventory costs. It also reduces the processing costs associated with cutting multiple P.O.'s while cutting the cost associated with overnight part shipping, as you'll have all the inventory you'll need always on hand.
The most important thing to us is the success of our customers and partners. Contact Cross today to see how we can create value and cut costs for your operation.
Frequently Asked Questions
We can manage hose, fittings, tubing, piping, couplings, connectors, and a variety of other hose accessories. The inventory we manage (quantity, products, etc) depends on you and your needs. Our goal is to make sure you're stocked with the hose, fittings, and other supplies your operation needs.
The best way to get started is to contact an expert at Cross Hose and Fittings. We'll evaluate your inventory needs to determine what we can stock and how frequently we can stock it. That way you're always supplied with the hose equipment and inventory you need. Call one of our experts or come by one of our NC hose stores to get started.
There's a reason our customers keep coming back. Between our factory-certified staff, quick fabrication times, and industry-leading partnerships, Cross Hose and Fittings is able to offer high-quality, personalized service tailored to you and your operation. If you're tired of ordering individual parts and waiting for them to arrive, we can help.
Get The Hose You Need Today
Avoid downtime and get the hose you need today. Visit one of our locations for hose fabrication and repair while you wait. Or shop online and get the hose you need delivered directly to you.
Learn More
Why Cross Hose and Fittings?
At Cross Hose and Fittings, the most important thing to us is the success of our customers. We want to provide you with the hose, tubing, fittings, couplings, and other inventory management services you need to succeed.
When a hose is leaking or a fitting isn't right, a whole project can come to a halt.
That's something we're always looking to avoid. Keep your project up and running with a hose and fittings inventory management from Cross Hose and Fittings.
If you're in need of exceptional hose and fittings services from factory-trained hose experts, come by Cross Hose and Fittings. Our hose stores in North Carolina will get you fixed up and ready to go.
See how our hose and fittings team can help improve quality, increase efficiency, and reduce risk