Protect Personnel, Equipment and the Environment with this Innovative Disc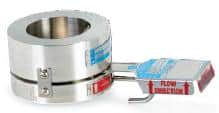 Continental Disc Corporation's (CDC) offers pressure protection various applications in the process industries including chemical, food, beverage, oil & gas, pharmaceutical, biotech, pulp & paper, power and more.  It's one of the most advanced line of rupture discs incorporating proven performance in more than 5 million cycles, operating up to 95% of burst pressure, and offerered in a wide range of burst pressures, materials and sizes.
Reduce Down Time – Lower Maintenance Costs – Increase Productivity

Because of its high performance operating capabilities, range of burst ratings and materials of construction, the HPX Rupture Disc is the ideal product to use in plants where production includes batch processing runs where operating conditions and media may change frequently. The variability of the HPX makes future modifications to specifications easier to incorporate in change control procedures and without piping modifications.
The HPX Rupture Disc can be used in a Wide Range of Applications in Many Different Industries:
Chemical – reactors, heat exchangers, chillers, relief valve isolation
Pharmaceutical – productions vessels, blending and milling vessels
Industrial Gas – process columns and vessels, storage and transportation tanks and trailers
Oil & Gas – distillation columns, separators, coking drums
Versatile & Reliable
Available in various sizes, materials, rating, manufacturing ranges and operating ratios to meet the performance criteria demanded by your application requirements. Designed for use in bolted flange or sanitary clamped installations. Versatile features:
Disc Sizes: HPX: 1″ – 12″; Sanitrx HPX: 1″ – 3″; Sanitrx HPX II – 1.5″ – 4″
Disc Materials: 316 and 316L Stainless Steel, Nickel, MONEL, INCONEL, HASTELLOY C, Tantalum
Burst Pressures: 10 psig to 2000 psig
Manufacturing Range: Zero, -5% and -10%
Operating Ratio: Choice of 90% or 95%
Safety Ratio: 1 to 1 or less. If rupture disc becomes damaged, it will relieve at or below burst temperature
Continental Disc Corporation is a valued supplier-partner with Cross Company's Instrumentation Group