A Gripper for Diverse Applications
SCHUNK is a valued supplier-partner with Cross Company's Automation Group. This article was written by Dr. Markus Klaiber of SCHUNK.
SCHUNK is a leading manufacturer of gripping technologies.  As one of the largest supplier-partners in the US, Cross Company's Automation Group works with customers to apply these products to create unique solutions.  The following article points out some specific solutions that have been successfully applied in various gripping applications.
No other gripper on the market can look back on such a history of success as the PGN-plus from SCHUNK. This is the result of an advanced innovation strategy that continuously enhances time-proven basic components with ultramodern features. The underlying principle can serve as a blueprint for many other technical products.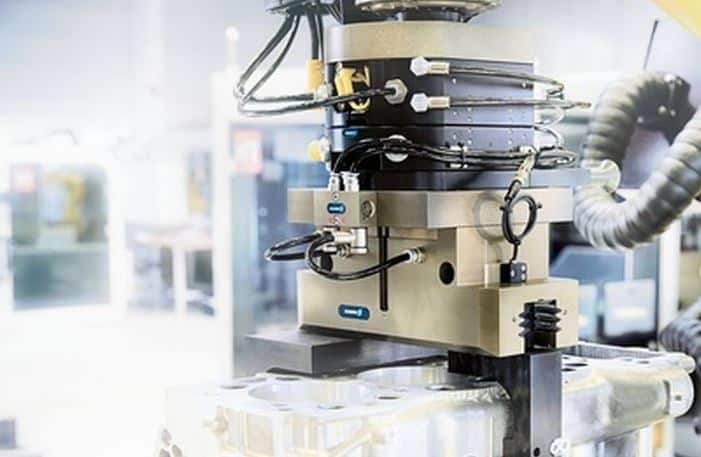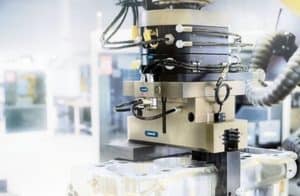 How does a technological innovation become a bestseller? To understand the success story of the PGN-plus we must first look back to the year 2000. At that time, the gripping specialists at SCHUNK recognized that the T-groove guide used up until then represented a significant weak point in conventional grippers. All forces and moments that occur have to be shouldered by two guideways. This resulted in substantial load peaks, which can cause premature wear, lack of precision and even sudden failure of the grippers. The SCHUNK engineers therefore developed a multi-tooth guidance system in which parallel prismatic guides distribute the load more evenly. The stability, precision, and process reliability of the gripper increased significantly. Without overloading the guide, higher gripping forces can be achieved and longer fingers can be used with the same size gripper. This guidance principle guarantees long-term repeat accuracy of 0.01 mm. In addition, an oval piston drive provides for high forces in a small installation space. Compared with conventional round pistons, oval pistons allow much more efficient conversion of the energy into gripping force, which in turn allows the design of very compact and powerful solutions.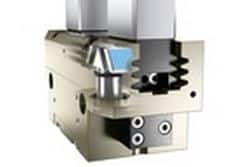 The patent for multi-tooth guidance and the standardization of the first PGN-plus sizes was the start of an unprecedented success story in automation. Instead of being satisfied with one success, the company pressed forward: the goal of CEO Heinz-Dieter Schunk was to continuously seek potentials for improvement with a high priority on development of the product line. This required technical expertise, spirit, and close scrutiny of the market. Over several years the behavior of the grippers in continuous operation was systematically analyzed, customer inquiries were evaluated, and the product line was continuously expanded. Today, users can choose from a unique universal gripper portfolio with eleven sizes, strokes from 25 mm to 45 mm and gripping forces per jaw between 140 N and 21,800 N.
Take Advantage of the Full Potential in Assembly and Handling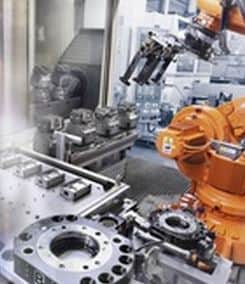 To take advantage of the full potential in assembly and handling, the product line was expanded to include numerous options over the course of several years. Nearly the entire spectrum of conceivable automation applications can now be implemented in reliable processes with the PGN-plus, from machine loading in machining centers and foundries to assembly applications in the automotive and electronics industries and even sensitive handling tasks in the medical and pharmaceutical sectors. The PGN-plus has withstood the test of time in use at high temperatures, in contact with contamination and aggressive media, as well as in cleanrooms and explosive environments. On request, the modules are available with spring safety, mechanical gripping force maintenance, compensation units for compensating angular misalignment, power boosters or as special high-precision versions. Instead of having several isolated applications, users can reduce their coordination costs with the universal modular gripper components.
Broad Line of Options is the Key to Success
Just as impressive is the line of sensors developed by SCHUNK for the PGN-plus over the last few years. Inductive proximity switches signal the state of the gripper. Electronic solenoid switches can be completely integrated to monitor the position of the piston within the gripper and can be programmed with up to two switching points as well as the switch-off points. If the PGN-plus is used for checking and sorting tasks, it can be supplemented with the flexible SCHUNK FPS position sensor. The sensor can detect up to five position areas of the gripper jaws. Even more powerful are the SCHUNK APS high resolution analog sensors, which transform the universal gripper into a precision measuring station. With extreme precision of up to 0.003 mm, the PGN-plus can then measure every single part gripped during the process. Any number of switching points can be defined by the PLC in order to differentiate parts or tolerance ranges on a user-defined basis. For use in machines, in applications with restricted space or harsh environments where cables would jeopardize process stability, the SCHUNK wireless sensors RSS monitor the stroke of the gripper jaws without the use of cables. There is even a solution for extreme environmental conditions: the SCHUNK fluidic monitoring system PA3 operates entirely without electric sensors or additional cables. A pneumatic measuring line and an AND valve are used to signal the states "open," "clamped," or "closed" to the controller.
Significant Reduction of Compressed Air Consumption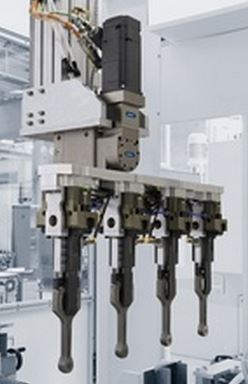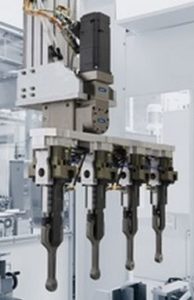 PGN-plus modules are especially time and resource-efficient, as well as affordable in combination with SCHUNK micro valves. These valves achieve their full potential especially in assembly technology and small component handling involving short cycle times and medium weights between 1-3 kilograms. While the compressed air in the supply line of a conventional pneumatic solution is completely lost with each new cycle, only the piston chamber of the actuator is filled directly by the micro valves. This minimizes air consumption and shortens the cycle time. Central connections supply the valves with air and electrical signals, eliminating long supply lines.
SCHUNK is a valued supplier-partner with Cross Company's Automation Group. This article was written by Dr. Markus Klaiber of SCHUNK.
Cross Company's Motion Solutions Group has expertise in applying pneumatic solutions to improve machine and manufacturing process performance.  Please contact us to discuss your unique challenges so that we can share our expertise with you.