Parker's Stream Switching System – Great New Features!
Parker's Gen II R-Max is designed to control both gases and liquids in analytical systems ranging from vacuum to 500 psig while requiring only 65 psig actuating air pressure – talk about improving product reliability and reducing your cost of ownership.  It's designed to be used in the chemical, analytical, petrochem, and oil & gas industries.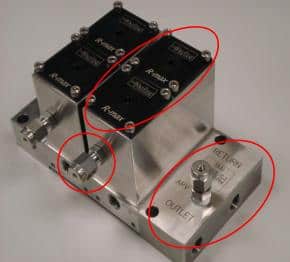 Enhanced design features include:
Captured vent – eliminates cross contamination, threaded connection, 1/8″ & 1/4″ SS tubing // , 1/8″ & 1/4″ plastic tubing // plug.  Plus, the vent fittings may be on opposite sides of the valve, the same side or connected in series
Position indicator – positive identification color band, backward compatible, available on all R-Max versions (except Single IntraFlow)
Effortless cartridge removal – position indicator design allows for easier removal of cartridges for maintenance
Alternate Ref GC – atmospheric reference separated from sample stream vent, internal fast loop available with this option, backward compatible to original R-Max
The Gen II R-Max utilizes surface mount technology to reduce leak paths, internal volume and dead volume. With surface mounting, system components may be easily removed and replaced without breaking process conditions, plus the system utilizes an internal self-purging outlet header to eliminate the need for an additional outlet loop.
There is also an ISA/ANSI SP76 option for the Gen II R-Max
Actuation air inlet from the top of valve body
Substrates are the same as modular R-Max
Substrates will be different for GC reference
May we help with your application?  Please call 770.929.8441 to talk to an expert.