Sunlight Simulation Testing
No matter where you are on the planet, sunlight can have detrimental impact on materials when exposed for extended lengths of time. Degradation in material coloring, consistency, and even functionality can cause problems if not addressed.
Manufacturers are continuously working to develop products that stand up to harsh environmental conditions. When a dashboard in a vehicle reaches temperatures of over 120 degrees Fahrenheit under the desert sun, or sits below freezing while surrounded by snow covered terrain 10,000 feet above sea level, manufacturers need to know how the materials will react.
The testing laboratories at Cross allow our team to perform sunlight simulation in a variety of environmental conditions for research into the effects of UVA, UVB, and full spectrum light on materials. Our chamber setup allows us to simulate time of day, and even global position, so we can help determine those effects on materials no matter where or what time of day.
In addition, our facility is accredited to perform sun simulation testing from minus 45 degrees Celsius up to 93 degrees Celsius and from 10 percent relative humidity up to 95 percent relative humidity and with an overall space capacity larger than most. In fact, our large sun simulation chamber is one of the largest capacity chambers in the country which allows us to perform testing on large scale materials that can't fit in standard chambers.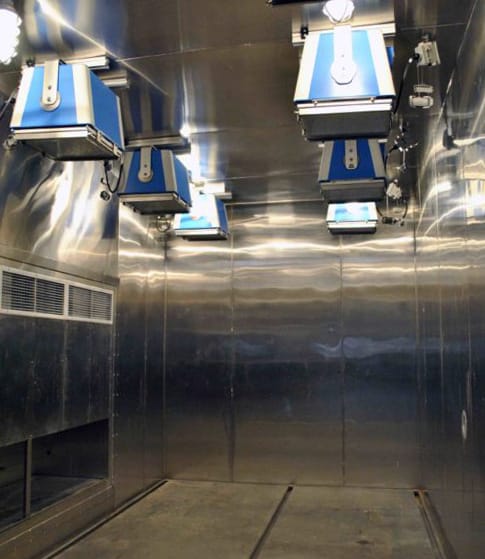 For more information about sun simulation testing with Cross, click on the button below to learn more or schedule a test today.
See how our precision measurement team can help improve quality, increase efficiency, and reduce risk.