Actually, this was a day of 'firsts' for the robot industry and the NASDAQ.  Not only did a robot close the market, but the Exchange Traded Fund (ETF) that was launched (Robo-Stox) is the first investment fund based solely on companies that are driving the growth of robotic automation. Lastly – and although I can't prove that it is a first – three private companies were spotlighted on the floor of the NASDAQ during a featured closing ceremony: Universal Robots, Schunk USA, and the Automation Motion Solutions Group of Cross Company. Sounds like it should be a first, doesn't it?
So what's the big deal?  Glad you asked . . .
A Robot Rings the Closing Bell on the Floor of the NASDAQ


If you take a minute to look at the video from the NASDAQ event, you will notice that the robot being used is a UR5 (UR5 AE3) from Universal Robots. This is a true industrial robot, not one of the WALL-E look-a-like service robots we are seeing in the news or even the super high tech R&D project from Honda, ASIMO.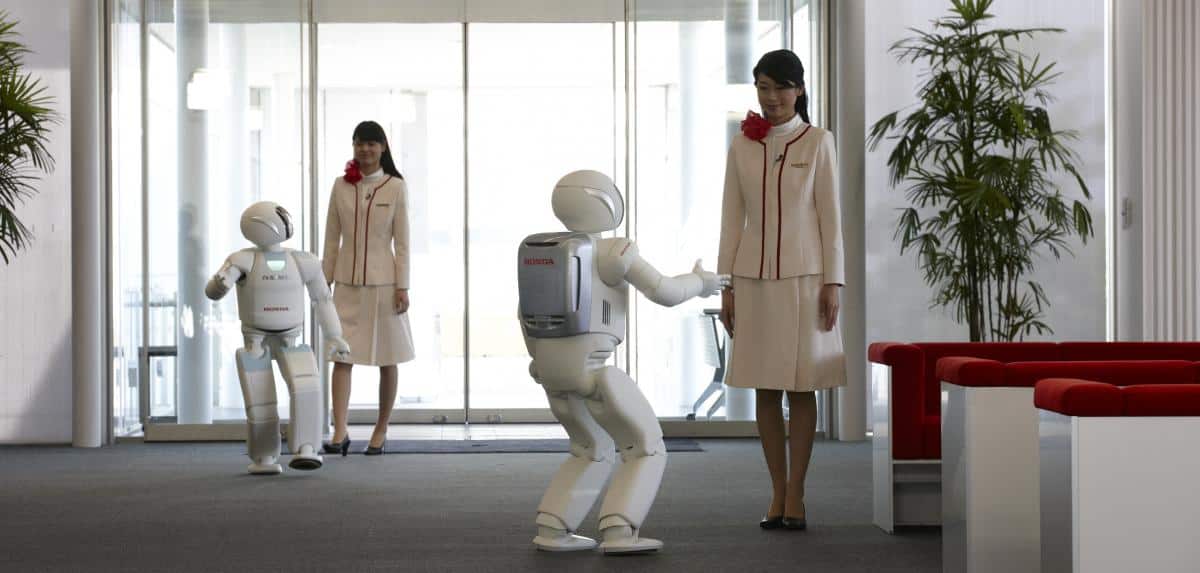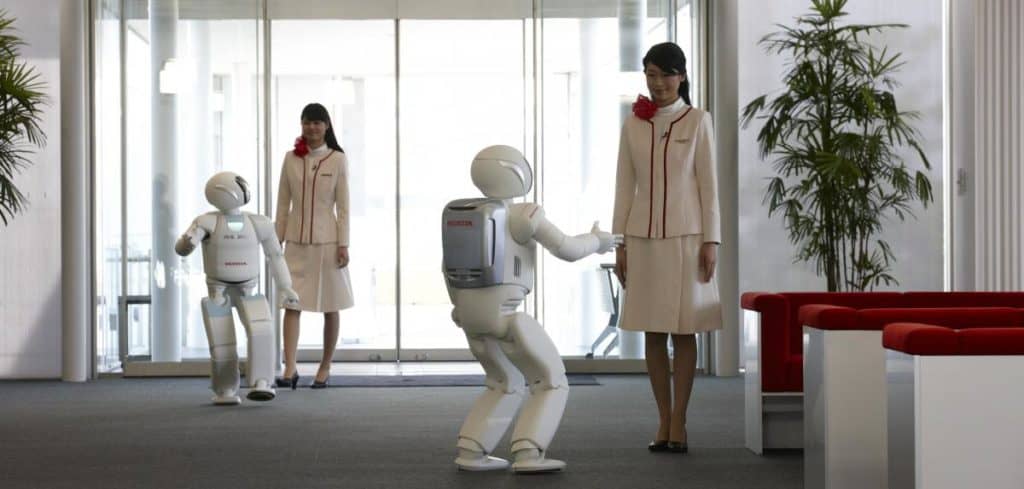 Nope, an honest to goodness Six-Axis industrial robot that has the same capabilities as units from traditional industrial robot manufacturers like Motoman, Fanuc, and ABB.  The major differentiator – and the main reason that the Universal Robots UR5 (UR5 AE3) could be used for this event – is that it is a collaborative robot (cobot) with built-in force limiting capability.  More times than not, this allows this innovative robot to be safely deployed without traditional safety measures such as safety cages or area scanners.  For anyone that has worked in industrial automation, one of the most impactful things about this video is that it shows regular people interacting and walking within reach of a fully active industrial robot.  Twelve months ago, this would have been unheard of (and unthinkable here in the US)!  
The safety concerns alone would have made it logistical nightmare to pull off, but add in the fact that the UR, an industrial robot, was was set up and taught – on site and on the fly – to press the button just before the event itself makes this even more unique.  Deploying a robot solution in a day is unheard of, deploying in less than an hour is just downright impressive.
An Exchange Traded Fund (ETF) Based Solely on Companies Heavily Involved in Robotic Automation Technology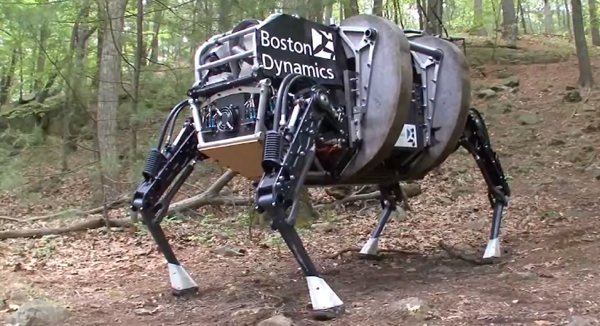 Simply put, robotic automation has now entered the big leagues. This brings it alongside other technology sectors like healthcare or telecom that garner significant investment dollars.  When there are enough financially savvy people who believe robotic automation has the growth potential to be a standalone ETF, I believe the stage is being set for robotics to enter into a significant growth phase!  
Just this past month Google purchased Boston Dynamics, the eighth robotic company they have acquired in the past six months.  Microsoft is advertising for positions on their Robotics Team. Major players like Amazon, UPS and DHL are looking into the potential of using drones for package delivery.  Selfishly, I am most interested in what this means for the future of Industrial Automation.  I can see a day very soon where the collaborative technology of a UR robot will meet up with the automated guidance system of the Google driverless car and mobility of Boston Dynamics 'Big Dog' (pictured above). The result will be the next evolution of factory automation, a remotely deployable robot capable of performing much like flexible staff would.
Three Private Companies Spotlighted on the Floor of the NASDAQ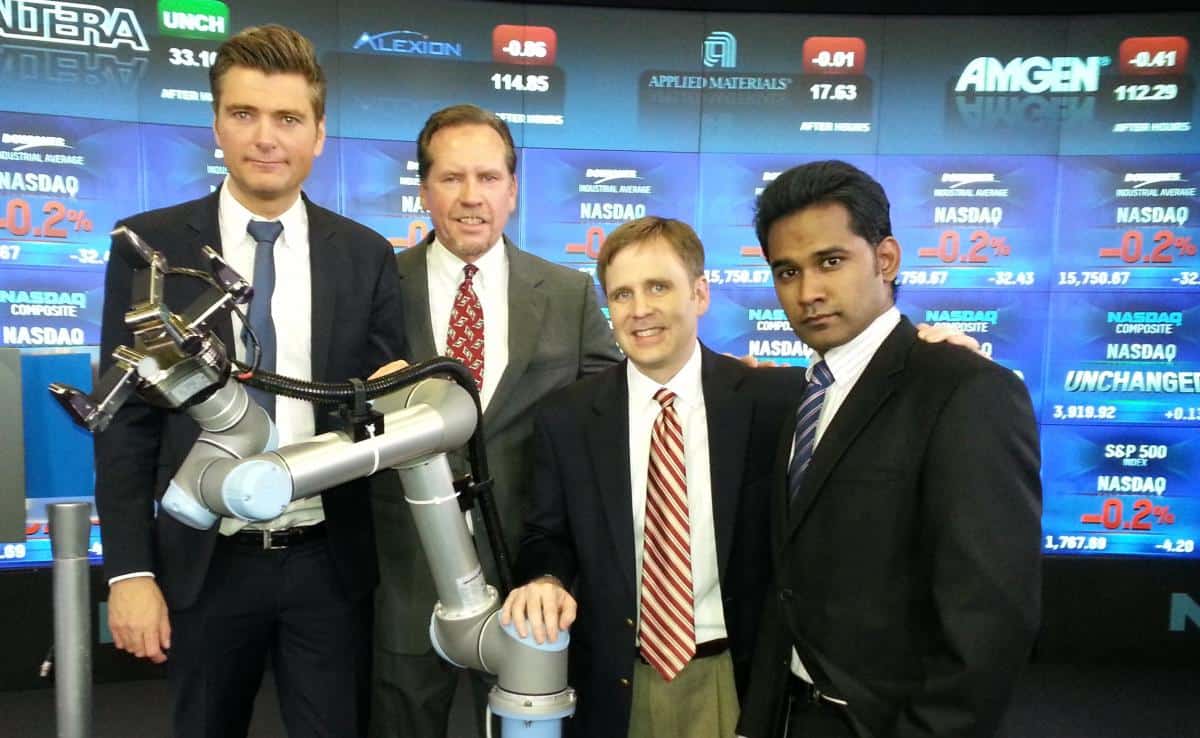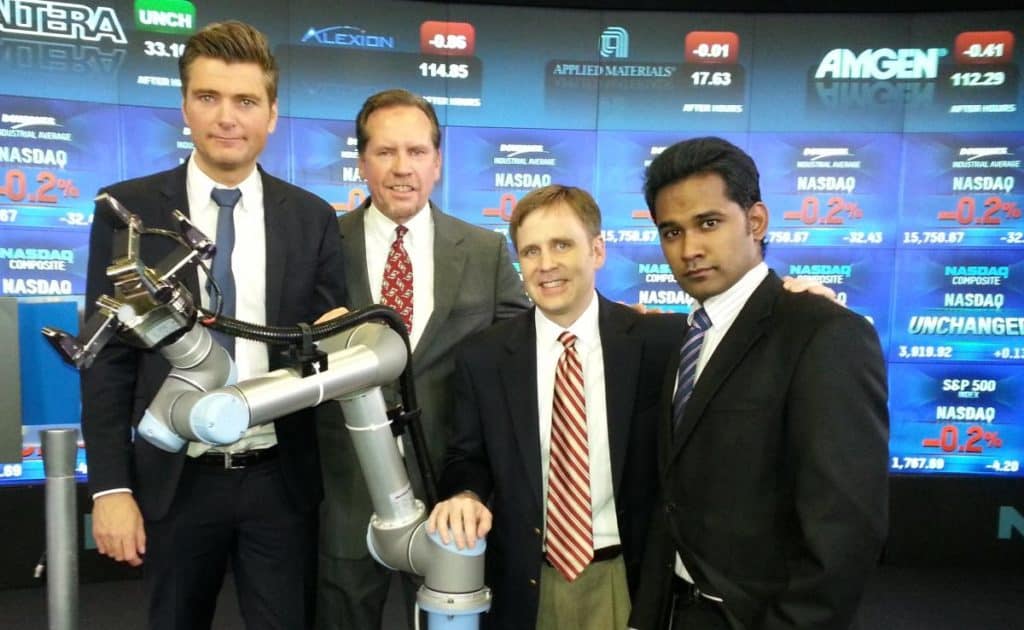 This is important – and not for the irony, but in fact that it occurred. The ceremony itself was to celebrate the launch of an ETF, but the companies who provided the technologies that were at the forefront of the event were private companies and therefore not part of the fund.  I had the pleasure of being able to talk with Frank Tobe, the key driver and creator of the Robo-Stox fund and The Robot Report, about this and other things.  In Frank's opinion (paraphrase) it is companies like Universal Robots, who are the leaders in industrial collaborative robots, and Schunk, who are world market leaders in End of Arm Tooling and Work Holding solutions, that are the epitome of what this fund is about: robotic companies that are shaping the future of industrial manufacturing.  
Then there is the Automation Group of Cross Company.  To be completely honest, I don't think Frank knew who we were prior to our meeting, so this is strictly my opinion…But why is it interesting or important that we were there?  For those of you who don't who we are, Cross Company is a 100% Employee Owned company (ESOP) that specializes in applying technologies to improve manufacturing and process performance for our customers in the discrete manufacturing and process control industries. One of our key focuses is filtering through the mix of emerging technologies and bringing those that can make an immediate positive impact on the business goals of our customers.
In order to do this effectively, it requires our Sales and Technical Teams to spend time identifying the root challenges that our customers are facing and come up with an effective solution that meets their production and ROI requirements.  As the primary provider of Universal Robots and Schunk in the Southeast, we were brought in to marry the two unique technologies together.  A collaborative industrial robot and a fully programmable articulated hand that both communicate over a variety of Ethernet protocols, but had never been tied to one another before. Although putting together a demo that was center stage on the NASDAQ had a different business case, it has a very similar mix of challenges to those we see with our customers.
Final Thoughts
So this is a really big deal!
A robot was walked into the NASDAQ…It was set up and programmed within minutes to perform what is normally a human task…regular people carried on with their normal tasks within reach of the device that – if it had been provided by any other industrial robot manufacturer – could severely hurt someone! It was then walked back out of the NASDAQ studio and carried across Time Square just like we did with our luggage.  
Not to sound too melodramatic, but whether the world realizes it or not, it just saw the beginning of the next industrial revolution.