Application Note: Low Cost Truck Scale Alternative for Chemical Manufacturer
The precision measurement group at Cross provides a chemical manufacturer with a low-cost alternative to a truck scale
A chemical company was filling tankers using flow meters and then having them drive onto a truck scale to ensure they were properly filled. While this process worked, there were some issues. If the tanker was found to be under-filled or over-filled, it would need to be pulled back under the overhead loadout and reattached. This created double work for the operators.
The simplest solution is placing a truck scale under the overhead loadout. However, construction costs can add up quickly, particularly if the facility has multiple loadout stations. The precision measurement group at Cross was able to design a solution utilizing the Fairbanks Matrix Weighing System that was both relatively low-cost and legal for trade.
The solution, while simple, is a game-changer for vehicle weighing applications. By using custom-length truck scale modules under each set of wheels, the trucks can be weighed without constructing an entire truck scale. The weights from each deck are summed to give a total weight that is legal for trade. (Note: Not all configurations will be legal for trade, this is determined on a case by case basis.)
Other benefits include:
Low profile of only 6" to allow for overhead load-outs
80,000 lb capacity
Easy operation
Little to no construction costs
Rear-wheel chock
Reinforced dolly drop pad.
Rated for Class 1 Division I and Class 1 Division II areas
By installing this Matrix scale system the customer is now able to monitor the real-time weight as the product is loaded into the trailer which eliminates underfills and overfills. This saves them money they were losing before on wasted products. Additionally, it improved the efficiency of their operation by eliminating the need for refilling and reweighing.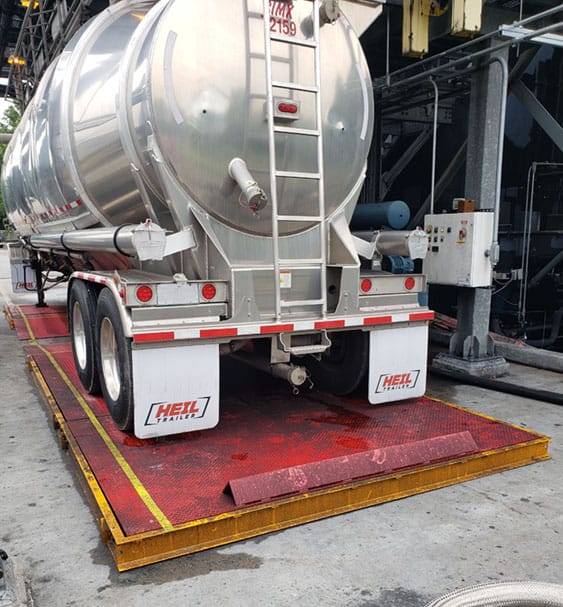 To see if a truck scale system like this one might be appropriate for your application, contact us today? Our experienced team can help you choose the best weighing system to meet your measurement needs.
See how our precision measurement team can help improve quality, increase efficiency, and reduce risk.