Cross Company is proud to present the Cross Palletron, a solution that utilizes a Universal Robot to create a fully collaborative and mobile palletizer and depalletizer. Cross' easy to use software eliminates the need for complex robotic programming and makes redeploying this solution for a different production line or package size much quicker. Cross Company's next version of the Cross Palletron (due to release Q2 2020) will have the ability to palletize boxes of different dimensions.
"We are excited to bring this solution to market as we hear from many of our customers that keeping these mundane tasks staffed is an ongoing challenge", said Lynn Crump, President of the Cross Company Automation Group. "In fact, our customers have reported to us that this system has an ROI of less than two years for single shift operations and even sooner for those with multiple shifts".
The Cross Palletron aims to keep workers from doing repetitive bending and lifting tasks that can lead to workplace injuries. Staff can then be allocated to higher-value decision-based work that is less mundane and can't be easily automated.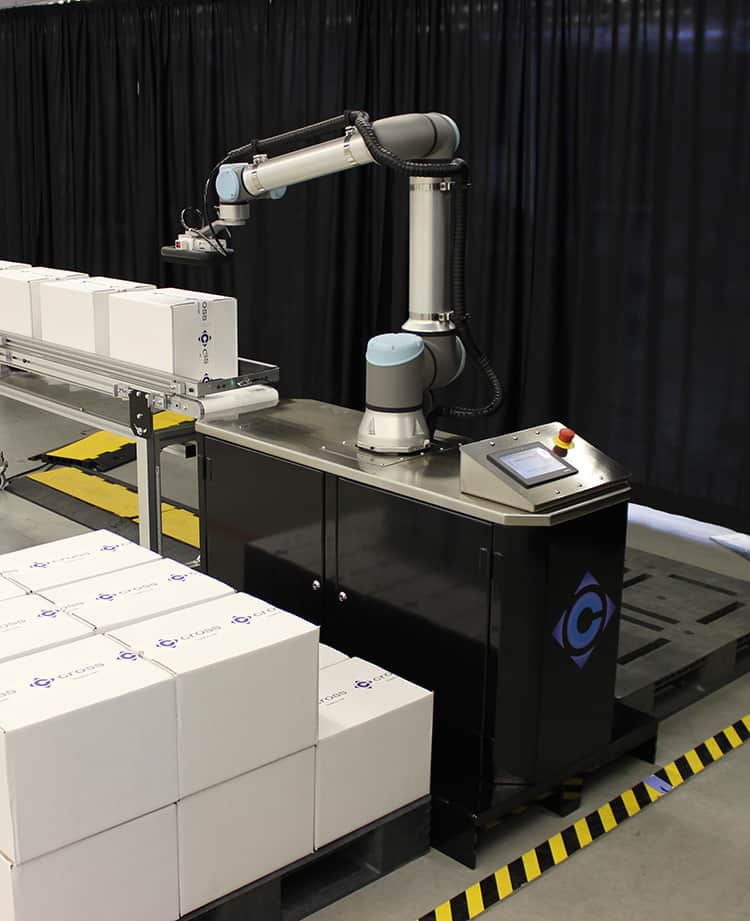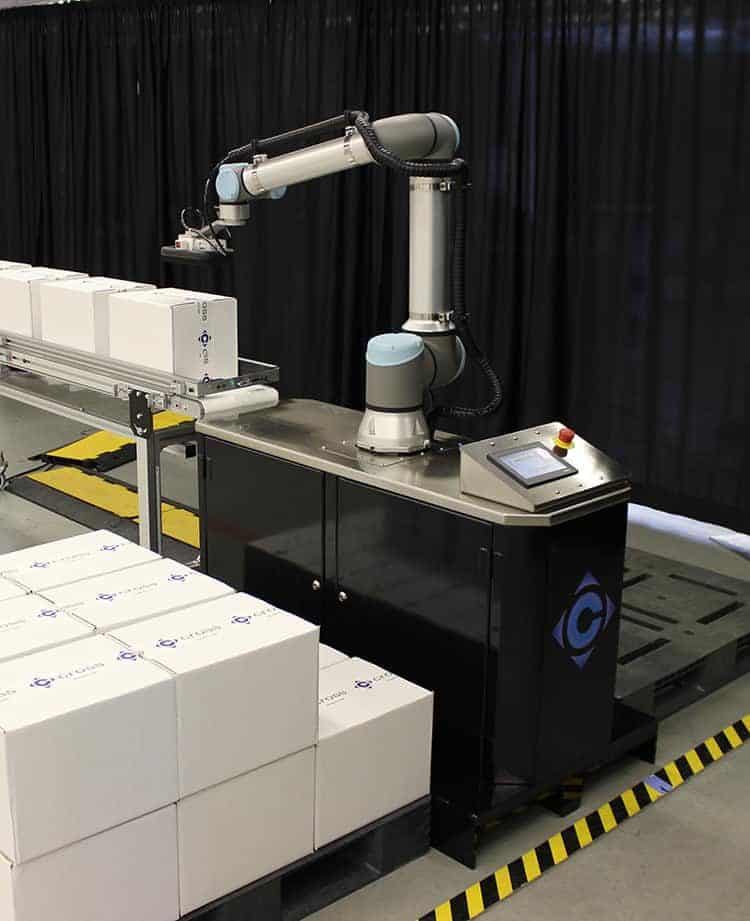 "As a Certified System Integrator for Universal Robots, Cross Cross Company is actively working to develop a number of turnkey solutions utilizing their collaborative robots to solve the everyday pain points experienced by our customers", said Mike Holland, Cross Company Innovation Team Leader. Cross Company will be demonstrating their Palletron in the Universal Robots  booth at MODEX 2020 March 9-12 in Atlanta, GA.
See our Robot Palletizer in Action
Take a look at the Cross collaborative robot palletizer loading boxes onto a pallet from a manual conveyor system setup. The Universal Robot (UR) palletizer is configurable to work in a range of settings, and as seen in our video, has dual pallet capability and can be easily moved when necessary. This solution is based on a Universal Robot arm to create a fully collaborative palletizer.
Cross Company is a 100% employee-owned industrial solutions company that is innovating the industrial world, one customer at a time. The company was founded in Greensboro, North Carolina in 1954 and has over 650 associates and 20 locations throughout the Southeast and Midwest. Cross specializes in robotics and machine automation, industrial measurement and calibration, process flow and safety technologies, process control integration, industrial and hydraulic hoses & fittings, and as a systems integrator for the mobile OEM on-road and off-road vehicle market. Cross Company's corporate headquarters remain in Greensboro, NC and it has major facilities in Knoxville, TN, Gastonia, NC, Whitsett, NC, and Oklahoma City, OK.
If you are interested in working with our automation group on a solution for your operation, or want to learn more about the palletizer, contact us today to discuss your project with an automation expert!