Save Thousands of Dollars over Packaged Industrial Displays!
Transform a standard consumer TV into a versatile, real-time KPI production scoreboard and Andon system with Red Lion's red hot ProducTVity Station. Plus, send real-time displays or text alerts to your mobile device. This capability takes real-time performance monitoring for the factory floor to an entire new level.
Create your own full-featured, real-time productivy scoreboards in minutes using any consumer model LED/LCD or plasma TV and get unprecedented capabilities. Fast and easy connectivity to your machines with unlimited possibilities including:
Complete performance metrics: KPI, Takt, OEE/TEEP
Flow monitoring: line status, calls, maintenance
Production smoothing: Heijunka, Kanban
Andon: events, alerts, downtime timers
Communication & Web: messaging, news, break timers
Safety: scoreboards, messaging, reminders
Operator guidance: picking, assembly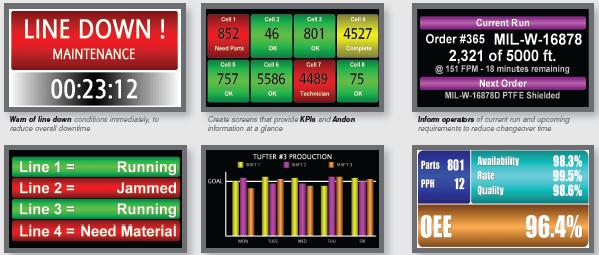 Virtually unlimited capabilities for displaying a host of production metrics, trends, alerts,
messages, scheduling, guidance and more!
Collect and display KPIs on any TV in just minutes
Built-in communications drivers and protocol conversion let you interface to most PLCs, drives, motion controllers and other automation equipment

Automatically page between multiple screens of KPI, trends, Andon, messaging and more

Requires no dedicated PCs, SCADA or OPC Server

Powerful programming capabilities with included Crimson software lets you customize solutions to your exact requirements or as needs change

Works with any brand or size of modern TV, monitor or projector

Completely internet-ready with built-in Web and FTP servers for remote access control

Create the versatile system you want at a fraction of the cost of inflexible industrial scoreboard solutions

Easily duplicate information on multiple TVs with common signal splitters
Still not convinced?
Red Lion is a valued supplier partner with the Automation Group at Cross Company