Among the biggest problems facing OEM's and machine builders today is the quest for higher performance and feature levels while limiting costs and reducing overall panel space. As technology advances so can cost and complexity, which ultimately affects design-to-commissioning time.
When it comes to precision motion control solutions and high output servo systems for OEM's, the price vs. performance and reliability tradeoffs are extremely important. So is simple installation, operation, and maintenance. All of these are necessary to be competitive in the marketplace. Other issues are the high cost of accessories, cables, breakouts, and adapters and the uncertainty of whether or not you have all necessary parts and pieces on hand when completing a system or commissioning a machine.
Less Frustration for High Volume OEMs
Omron set out to design a servo solution specifically for the OEM market to supplement their standard G5 Servo Series, and address all of these issues, mentioned above. Their goal was to optimize the design-to-commissioning time for the OEM using customer-driven features in a general purpose servo system. With fewer parts and pieces and a smaller footprint to reduce required mounting space, it is still compatible with their existing industry leading Sysmac Solution.
The result is the Omron 1S Servo that now offers more capabilities than their existing servo lines and eliminates external hardware to simplify the design. Those easily forgotten, separately ordered components – such as braking relays and absolute encoder battery and cable – are no longer needed. Often these were ordered later, were lost, or "borrowed", delaying commissioning and delivery dates.
The Omron 1S Servo eliminates up to 20% of hidden servo system costs by no longer requiring these parts, as well as others like connector and I/O breakouts.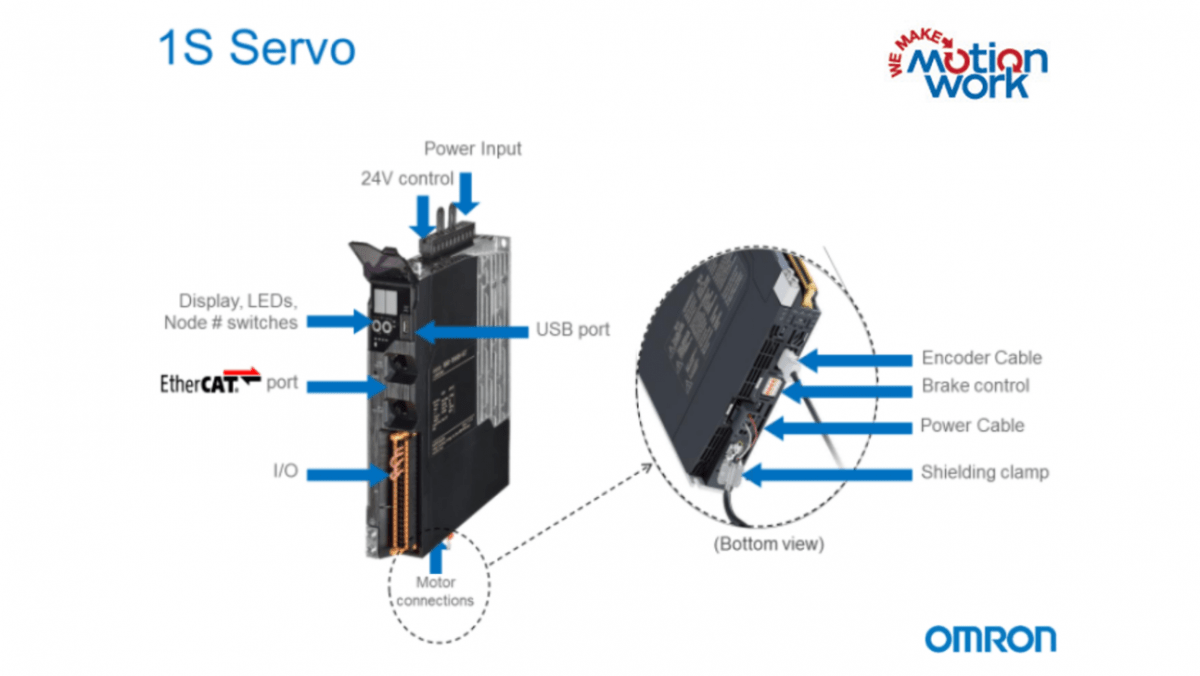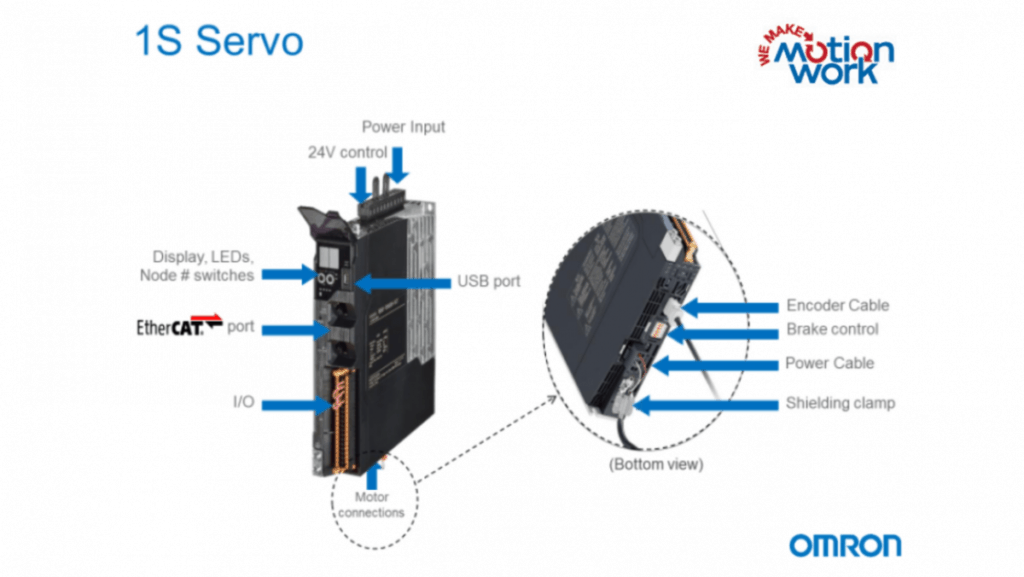 Built for High Volume OEMs
2- to 4-axis machines, multiple machine builds
Lower Total Cost of Ownership
Savings in panel space, commissioning, fewer components
One software package, one program to maintain
Quick setup wizard
High Accuracy Machine OEM Features Include 
Gear-less / battery-less multi-turn 23-bit absolute encoder, 16-bit multi-turn
Advanced Dynamic Control, EtherCAT (125 us)
Advanced tuning to shorten settling time
Complete solution including input, logic, outputs and robots
Safety over network FSoE:STO and Safety via I/O: STO
Pluggable connectors with screw-less direct wiring
Integrated brake relay
Side by side mounting and constant drive height to save space
Save Money with 1S
The Omron 1S Servo no longer requires these parts:
Servodrive controller cable (CN1)
Terminal block (CN1)
Safety cable (CN8)
Brake relay
Absolute encoder battery and cable