Phoenix Contact Quint Single-Phase 24 V DC/40 A Power Supply

QUINT POWER supply is now available in single-phase, 24 V DC/40 A and is UL Listed for use in Class I, Div. 2 applications.
The fourth generation of Phoenix Contact's QUINT power supply family now includes the most powerful and innovative single-phase, 24 V DC/40 A power supply on the market. The new QUINT 40 A power supply is designed with two strong power boosts and Selective Fuse Breaking technology (SFB).
These power boosts allow the power supply to output up to 45 A continuously and 60 A for up to 5 seconds. In addition to being the most robust power supply, the QUINT single-phase 24 V DC/40 A power supply includes several competitive advantages, including high efficiency, a high power factor, and an extensive electrical lifetime rating.
This QUINT power supply is designed with innovative technology to deliver precise, real-time monitoring, passive configuration. A long list of application worthy benefits makes the device an ideal solution for applications requiring a high level of power reliability.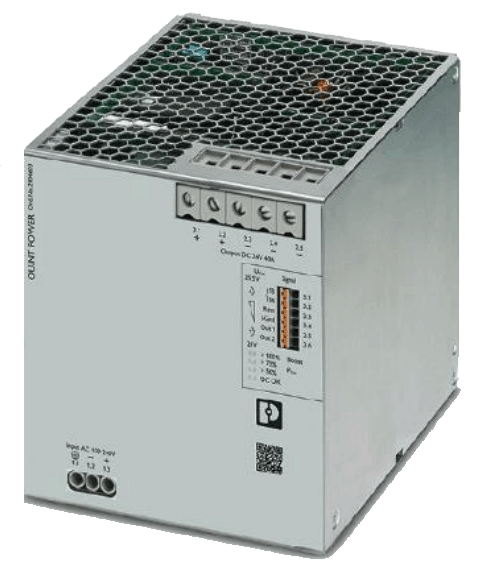 Permanent power boost for easy system expansion
Dynamic power boost for reliable starting of current hungry loads
Exclusive Selective Fuse Breaking (SFB) technology
High efficiency, high power factor, and a long electrical lifetime
Low residual ripple for the cleanest output voltage
Analog output to real-time monitor current, voltage, or power
Simple and precise parameter modification using a passive interface
UL Listed for use in Class I, Division 2 applications
Contact Cross today to find the right power supply for your application