Phoenix Contact EMpro II Energy Meters

It's easier than ever to measure and communicate energy data
Energy meters make it easy to transmit key energy parameters including voltage, current, and power to cloud based services enabling remote monitoring. Streamline integration and improve uptime with innovative EMpro energy meters.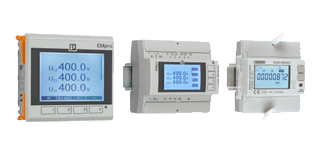 The EMpro series of meters offer an intuitive user experience and the commissioning process is made simple with a three-step setup wizard that automatically runs the first time the equipment is powered up. With the ability to import and export files between monitors and an integrated webserver, it couldn't be easier to read and visualize data in real-time.
Streamlined integration into all major industrial networks
Three-step configuration wizard
Web-based management of all device parameters
Integrated data-logging function
Alarms to alert you of undesirable conditions
Contact us today to learn more about the EMpro series of energy meters from Phoenix Contact.