See the LC Display from 15 Feet Away
Process plants from several industries are switching to WIKA's intelligent sensor technology.  Particularly the integrated temperature compensation makes the process transmitter interesting for many applications including process technology, machine building and plant construction, control technology, pharmaceutical industry, and the food industry.
Features include an easy-to-see multi-functional display, simple menu navigation, conductive plastic case and a large rotatable LC display.
Available with HART Protocol
HART establishes a protocol where a smart field device speaks only when spoken to by a master device. HART is ideal for point-to-point communication or multidrop for directly communicating information between smart field instruments and central control systems.
HART involves using two simultaneous communication channels: the 4-20mA analog signal and a digital signal. The 4-20mA signal communicates the pressure or other key value being measured, and other information related to the device is transmitted via a digital signal superimposed on the analog signal.
Turndown
The UPT-20 also offers an adjustable turndown of up to 20:1, which means you can register specific process values with optimized measuring value limits without significantly impacting the measurement accuracy.
Accuracy
The accuracy of the UPT-20 at reference conditions (including non-linearity, hysteresis, zero offset and end value deviation) is 0.15% of span as standard,, with 0.10% of span or 0.20% available as options.
Intelligent Sensor Advantages and Versatility
So why use an intelligent sensor you might ask, great question. Using the WIKA UPT-­20 lends you the ability to measure pressure, level, and volume and have access to characteristic curves right from the display. The unit allows you to configure each application specifically and choose the desired units of measurement and scales.
The versatility of applications range can be adapted to the harshest of conditions in the process industry by using an in­line diaphragm or diaphragm seal. These seals act as a buffer to grant the usage of the transmitter at extreme temperatures and with corrosive, abrasive media for heavy process conditions.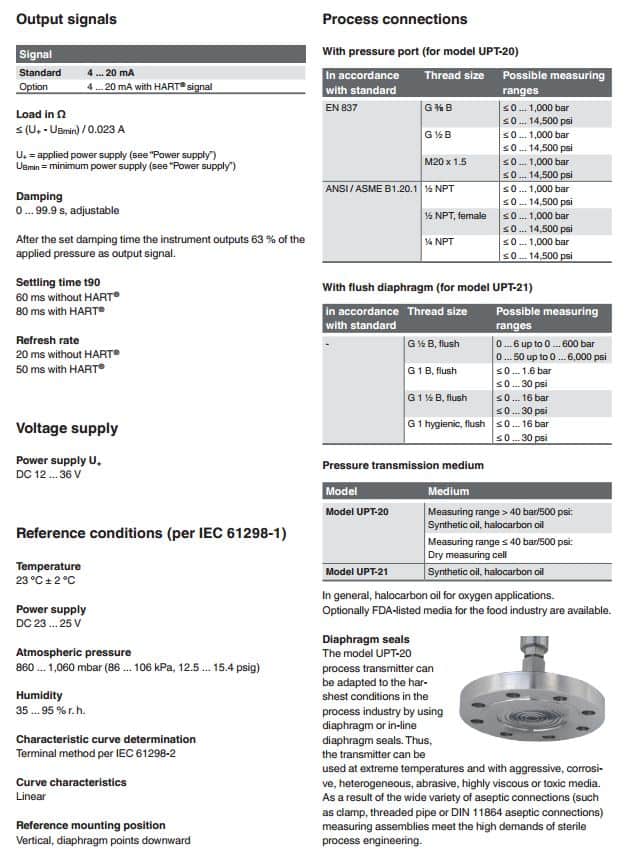 On the contrary in Pharmaceutical, Biotech and Food Hygenic applications, The UPT-­20 meets the wide variety of aseptic connections, such as the clamp, threaded pipe or DIN 11864 connections.
As if the versatility we mentioned wasn't enough for your application, its smart sensor technology will display faults from sensor faulty, temperature sensor, overpressure sensor and hardware fault to aid you in troubleshooting your UPT­20.
For your next Pressure, Level or Volume application, think WIKA UPT­-20 because it can be used in wide variety of applications and configured right from the display unit.