March 5th, 2013
Why Choose Universal Robots?
It has been a month or two since my first blog on Universal Robots, where we introduced 
the potential a collaborative industrial robot has to change the scope of industrial automation
. Since the introduction, we have had the opportunity to talk with a large number of industrial customers of varying levels of robotics experience and I am very pleased to say that what we originally thought would resonate with potential users has held true. First off, it wasn't all that surprising that the potential for an industrial 6-Axis robot in a Cage Free (Collaborative, "unguarded", or cobot) mode has been a major eye-opener. The technology has been sorely needed in American industry for some time! Toss in the fact 
just about anyone can program the solution within minutes
, Universal Robots has lowered the risk threshold for individuals who are new to employing industrial robots or who have struggled to keep trained programmers on staff. What has been surprising is the
 sheer number potential users have independently come to the same conclusion: that the business case for using a Universal Robots solution just makes sense
. A good bit of this 'business case' is because 
Universal Robots have a low cost of ownership, are easy to deploy, and are portable.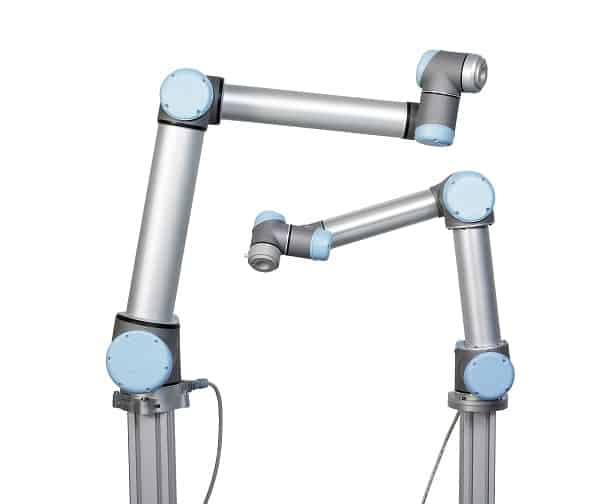 Universal Robots's Low Cost of Ownership
If you have ever looked into implementing a complete 6-Axis industrial robot solution, then you likely started out by talking with a factory rep, integrator, or value added solutions provider in order to choose the robot arm and controller. You've then probably seen that 
this portion of the hardware cost isn't prohibitive compared to the potential productivity gain
. However, as you continued to pull together your other associated ownership costs for a robot based automation solution, you likely ran across the following issues:
Safety Equipment – Whether it is laser scanners, light curtains, safety mats, safety controllers, or simple hard-guarding with safety interlocks, safety rated equipment is expensive. On top of the hardware costs, there is the cost of expertise required to successfully integrate the robot with the automation solution. One of the Cross Company Robotics Integrators estimated that the cost of hardware and engineering for a basic robotic cell is at least equal to the cost of the robotic arm (this applied to 10 kg arms and smaller).
Required Floor Space – Current safety regulations (as of January 2013) specify that the mandatory guarded space must equal the area of the robot's total reach, including end effector, plus a buffer zone of 18″ inches. For example, take a 10 kg robot arm with 60″ inches of reach, including its end effector. With this reach, a guarded area of 156 x 156 inches or 169 sq-ft of floor space is required, many times this is done with hard guarding style cages which lead to accessibility issues.
Programming & Support – Most industrial robot solutions (at least the ones I am familiar with) take a good bit of expertise to program successfully. If you're planning to support the robot yourself,  this means that you need to have a capable programmer on staff or pay a third party. If you are going to handle the programming and support internally, you can plan on sending them to factory training. The normal regimen for training includes a Maintenance Course, a Beginners Programming Course, and an Advanced Programming course; all of which is recommended if you are going to support the solution yourself. These classes will run 3-4 days each and will cost on average $1000-1500 per class, per student. Aside from the training cost (time and dollars), it can be a personnel challenge to maintain a qualified programmer on staff because they tend to get hired away.
For the Universal Robots solution, we have the opportunity to change this dynamic:
80% of the Universal Robots 6-Axis arms in use today are being used Cage Free – without any additional safety guarding!
If you are able to use the Robot in a Cage Free collaborative mode, then you can 'fit' their robot just about anywhere!
With little to no training, just about anyone can program a Universal Robot. Yes, anyone!
With Universal Robots, you can eliminate the need for additional safety equipment and a significant amount of dedicated floor space. You don't even have pay to have a robot programmer on staff (or pay for the services of a robotic integrator)! What you are left with is the cost of the robot, end effector, and a base. That's it. Taking these factors into account, it is common for Universal Robots customers to see a complete ROI in 6-9 months – and 
since the robots have an expected production life of 10 years, this results in a very low cost of ownership
.
Portability
Universal Robots has a unique advantage in that it can literally be a 
portable robotic solution
. The UR5 weighs in at 41 lbs – and the UR10 at 64 lbs – and when used Cage Free, this means you can move the robot as production demands change or grow. When compared to fixed automation solutions, this really starts to create some opportunities to increase productivity. As you have likely experienced yourself, it is a very common sight to walk into a manufacturing facility and see a number of production lines either sitting idle waiting for the production demand or being used for limited production runs. For these situations, it is hard to justify the cost of adding a robotic cell if it is going to be idle the majority of the time. With Universal Robots, you can change this dynamic the same way you would redeploy your personnel based on production demands! You are able to redeploy your automation resources based on production needs by literally picking up the robot and moving it.
Quick and Easy to Deploy
One of the most commonly overlooked robotics operation costs is what it takes (time, money, and logistics) to get the solution into production. A typical scenario goes something like this:
You request a quote on a robotic cell solution that includes safety, programming, integration, and installation. It takes 2-4 weeks to get to a final quote.
You place a purchase order for the solution. The average lead time for many 6-Axis robots is currently 9-12 weeks.
You receive the robot arm. Integration and programming takes another 2-3 weeks.
With these fairly conservative time estimates, you can expect 
most industrial robot solutions to have a solution in-house and operating in a roughly 13-20 weeks.
Compare this to Universal Robots, where for a good number applications (not all), you could have a robot delivered in 2-4 weeks if it isn't in stock. Then, if you have all of your ducks in a row by having your end effector and base ready to go, you can have the solution installed and programmed 
the same day you receive it!
The Counterpoint and Summary
I know what some of you are saying, "Well sure Andy, all this sounds great, but not all robotic applications are simple pick and place solutions that can be programmed in a few minutes …. and what about those 20% of applications that require additional safety considerations?" Great points. Some applications may take a day or two to program, even with the teach pendant. Or you may have to get into the 'scripting language', where you can make the program as complex as any other controller. And no doubt, there are plenty of industrial applications where additional safety guarding will be required.
But here's my question, what other solution even gives you the possibility of cage-free collaborative industrial 6-Axis robot that can be programmed by just about anyone and can give you a complete return on your investment in 6-9 months?
  Any way you look at it, you have to agree that is a pretty compelling 'business case'.
Andy Larson's Guide to Universal Robots
Please read our blog series on the UR5 (UR5 AE3), UR10 (UR10 AE3), and other collaborative robotic options available to you. Andy is our robotics product manager at Cross Automation Group and has been working with industrial robots his entire career. In these blogs, he discusses the particular advantages to using a UR, while also objectively describing the benefits of using other robot types – it all depends on your specific application!