If you have read our first two blogs on the Universal Robots Collaborative Cage Free Industrial Robots (cobots), you have likely gathered that I am pretty excited about the ramifications these Collaborative Robots will have on US Manufacturing.  Although Universal Robots is one of the key players in this developing market, there are others and – as with all solutions in the world industrial automation – they each have their 'sweet spots'.  So you don't think that I am just shamelessly shilling for Universal Robots because the company I work for is a distributor for them, I thought I would take a minute and do a product comparison.
The two current key players in Collaborative Cage Free Robot market right now are Universal Robots and Rethink Robotics.  Although both solutions fall under the classification of  Collaborative Cage Free Robots, they are very different animals altogether. Let's start with Rethink.
Rethink Robotics: Baxter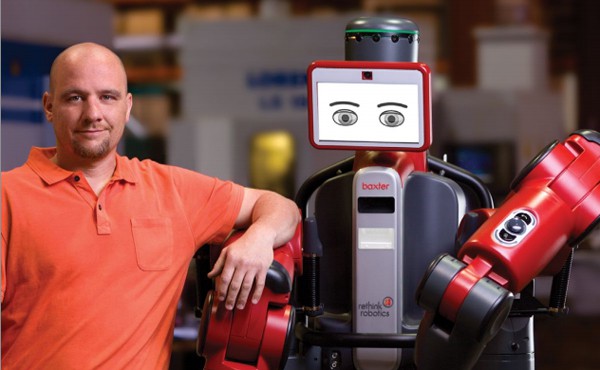 The first thing most people notice is the very 'commercialized' look Baxter has. This is not surprising considering that Baxter is the brain child of Rodney Brooks, the co-founder of iRobot, who manufactures such technologies as the Rhoomba Robot vacuum.  As far as Rethinks's history, they have been in development for the past two years and, from what I understand, the first production units are being shipped out to authorized distributors in January 2013. Baxter is designed in human size with a square display for face and a torso with two arms.  A few of the basic specs on the system:
Max load capacity of 5 lbs per arm
Max speed of 0.6 meter per sec under full load
Teach only 'programming' (Rethink uses the term 'trainable')
Currently no I/O handshaking or fieldbus communications
Sonar and Camera for Human Presence Detection
Integrated vision for object detection (vision lighting is not included) 
No published repeatability specification (at least that I have been able to find)
Environmental Rating of IP50
Weight without Pedestal: 165 lbs
Published Life of 6500 Hours of Operation
There is some 'secret sauce' to Baxter in that it does incorporate some artificial intelligence features in its operation.  All of this for $22k is an impressive amount of technology for the money. Looking at it from a $/hr standpoint, for the right application, this breaks down to a little over $3 per hour of life.
Universal Robots: UR5 (UR5 AE3) and UR10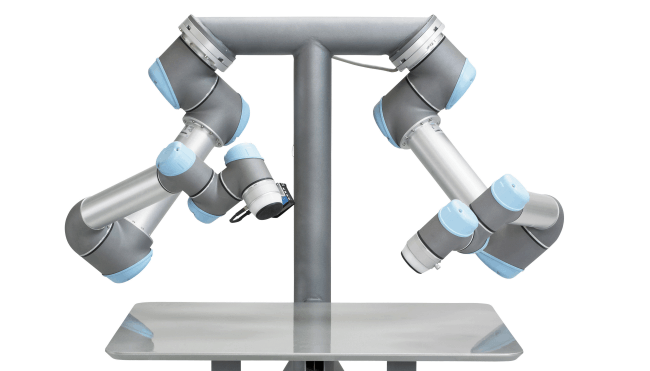 Next, let's look at the Universal Robots Cage Free UR5 (UR5 AE3) and UR10. At first look, the Universal Robots Six-Axis robotic arms look like a futuristic industrial robot: sleek, shiny and compact. As a company, Universal Robots has been around since they started developing the technology in 2005. Universal Robots sold their first unit in 2008, and currently have over 1000 units being used at companies like Bosch, Daimler, BMW, and Samsung. A few of the robot's basic spec's:
Max load capacity of 11 lbs for the UR5 (UR5 AE3) and 22 lbs for the UR10
Max speed of 1 meter per sec under full load
Simple teaching style programming with the ability to create complex logic in a point and click environment
Full scripting language for complex programming required
I/O handshaking and fieldbus communications
Torsion sensing technology for use in collaborative situations
Compatible with industrial vision systems such as Cognex
Repeatability of +/- 0.004″
Environmental Rating of IP54
Weight without Pedestal: 40.6 lbs for the UR5 (UR5 AE3) and 63.7 for the UR10
Calculated Life of 36000 Hours of Operation at rated loads
The flexibility of the Universal Robots solution is what makes it so unique. It can be programmed via Teach Mode for simple pick and place applications from the units' touchscreens, as well as via a full scripting language, allowing it to be used by a novice in a commercial application or as full blown industrial robot solution. The price for the UR5 and UR10 comes down to a little less and a little more than $1/hr of operation, respectively.
What's best for you?
Again, neither one of these solutions are perfect for every application. For those in the industrial manufacturing world who would like to use robotic automation but haven't been able to justify the cost due the total solution cost, complexity, or lack of flexibility, the Universal Robots solutions will open many doors. For those very light industrial or commercial applications where light payloads, slower speeds, and no connectivity to other automation is required, Baxter may be a great fit. The great news is, there are more options available to those who could benefit from the increase in productivity a Cage Free Collaborative Robotic solution could offer, and I imagine many more will soon hit the market.