Case Study: DTE Calvert City
The following case study written by our very own Josh Dalzell appears in the Applied Automation supplement for Control Engineering and Plant Engineering.
DTE Calvert City (DTECC) made the decision three years ago to upgrade their obsolete Process Suite HMI to APACS OS. For 15 years, APACS DCS had been a reliable and comfortable system that was used to maintain the operational functionality for a plant that generated power and utilities around the clock. However, now the APACS hardware lifespan was coming to an end due to a decrease in both new and used replacement components and an end to the support for the human-machine interface (HMI) and APACS hardware.
Cross Company, a certified PCS7 Solution Partner for Siemens, had built trust with DTECC by implementing the smooth transition to APACS OS. DTECC reviewed their needs, concerns, and questions and chose Cross Company to migrate their APACS DCS to a full Siemens PCS 7 system implementation.
For more information on a gradual shift to PCS 7, check out the following blogs:
With any change and upgrade, even to a modern system, there will always be issues along the way. To begin with, there is the initial fear of the change itself and it is something that we all face on a regular basis. We are not sure what will happen, good or bad, so we fear that it will be overwhelming which causes us to avoid that change and deny that there is a problem that requires the change. In the specific case of DTECC and their migration, there were five key challenges to overcome for this upgrade.
DTECC supplies industrial utility services to a number of chemical facilities in the area that include power via a gas turbine generator, softened water, steam, and compressed air. Their customers need a constant supply, so how could an upgrade take place with minimal downtime to minimize a loss of revenue for DTECC and their customers? APACS does not have a direct migration tool for moving to PCS 7.
APACS does not have a direct migration tool for moving to PCS 7.
APACS OS, while fundamentally using a Siemens WinCC supervisory control and data acquisition (SCADA) system, is configured with a 3rd party tool that write-protects the project database.
The initial PCS 7 version was 9.0 but had initial issues with the redundancy library, thus the project was migrated to version 9.0 SP1 during the implementation.
Following that, there were issues installing the Modbus (a method used for transmitting information over serial lines between electronic devices) library on PCS 7 V9.0 SP1.
The Power of a Systems Integrator Partnership
Braintrust is a powerful asset and Cross Company's professional team has had experience with similar transitions. DTECC already had a positive working relationship with Cross and DTECC was able to discuss our previous control system support and DCS upgrade projects. Additionally, Cross had personnel within a few hours of the site for continued support and improvements on a long-term basis. DTECC relied on their trusted relationship with Cross to discuss their concerns and find reasonable and agreeable solutions.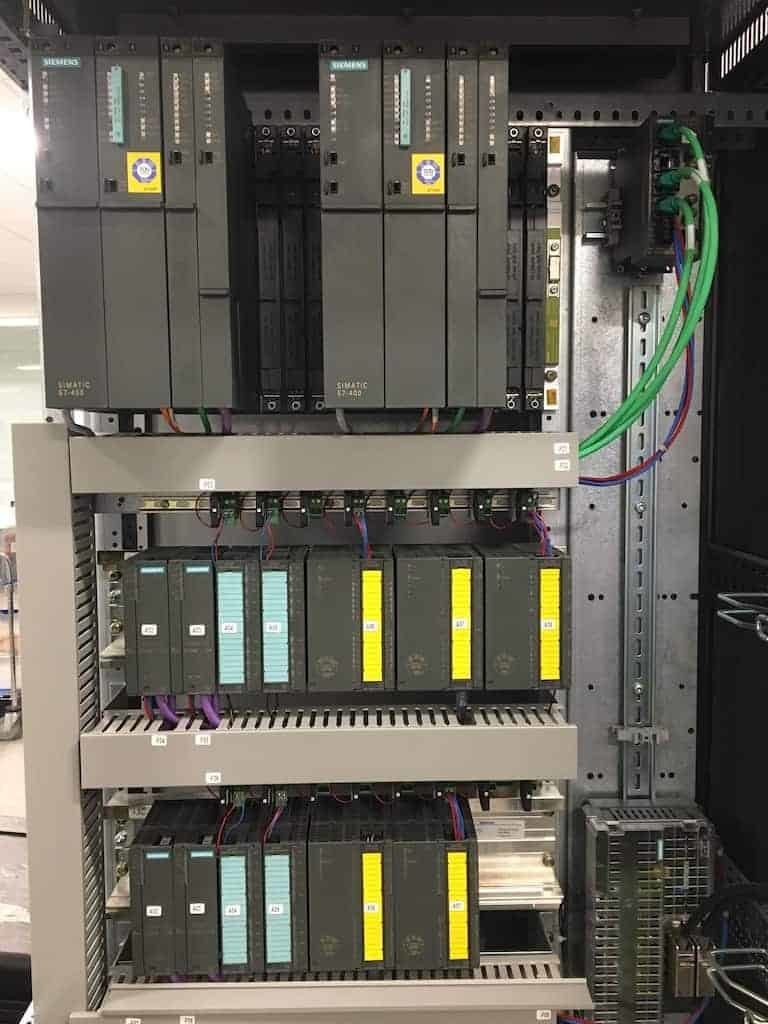 Planning Overcomes Obstacles
Identifying key issues is an important part of the problem-solving process, but once those are determined, it is equally important to determine the next course of action. DTECC brainstormed with Cross engineers to mutually understand the goal of the process, review potential solutions or combinations of solutions, evaluate those options, and agree on contingencies and future review.
Things can be very different on paper than they may be in the field, so Cross engineers used a mix of pre-planning and situational problem solving to achieve their goal within the timeframe provided.
After discussing all possible options, a scheduled Black Plant (a plant that shuts down complete power) was scheduled for three days. To minimize issues or complications during the outage and speed up installation, Cross engineers pre-planned the migration and rigged all necessary panels with over roughly 2,500 I/O points and utilized electronic marshaling which replaces manual cross-marshaling of field wiring with digital mapping.
The WinCC project was migrated by creating a new OS project, copying graphics, and using import/export functionality to move configurations for alarms, tags, scripts, etc into the new OS project.
APACS logic was manually programmed for all initial implementations. Upon that successful completion, bulk engineering, copy/paste, and Process Object View were utilized to replicate code to all duplicate units.
Siemens tech support was able to provide a manual workaround for the version issue with the redundancy library until a permanent fix was developed through a software update.
Modbus library installation issue was resolved after manual steps were completed.
Change is an inevitable facet of our lives, but how we respond to that change can determine the path that we take and where we end up. We can choose to ignore the problem in the hopes that it will go away, however, history shows us that this approach to change leaves us reacting to a situation (i.e. cleaning up a mess) instead of responding (i.e. proactive measures).
The migration to PCS 7 allowed DTECC to operate their facility on a current, state of the art, well-supported system with a clear and reliable upgrade concept for future expansion. As time marches on, DTECC will continue to look to their trusted systems integration partners to maximize their time management and improve their production costs. APACS DCS was a reliable product, but those who have not yet migrated are encouraged to schedule a consult in order to remain relevant in the industry, to stay within the production-possibility curve (PPC), and to understand the value that PCS 7 can bring to your company.
DTE Calvert City is part of the DTE Energy P&I group of companies. The DTE Energy P&I Group focuses its products and services on energy-intensive industrial, commercial and institutional customers across North America.
Interested in scheduling a migration consultation? Send us some details in the contact form below and we'll have an expert get in touch!
Learn more about our Process Control Solution Offering