Why should I buy my mobile electronic controls from a "hydraulics" company? That's the question I received from a long time customer this week.
I have to admit that my initial reaction was negative. My thoughts were more centered on why it would be good for me if my customer buys his mobile electronic controls systems from my company. If there is one thing I have learned in over 20 years in the field, customer's don't buy based on what's good for me – nor should they.
So, that started the thought process. Why should my customer trust my company to provide her mobile electronic control solutions?
Cross Company is a Machine Automation Company
I think the answer lies in my own company's mission statement: Applying technologies to improve machine and manufacturing process performance.
Simply stated, at Cross Company we are a machine automation company. That's our mission in life – and the Fluid Power Group is no different: we are a mobile machine automation company.
We have years of experience in applying mobile hydraulics AND mobile electronic controls solutions. We have a group of application engineers and programmers dedicated to the application of specially tailored mobile controls products and we have spent years developing relationships with manufacturers who make products specifically for the mobile machine control market.
Experience has taught us that traditional industrial Programmable Logic Controllers (PLCs)are not well suited for the harsh environment they encounter in many mobile machine control applications. We are proud to have developed partnerships with premier manufacturers of mobile rated electronic controls products that equip us for almost any project.
Applications Talent
As Tier 4 emissions requirements have made electronically controlled engines the standard, we are finding more customers recognizing the need to take the leap from traditional older relay logic technology to a more complex and fully integrated electronic controls package. It is a confusing and sometimes scary step. Using the right mobile controls products is only half the battle. Mobile machine controls projects have the potential to be very complex. Our application engineers and software developers are experienced in guiding our customers through the evolution of complex mobile machine control projects.
The Cross Company team of applications engineers can work with you to:
Help you develop a written specification to define your project.
Help you develop a machine that is easier to use and more reliable.
Help you determine the best electronic controls components and system architecture for your system.
Help you manage project details and develop complete software and wiring documentation for your machine.
Having knowledge of machine operations and functionality is a prerequisite for developing a good mobile electronic controls scheme for any machine. Our technical staff have spent years developing hydraulic and electronic controls schemes for mobile equipment. I would argue that our single largest asset is our technical talent. We have people who understand how machines work and what pitfalls can be encountered when tailoring a mobile control system to your specific application.
A Mobile Electronic Automation Case Study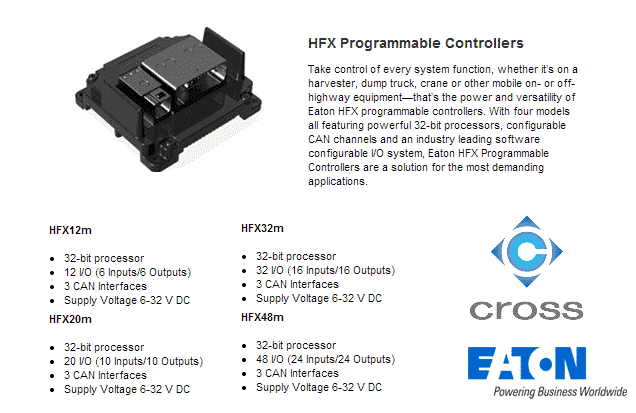 I can think of a recent specific example where we were able to apply one of our new mobile controls products to meet a customer's needs. We had a customer who wanted to develop a precise electro-hydraulic control system for a small boom. Not only was he relying on us to precisely control a very low flow rate with proportional hydraulics, he needed a company that could also interface his hydraulics with electronic controls. Cross Company Fluid Power's technical and sales teams were able to utilize a previously developed circuit from our custom manifold solutions group and pair it with a PQ Controls joystick and one of Eaton Corporation's new HFX controllers. 
The customer was impressed and delighted at the control we were able to give him. Without the combined hydraulics and electronics knowledge of our sales staff and engineering team, we would not have been able to deliver such a solution. If you are looking for a partner who can help you through the development process of your mobile machine control system, I invite you to call or email me personally to discuss your mobile machine control needs.