Five Families in this Series to Meet Your Needs
Schunk is typically known for its industrial grippers. But, they are expanding their breadth of product into linear industrial actuators. Schunk now has a family of actuators called the HSB series. You can expect the same quality out of these actuators that you can out of their grippers and pneumatics. These actuators are very industrial and customizable. There are two major advantages to these actuators.
Very high velocity, long stroke, ballscrew (Industry leading : Max Velocity = 2.5 m/s, Max Stroke = 5,120 mm)
Standard sizes are in stock in Raleigh, NC, driving cost and lead time down. Lead time being 4-5 days.
There are 5 families within the HSB series
Beta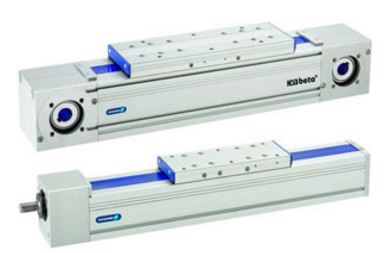 This is their smallest, most universal actuator. It is narrow to fit in confined spaces. It is highly customizable and is a good thrust actuator.
Drive Type : Ballscrew, Belt, or Rack and Pinion
Guidance : Sliding Guide, Dual Square Rail, or Roller
12 different frame sizes
Max Stroke = 8 m
Repeatability = 0.03 mm
Standard sizes in stock
Delta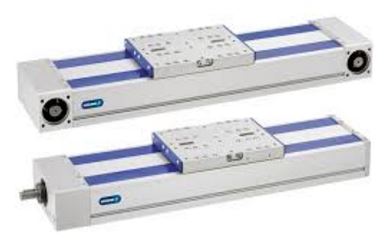 This is the actuator for loads that can't be handled by the Beta Series. The dual square rail guide makes it great for large overhanging loads.
Low Profile
High moment capability
Guidance : Dual Square Rail or Roller Guide
Drive Type : Ballscrew or Belt
Repeatability = 0.03 mm
Standard sizes in stock
Alpha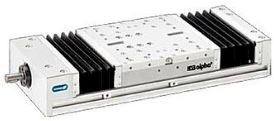 This is Schunk's very strong actuator. It is used for extremely high thrust applications. For example, there are many applications that use two of these actuators for a large gripper, like picking up the big metal barrel drums with a robot. Also, we have used these as a CNC table unit before.
Low Profile
Extremely high moment loads and force capability
Drive Type : Ballscrew
Guidance Type : Dual Square Rail
Max Stroke = 3 m
Standard adapter plates available
Gamma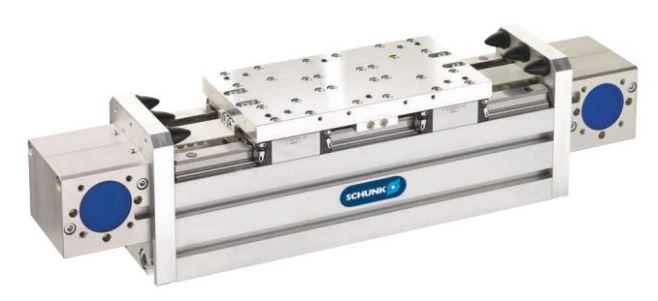 The Gamma series is much like the BETA series except bigger. It does higher moment and thrust than the BETA series. It can also be configured as a 2 belt /2 carriage actuator.
High profile
2 belts and 2 carriages in 1 unit. Example, two pick and place systems on 1 rail
Drive Type : Belt
Sigma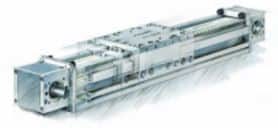 Smaller Profile than the Gamma
2 belts and 2 carriages in 1 unit
Drive Type : Belt or Powered Carriage
The Sigma series is a different look on the Gamma series. This actuator aims to decrease the profile size of the Gamma series. The roller wheels are mounted on the outside of the actuator profile.