When comparing an Advantech industrial computer to a Dell computer, typically there are three factors to consider: cost, reliability, and the environment in which the computer will be used. Here we will look at the advantages and disadvantages of these two brands from the user's point of view.
Why Advantech Is Better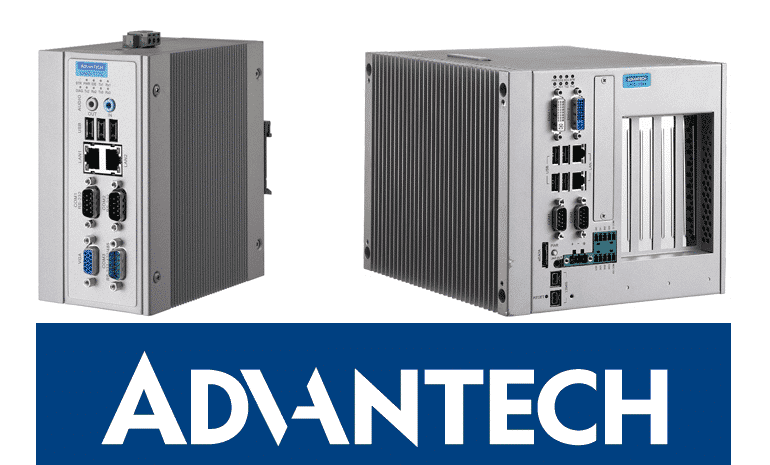 An Advantech industrial computer (in general) was designed for applications in industrial environments – or – where more reliability is needed.
Environmental Considerations
Advantech wins because their computers:
have a higher operating temperature range of 10 to 60 deg C (14 – 140 deg F), whereas the typical Dell computer has an operating range of 10 to 35 deg C (50 to 95 deg F).
have a higher operating humidity range of 20% to 95% non-condensing as opposed to the Dell computer (20% to 80% non-condensing).
meet IEC 60068-2-27 for shock protection.
meet IEC 60068-2-64 for vibration protection.
meet IP40 for ingress protection (typical configurations).
Industrial Applications
Advantech computers have built-in industrial I/O functions including fieldbus support, data acquisition and motion control.
Mounting Options
An Advantech industrial computer also has different mounting options for industrial applications – as opposed to a desktop computer form factor. Options available include:
Rack mount
DIN-rail mount
Wall mount
Panel mount
Reliability – Less Moving Parts
Advantech Computers have Solid State Drive (SSD) Options, while Dell models use standard Hard-Disk Drive (HDD). The SSD drives have no moving parts, whereas the HDD requires an actuator arm and read/write head.
Advantech also provides computers with fanless operation, which reduces the number of moving parts, and thus further reducing the opportunity for failure.
Chipset Support
Advantech vows to sell and support ALL of their chipsets for a minimum of 7 years. Dell typically stops offering chipsets after a year or two when faster chipsets are available. This is alright for a typical commercial consumer, but for industrial consumers that wish to replace or add computers with the same hardware configuration, this can be a major consideration.
Software Options
Advantech offers most of the operating systems that the chosen chipset supports, whereas the typical Dell configurations default to the latest operating system. This allows the customer to keep their configurations standard throughout their facility without requiring unnecessary upgrades.
Why Dell Is Better

Dell computers were designed with the Commercial Consumer in mind.
Price
There is no doubt that the purchase price of a typical Dell computer vs. an Advantech industrial computer with the same processor, RAM, and hard drive space will be less.
However, keep in mind, if you are in an industrial environment where your application either encounters more vibration or broader temperature fluctuations, the implementation of an industrial computer from Advantech can save down time, installation costs, and decrease overall cost of ownership.
Availability
Since the Dell computer is designed for most commercial applications, they are readily available in most of your local big box stores, making it very convenient to purchase and replace Dell computers.
Conclusion
This blog was intended to give an overview on the key differentiation between computer types for your application. Obviously, more considerations need to be made regarding the speed of the processor, the motherboard, as well as the individual components for your particular application. By evaluating the key factors mentioned above, you should be able to decide which computer brand you need for your application.
If you're considering Advantech