Smart Manufacturing and IIoT
IoT and IIoT technologies are intended to assist companies in creating smarter manufacturing systems and smarter machines through the use of digital and internet technologies. Cross Company specializes in helping companies improve machine & manufacturing process performance by providing solutions with providers such as Phoenix Contact, Advantech, and ICONICS. We have decades of experience assisting all types of companies with meeting their goals.
Are you interested in implementing a smart manufacturing IIoT solution for your operation? Contact a Cross team member today to start a conversation and see how we can help your team.
Building and Operating Smarter Machines Using Automation Technologies and Analytics
Take a look at our white paper – Building and Operating Smarter Machines Using Automation Technologies and Analytics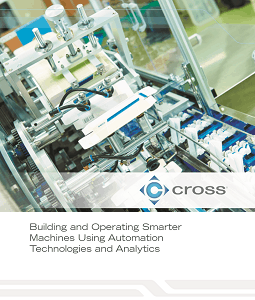 Work with Cross to implement a smart manufacturing IIoT solution for your operation