Radio Frequency Remote Controls for Mobile Machines
There are many reasons why operating a mobile machine remotely makes sense. Sometimes it has to do with operator safety, and other times it has to do with being more efficient. Whatever the reason, radio frequency remotes have been proven over the years to be a safe and reliable means of controlling your machine.
How do these products work? Through the use of radio signals that are transmitted at a certain frequency from an RF transmitter, the receiver that is mated to that transmitter and mounted on your equipment, reads those signals. The frequency with which those radio signals are transmitted determines the signal strength. Signal strength can also be amplified, and therefore the distance that can be covered, if needed by using repeater devices. If you are selling your equipment outside of the USA, different countries have different regulations on the frequency ranges so this needs to be considered.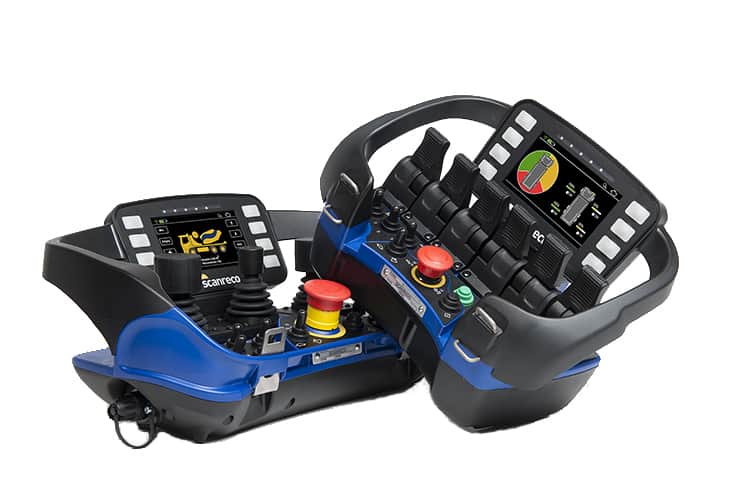 Radio remote controls from Scanreco
The transmitters come in different form factors from small hand held devices that control on/off signals to larger bellypack devices that have the capability to control multiple on/off and proportional functions. Displays are making their way in to these RF transmitters if that would bring value to the operator of your machine. These transmitters can be powered by rechargeable batteries that can be charged between job sites, or by standard alkaline batteries for ease of replacement.
The receivers are more straightforward in that you can directly control your machine utilizing I/O on the receiver through programming, or if more applicable, use a receiver that communicates to an existing control system utilizing CANbus communications. These receivers can have a built in antenna or a remote antenna for better reception.
The combinations and options are almost endless when working with RF remote controls. This is where Cross Company, and our Mobile Systems Integration engineering team can assist. We have been specifying, and incorporating RF remotes into our control systems integration projects for over 10 years. Take a look at our Radio Remote Control options and Contact us today to discuss your particular application requirements.
See how our mobile systems integration team can help improve quality, increase efficiency, and reduce risk.