Cross Precision Measurement – formerly J.A. King –  is pleased to offer the Ohaus Adventurer Grain Scale. It has been designed to provide a durable, high-precision grading scale for use in both commercial grain and GIPSA applications. Using high-resolution load cell technology, the Adventurer offers 4,200g capacity in either 0.01g readability (non-approved mode) or 0.0[1]g for approved grain applications (NTEP Class II to Handbook 44). The Adventurer Grain Scale also features FM/Dockage readability to 0.01%.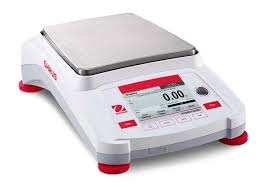 Easy to Use – Designed for high-throughput dockage operations, the Adventurer Grain Scale features a large and bright 4.3" touchscreen LCD display with intuitive icon driven SmarText 2.0 software. The Adventurer Grain Scale also includes six manual "quick keys" for simple operation of routine task. Test Weight and Dockage modes have dedicated key functions to increase efficiency.
The Modes You Need – Simple weighing, a Test Weight mode and standard or reciprocal Dockage (foreign material) modes are all programmed into the Adventurer Grain Scale. Each mode can be quickly accessed using dedicated key functions.
Multiple Test Weight Selection – The Adventurer Grain Scale offers a Grain Grading unit for pounds per bushel with quart or pint containers and kilograms per hectoliter in liter and half-liter volumes.
Weighing Units – The Adventurer Grain Scale offers g, kg, oz, lb, and a user-defined custom unit.
Durable Design – Each Adventurer Grain Scale features a removable stainless steel weighing pan and durable housing with cast aluminum loadcell frame. Full in-use housing cover included.
Improved Connectivity with GLP/GMP Data – The Adventurer Grain Scale features a standard RS-232, USB Device and USB Host ports with real time GLP/GMP capabilities including operator ID, date and time for improved traceability.
See how our precision measurement team can help improve quality, increase efficiency, and reduce risk.