A custom fixture is a device used to hold parts in a repeatable orientation for reliable measurement. They ensure that the part you are measuring is held securely and consistently on the fixture the same way every time. This produces more accurate measurements and yields a significantly better gage R&R.
Custom fixtures can also hold more than one part in the same orientation, allowing multiple measurements at once, which increases throughput. They are best suited for complex parts and/or higher precision tolerances. For example, a part with many curves and features will be difficult to fixture with modular methods, which rely on flat surfaces to locate properly. The best thing about a custom fixture is that it can be used with pretty much any measurement equipment, including; scales, vision machines, CMM's, force stands, micrometers, and more!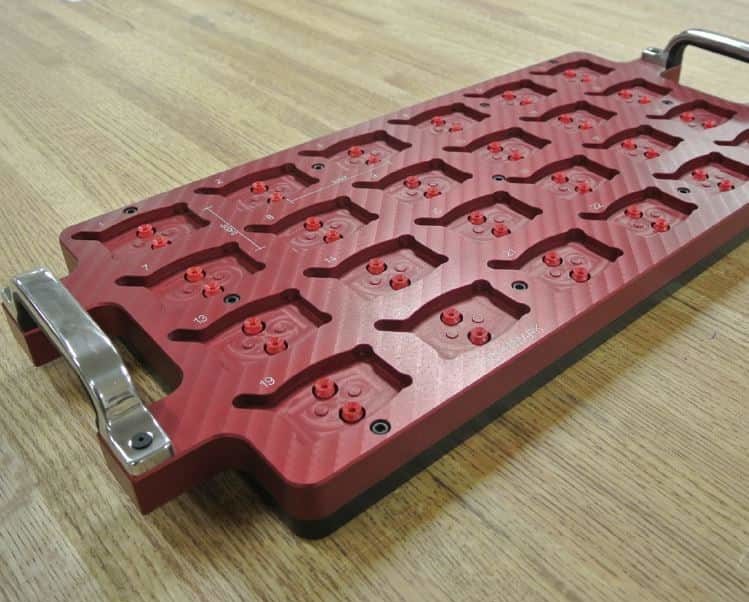 Found most commonly in the consumer product, medical device, and plastics industries, fixtures can be used for a number of applications including parts inspection, durability testing, materials testing, and the measurement of uniquely shaped parts. Custom fixtures add value by reducing the risk of human error in measurement. This helps to improve the quality of your product by improving the quality of your measurement data.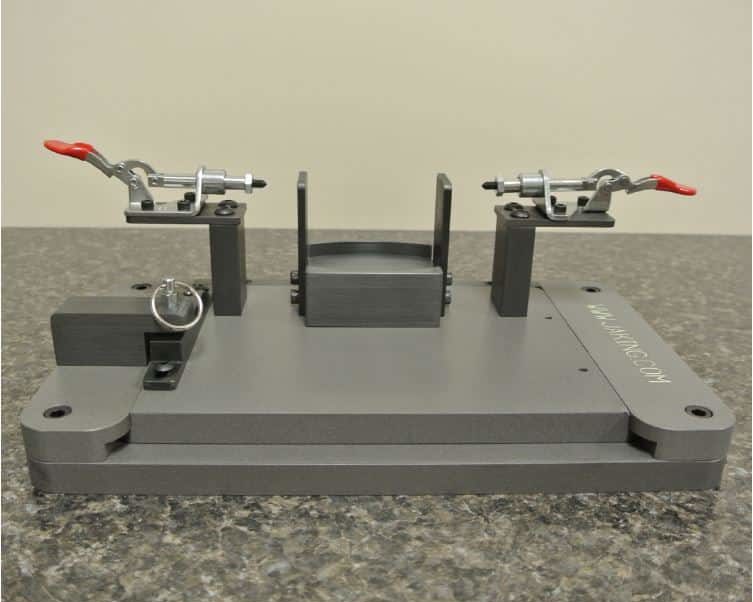 Fixtures improve measurement efficiency by making measurement easier– and thus faster for the operator to load and unload products. Custom fixtures are easy to load, which improves ergonomics for the operator and minimizes set-up time. Additionally, it also helps you to use the space on your measurement equipment in the most volumetrically efficient way possible. For example, you can maximize the space on your CMM to measure the most products at a time with the least amount of loading and unloading.
So why work with our team? We have been in the measurement business for more than 80 years and have made numerous custom fixtures. We can take your idea from conceptualization and design, through building, testing, and even calibration. Our team can even take the process a step further by programming your equipment to measure parts using the fixture we have built. This provides you with a truly turnkey measurement solution. 
Our engineers partner with you to make the perfect fixture for your application and hold our designs to the highest quality standards. Interested in learning more about increasing your measurement accuracy and efficiency? Our team has extensive experience in both measurement and custom fixturing. Contact us today to work with a measurement expert!
Take a look at some of our latest fixtures for a range of applications.
Application Type: CMM Fixture
A plastics manufacturer needed a fixture to hold cans in position. This fixture uses vacuum to hold 32 containers in place without deforming the can or blocking the CMM from measuring all sides.
Application Type: CMM Fixture
This manufacturer needed a number of features that needed to be measured on a container. This fixture was designed to hold the part in place without blocking the CMM probe from touching any of the features that needed to be checked.
Application Type: Force Fixture
This unique force fixture allowed the operator to run six unique force (two push off, two pull off, and two sliding/translating tear off) tests on a container with a lid in three different orientations without having to remove the part.
Application Type: Vision Fixture
This vision fixture was designed for a medical device manufacturer that had a hard to measure part. The part was mostly round and thus very difficult to index in a repeatable way, in fact, it would be impossible without the fixture.
Application Type: Vision Fixture
This fixture was designed for an automotive parts manufacturer that needed to hold a small electrical component in a repeatable position for measurement.
Application Type: Force Fixture
This force fixture and cabinet was designed to test the strength of a plastic handle. The enclosure protects the operator from any flying parts.
Application Type: Heavy Capacity Vision Fixture
The part that needed to be measured was extremely heavy (nearly 1000 pounds). The fixture our team designed held the part in the correct orientation on the optical comparator. Additionally, the fixture allowed the operator to rotate the part without removing and reloading.
Application Type: CMM Fixture
This fixture was designed for a medical device manufacturer with parts that were extremely thin and flimsy. They required the fixture to hold the parts securely without deforming them.
Application Type: Scale Fixture
These fixtures and scales worked together to help measure and balance large turbine blades.
Application Type: Roll Cloth Scale
This specially designed pan spans two scale bases and is used to hold a long roll of fabric for weighing.
Application Type: Scale Fixture
This fixture was designed to hold a large plastic part on a precision scale. The part itself was too awkward to sit on the small scale base, and a larger scale wouldn't have provided the needed precision.
See how our precision measurement team can help improve quality, increase efficiency, and reduce risk.