The WAFER-SPHERE from Jamesbury is not just another Butterfly Valve
It is a high-performance valve that offers significant performance, weight, size and cost of ownership advantages. The WAFER-SPHERE provides a cost-effective solution for a wide variety of applications where bubble-tight shut-off is required in manual, automated and proportional services with temps from -320°F to 500°F and pressures to 1480 psi.  It's unique design is an extension of sealing technology – utilizing an eccentric disc and offset shaft, the design incorporates the flexible-lip sealing system into a lightweight, compact body resulting in a tight-sealing, yet lower-cost alternative to gate valves and other rotary valves.
WAFER-SPHERE High-Performance Butterfly Valves – The Gate Crasher
The WAFER-SPHERE eliminates all the reasons for using gate valves except one: Habit!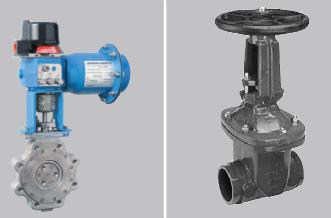 The Automated WAFER-SPHERE has low profile compared to
competing gate valve
Benefits when compared to a gate valve
higher pressure ratings
significantly less weight
leaktight shut-off over long cycle life
compact design requiring less space
ease of automation
ease of maintenance
many applications
lower overall installed cost
WAFER-SPHERE valves have proven their ruggedness and dependability in a wide range of industries and applications
isolation & control services
slurries
steam
gases
liquids
pulp stock
corn processing slurries
tertiary petroleum recovery
high pressure water for pad cooling in NASA rocket launching
ambient & cryogenic high cycle air separation services
LNG
commercial HVAC
Metso Jamesbury is a valued supplier partner in TN with Cross.