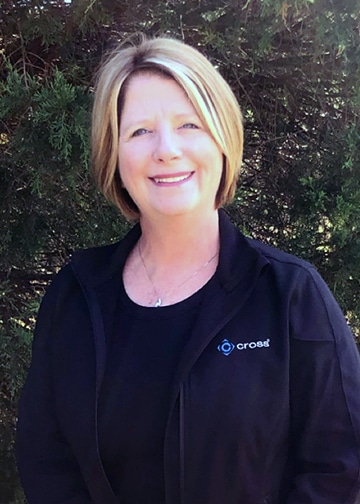 "The people keep me at Cross. We care about what we're doing and about each other. From the top down, everyone seems to care about the people. The company cares about the associates and making the choices and decisions to grow. It's a great company….so much so that when a role came available, I recommended it to one of my sons!"
Kim grew up in Shelby, NC and attended Gaston College. Shortly after graduating, she married and had twin boys. When the twins were two, she joined JMT (now part of Cross Automation) as an assembly technician working on profile assemblies for elevator doors. "It's crazy, I always wanted to do something crafty and I ended up in an engineering role!" she said.
Soon after, Kim was invited to apply for a role in the purchasing department as a buyer where she stayed for two years. After Cross acquired JMT, she moved into a customer service/inside sales role where she excelled for 15 years. "I had the opportunity to work with multiple field sales people, a few of whom I still keep in touch with and consider good friends."
Along with one of those sales people, Kim won the $4m sales territory award one year and the $5m territory award the next, one of only two people to win both. She was also the 2011 Ace Award winner for Cross, which celebrates excellence in customer service.
In 2013, Cross started selling collaborative robots and needed a dedicated inside sales person, working only on robotics, so Kim moved to what became Cross Robotics. In a few years, the company realized that what customers really needed was help integrating the robot into their facility. As Cross moved into integration, Kim moved into the project manager role for the Gastonia lab. She is now a project manager for both Automation locations and has recently been promoted to Engineering Site Lead.
Kim credits her success to her team, saying "It really is a great team, a very tight group. I enjoy the role and I enjoy the team. We love the excitement, the technology and taking care of customers."
About Cross, Kim said "The people keep me at Cross. We care about what we're doing and about each other. From the top down, everyone seems to care about the people. The company cares about the associates and making the choices and decisions to grow. It's a great company….so much so that when a role came available, I recommended it to one of my sons!"
When she looked back on her career development, Kim said "I appreciate Cross for recognizing something in me that I didn't see in myself and giving me the opportunity to pursue it."
Cross Automation Group President Lynn Crump said, "I have worked with Kim for over 25 years and have watched her excel in every role she has undertaken, from her bright beginnings as a CSR where she was well respected by her salesperson and more importantly customers to becoming the site lead for the newly formed Innovation Team. Kim exemplifies the Cross's Cornerstones by always putting others above herself and driving herself and others to be better employee-owners"
Kim's Career Path At Cross