Technical Guide: Industrial Hose Secure Clamp Styles
When it comes to industrial hose assemblies, there are multiple ways to attach fittings to a length of hose. A few of those methods include pre-formed band clamps, double bolt clamps, gear or worm drive clamps, crimpable ferrules, and crimpable sleeves. Depending on your application, we will recommend the right connecting solution for your need.
One of the easiest (and oldest) methods for low-pressure applications is a worm drive clamp (also called a gear clamp, or radiator clamp) These clamps are inexpensive, easy to install, and can be used for low-pressure applications or even emergency repair in a pinch. The biggest limitation of this style clamp is pressure, as these are only intended for low-pressure applications.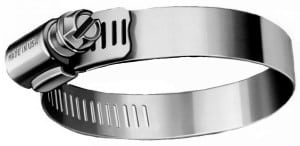 Pre-formed band clamps are made for low/medium pressure applications and can be tightened down with either a manual hand tool or electric Ultra-Lok tool for a tighter seal, enabling it to handle slightly higher pressure. These clamps are a one-time use clamp and would have to be cut off to install a new clamp.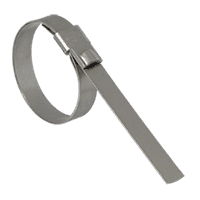 Double bolt clamps are a higher torque, reusable option that is typically seen on heavy duty industrial applications. They are offered in sizes ranging that fit 1" o.d. hose up to 16" o.d hose, so there are plenty of options using these. It's important to pay close attention to the range needed for your particular application, as the adjustment range is much smaller with this style clamp.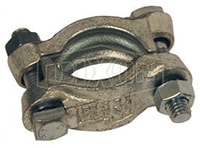 Crimpable Sleeves/Ferrules
The next connecting system is externally crimping sleeves or ferrules to the outside of the hose assembly. In doing this, there is a much more consistent crimp throughout the diameter of the hose assembly, giving you a stronger crimped connection with a higher pressure rating. Externally crimped sleeves/ferrules are a favorite of the chemical, pharmaceutical, and brewery industries for the clean, safe, and more polished look than simply clamping a hose assembly.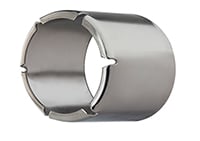 Selecting the right type of industrial hose for your application is only half of the battle! Without the proper attachment, the hose won't perform as you need it to. When you're trying to figure out what combination of hose, fittings, and attachment method you need for industrial hose assemblies, Cross Hose & Fittings can solve all of your fluid conveyance needs.
Our hose and fitting technicians have years of experience working with a range of hoses clamps and can help your team determine the best products for your hose. Stop by one of our store locations or send us a message to learn more and discuss your hose application.
See how our hose and fittings team can help improve quality, increase efficiency, and reduce risk