Guarding Your Investment – A Guide to Safety Fencing
Reduce Risk with the Correct Safety Fencing
In today's manufacturing environment safety fencing plays an integral role in protecting employees from hazards posed by industrial machinery. Threats to operator safety can be found on automated machinery, process control equipment, robotic work cells, and many other areas on a manufacturing floor.
A physical barrier between hazards and operators is an effective, low-tech solution for significantly reducing the risk of injury and the costly lawsuits or machine downtime that result from these accidents.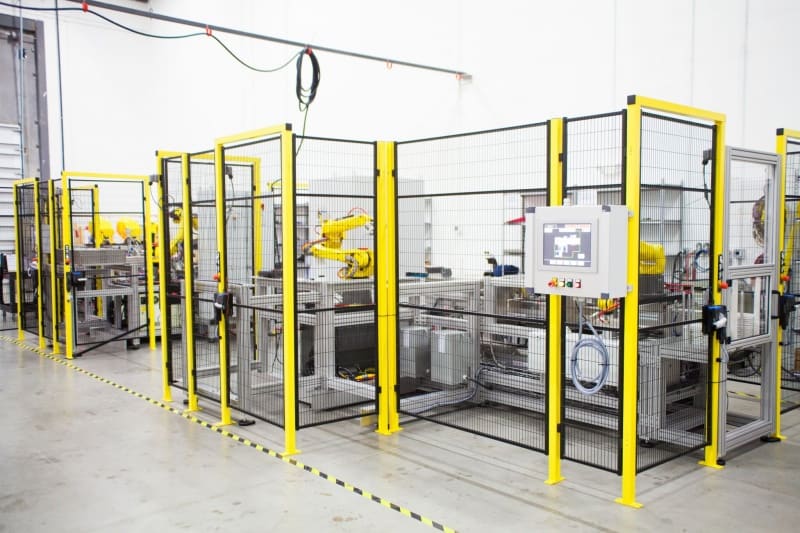 Before implementing a safety fencing system, the following considerations should be taken into account.
Area Requiring Guarding – Measure the area around where the hazards exist.
Height of the Fencing – Determine the required height to safeguard employees from making contact with a hazard if they were to reach over the top.
Operator Safety – Ensure operators will be safe while working inside of the fencing.
Ease of Install/Modularity – Understand how the system connects together and the expandability if new panels or doors are required.
Robustness & Longevity – Select fencing that will be sturdy enough to protect against collisions and withstand the manufacturing environment without rusting or corroding.
In this guide, we will review these considerations and discuss how safety fencing from GSM addresses each one.
The most basic step in selecting a safety fence is determining the size of the area surrounding the hazards that need guarding. Once the dimensions are known, panels and doors can be selected to best fit the area. As shown below, GSM offers 14-panel widths from 250mm to 2000mm. A large variety of panel widths helps with covering areas of all shapes and sizes most efficiently.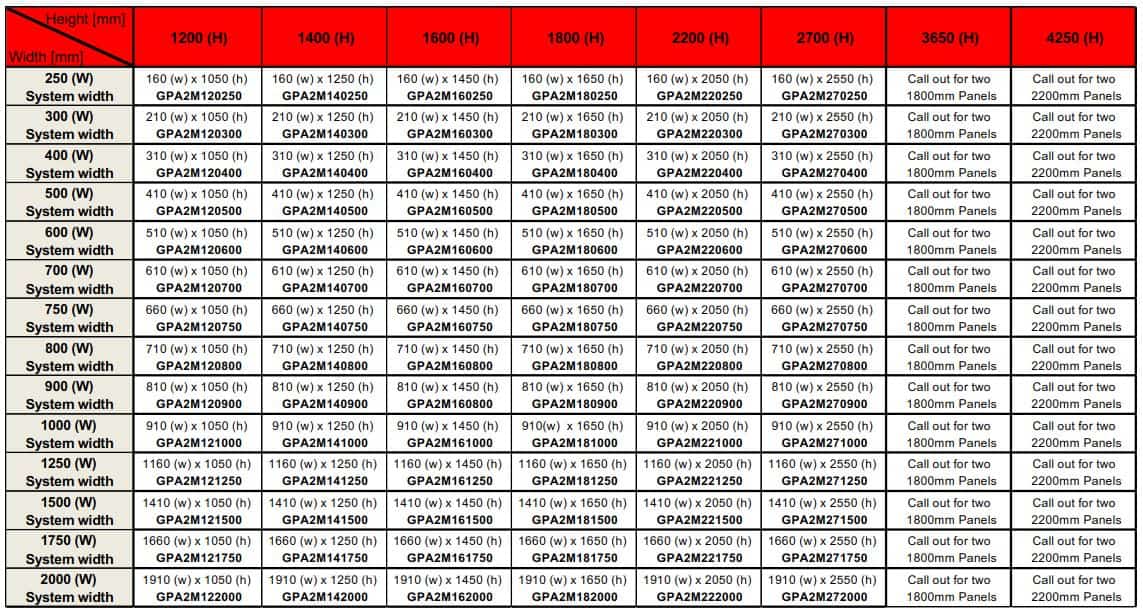 While selecting the panel sizes, it is important to think about where the door(s) will be located. With GSM, 10 door widths ranging from 1000mm to 6000mm are available and all mount to the same style post. Other configurable door options to consider when designing the system are Right or Left-Hand Opening, Single or Double Door, and a suitable Handle Type (e.g. Pull handle, Safety Interlock, Knob w/key).
Choosing an appropriate fence height is important to prevent injuries that would occur from reaching over the top. The graphic shown below is from the ISO 13857 standard that mandates the required safety distances to prevent upper and lower limbs from contacting hazard zones.
The 'Height of the Danger Zone' and the 'Height of the Protective Structure' are used to determine the required horizontal distance the fence should be from the 'danger zone'. As the graphic shows, a 2200mm tall fence requires a horizontal distance of at least 400mm from a high-risk area.
Since the height requirement varies based on the application, GSM offers eight different heights from 1200mm-4250mm (in the table above). The 2200mm (7.2ft) height is the most popular and covers a wide range of applications.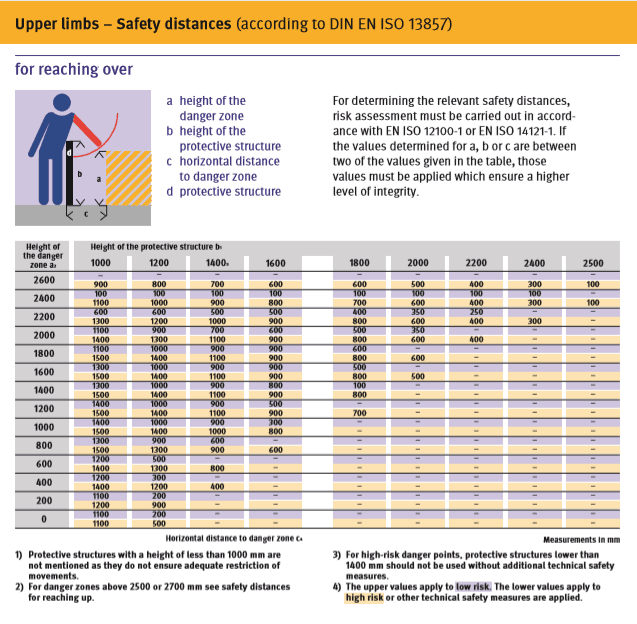 The ISO 13857 standard also includes injury risks from reaching through the fencing. Figure 3 shows a graphic that specifies the required safety distance based on the size of the opening in the panel. For example, the steel mesh panels from GSM have 20mm slots. Based on this opening size, the chart says a safety distance of at least 120mm (4.75") is required.
By understanding the relationship between height, opening size, and horizontal distance we can select a properly guarded fencing system.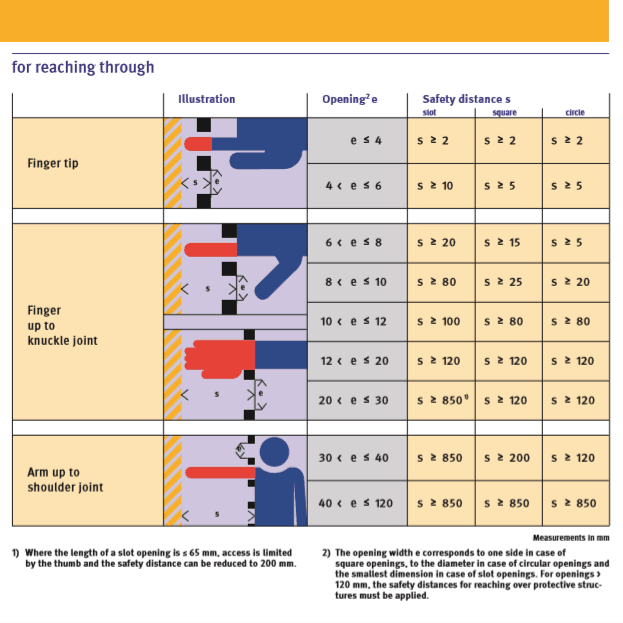 It is important to plan for the safety conditions required for when operators must enter the guarding system (e.g. to perform maintenance, resolve E-Stop conditions, etc.). A common practice to keep operators protected is a safety interlock door handle and push buttons mounted on the post (e.g. E-Stop, Reset, Request to Enter). The signals from these are used to shut down power to potentially hazardous components while operators are in the work cell.
For many fencing systems, the end user is responsible for installing the safety interlock door handle, push buttons, and connector that runs the signals back to the safety controller. To offload this task from the end user, GSM has a standard 'AZM' option that includes a pre-wired and mounted Schmersal safety interlock door handle, push buttons, and Harting connector to run the signals back to the safety controller.
This handy option (in the pictures below) is popular because of the reduced installation time and overall convenience a pre-wired and pre-mounted solution offers.
Ease of Install/Modularity
Most safety fencing systems are held together with a large number of nuts, bolts and joining brackets.  While simple, the installation of these systems can be tedious and time-consuming.  Ever single bolt has to be tightened and it can be a pain to keep the corners square.  Additionally, if the system has to be expanded or re-arranged, the process of removing the hardware can be daunting.
To modernize the installation procedure, GSM has developed an innovative mounting system that requires no tools.  The panels snap securely in place via quick connect fittings located on the posts.  All size panels work with the quick connect fittings on the posts, making GSM a truly modular system that can be tailored to any fencing layout.
Systems that have a fast and simple connection method can be much easier to work with, especially if the system has to be expanded upon or altered.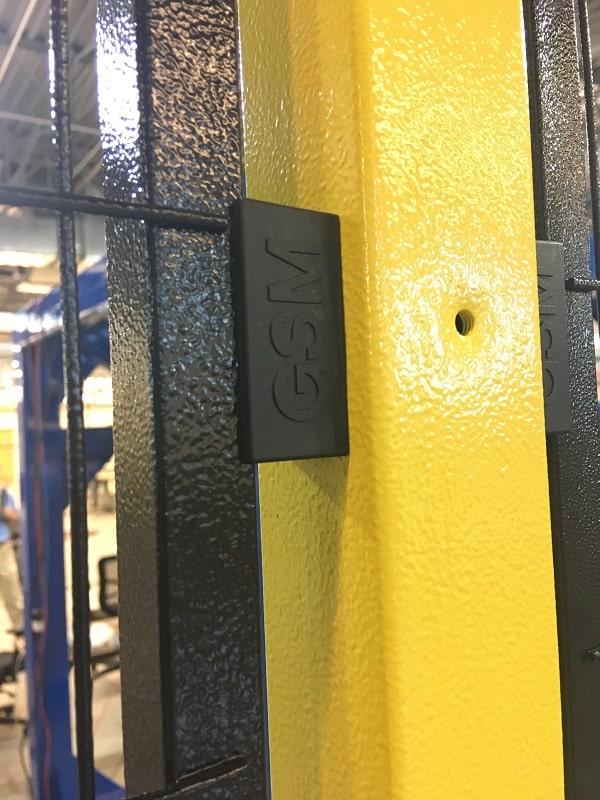 Guarding systems need to be strong enough to handle unexpected collisions from personnel, carts, and even the occasional forklift. They also need to be able to last in a manufacturing environment without degrading. To maintain a beefy frame, the GSM2000 system (shown below) uses 50mm square steel tubes for posts rather than aluminum. The panels are made of steel and use a 2mm wire mesh with multiple middle supports welded at all junctions. This prevents panels from flexing, which is a common issue in traditional angle iron systems.
An enemy to the longevity of a safety fencing system is the presence of chemicals and harsh conditions found in some manufacturing environments. Long-term exposure to these can degrade a fencing system. To prevent degradation, GSM powder coats all panels and doors to ensure they will last even in the harshest environments. Powder coated steel serves as a great combination of strength and durability for a safety fencing system.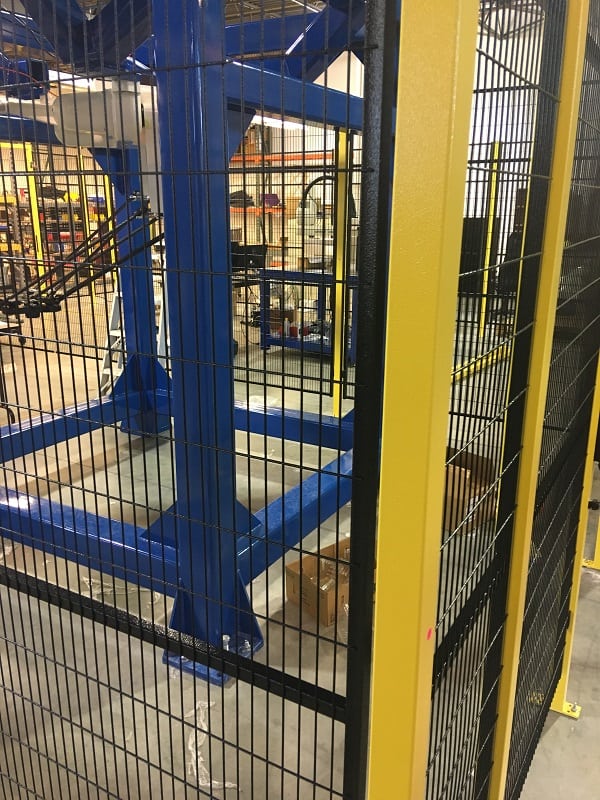 Following the steps in this guide can help you deploy a safety fencing solution that is appropriately sized, ensures operator safety, and will hold up in the environment. If you have any questions about implementing a safety fencing system, contact Cross and we'll be glad to help. With the basic dimensions and a few simple questions, we can develop a BOM for the panels, doors, posts, hardware, and accessories.
See how our automation team can help improve quality, increase efficiency, and reduce risk in your operation