Gentle and Secure: The Coval FPC Vacuum Cup for Bags
In the world of pneumatics, vacuum is seen as a dark magic. Whether you are picking up boxes for palletizing or individual products, getting the proper flow and seal is crucial for a successful pick and place. To even further complicate using vacuum, try picking up a bag filled with liquid. When the vacuum turns on, either by a venturi or pump, and you see the bag suck up into the cup, did you think "alright, I'm getting somewhere now?"
As soon as you to try and move the vacuum head, the liquid-filled bag falls on the floor with a resounding thud!
Well, worry no more! Coval has a line of vacuum cups called the FPC that will pick up bags filled with liquid. But, it doesn't just have to be liquid! It works on bags of lettuce, buns and pastries, salad dressing – the list goes on.
Vacuum Cup Application Example: Bags of Liquid
A Cross customer brought to our attention that they were working on a machine that needed to pick up bags filled with deionized water from a conveyor and place them in a box. In the past, this was done using a pneumatic gripper that would pinch the bag and leave a noticeable crease. If the bag was made of Mylar, they would have to use some other form of gripping because the bag could split on the pick point from the gripper. 
In comes the Coval FPC vacuum cup. The deionized water was in bags that weighed between three and eight pounds. They used two Coval FPC vacuum cups for the lift. The cup was sized to handle the eight-pound bag so the three-pound bag was no issue. They placed an order for a few cups for testing and found out that these cups worked flawlessly. At the end of the day, they had eight Coval FPC vacuum cups on four robots picking up bags filled with liquid without a single dropped bag.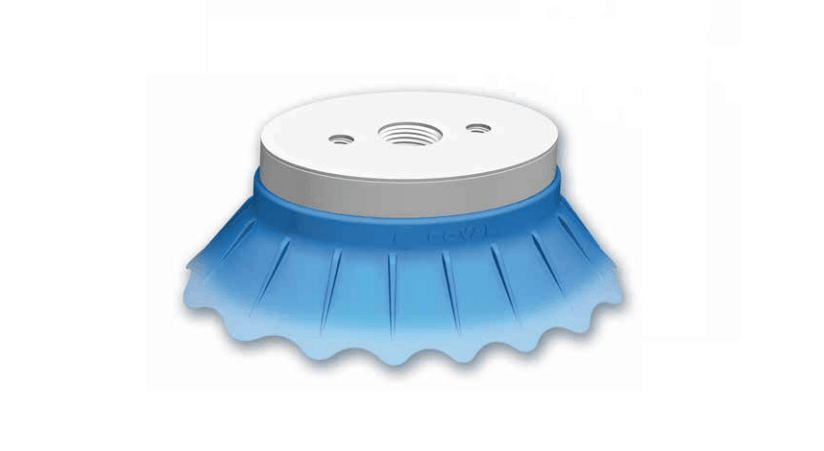 Coval FPC Series Vacuum Cup
The Coval FPC vacuum cup is available in two different sizes, a 60mm round, and a 120x100mm oval. It also comes in two different shore ratings, a 35 and 50. The FPC cup is made of silicone for food safe environments. The special design of the cup causes vacuum flow around the bag which allows it to maintain its pick at all times.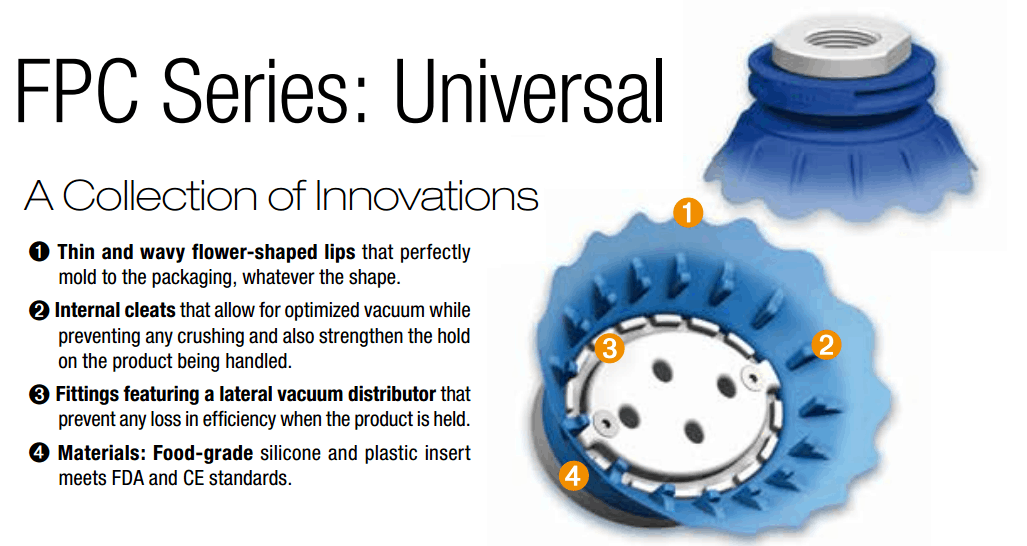 Traditional methods will always fight against gravity and the constantly shifting nature of the bag's contents. Manufacturers have been forced to live with the compromised quality of these solutions. Until now. The Coval FPC vacuum cup has filled a major hole in the vacuum industry.
If you have any questions or needs regarding vacuum cups, moving bags, or moving anything else, contact the experts at Cross Company.
See how our automation team can help improve quality, increase efficiency, and reduce risk in your operation