How Thermal Dispersion Technology Can Benefit Your Application
Thermal dispersion flow and level switches are found in a range of continuous operation applications where the most demanding and critical processes occur. This technology is the most preferred solution a range of industries such as oil and gas, wastewater treatment, chemical operations, and more. Whether your application is for flow, level, or a combination of flow and temperature or level and temperature, there are a variety of thermal dispersion flow and level switches to meet your needs.
The reasons for their popularity are clear. They were developed from more than 40 years of flow and level switch engineering and application experience to deliver the most reliable, repeatable, rugged and longest life industrial grade switch products found anywhere.
Thermal dispersion technology uses the principle of measuring the heat loss, or cooling effect, of a fluid flowing across a heated cylinder. A typical flow element configuration uses two RTDs, sheathed in thermowells, separated by a gap. Heat is applied internally to one RTD relative to the other, creating a differential temperature between the two. This differential temperature is greatest at no flow conditions and decreases as flow increases, cooling the heated RTD.
Changes in flow velocity or immersion of the flow element into a liquid directly affect the extent to which heat is dissipated and, in turn the magnitude of the temperature differential between the RTDs. This differential is electronically converted into an electrical signal that can be used to trip a relay in flow or interface switch applications.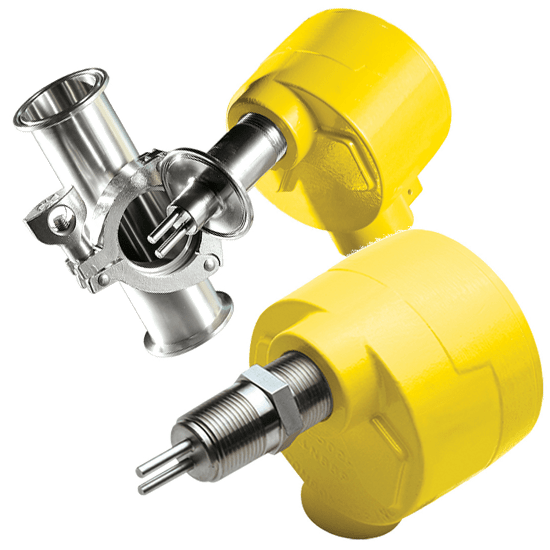 Thermal Dispersion flow and level switches (FCI)
Since the relationship between flow rate and cooling effect is directly related to mass in gas applications, Thermal Dispersion technology, combined with advanced signal linearizing circuitry, is used to provide a highly repeatable and accurate measurement of gas or air mass flow rates.
Common Industrial Applications
Thermal Dispersion Technology is the most preferred solution a range of industries such as:
Oil and Gas Upstream/Downstream
Refineries
Power Plants (Including Nuclear)
Wastewater Treatment
Chemical operations
Food and Beverage
Mining
Metals
Manufacturing
Advantages to using Thermal Dispersion
Precise performance accuracy
No moving parts
All welded design
All 316L stainless steel, Hastelloy, or exotic materials
Designed for heavy industrial environments
High liquid flow rate sensitivity
High temperature service
All liquids and gases
Additionally, models are available with 316L stainless steel wetted parts that are electro-polished to 20 Ra, with a sanitary flange process connection meet the sanitary requirements of the food, beverage, pharmaceutical and chemical industries. The instrument's "no moving parts" design makes it ideal for monitoring the flow of syrups, fillings and other viscous media and product slurries. This design is suitable for both clean-in-place and steam-in-place applications.
Find The Right Thermal Dispersion Solution With Cross
The flow and safety technologies experts at Cross company have years of experience implementing flow metering solutions in a range of applications. With an industry leading range of high quality product options, our application engineers can help your team source the right products no matter what your needs, all in one place, Cross Company.
See how our process solutions team can help improve quality, increase efficiency, and reduce risk.