Avoid Tier 4 Requirements By Using a Hybrid Drive
Environmental awareness, increased safety, and improved efficiency are currently the leading concerns among mobile equipment manufacturers in every industry. Engine electrification in automotive transportation is increasing, but industrial, construction, and agricultural vehicles pose their own specific design and development challenges. Electrification offers the potential to significantly reduce emissions and noise levels, cut fuel consumption and lower maintenance costs, in addition to a host of other benefits.
Additionally, full electrification isn't the only option. Hybrid electric vehicles reduce the cost of ownership and shelter the user from fossil fuel price hikes. Hybrids perform even better, potentially producing increased power from smaller internal combustion engines. Hybrids can also supply electricity to other equipment and reduce noise and pollution.
Cost-Effective Hybrid Diesel Engine Designs
Tier 4 emission standards, phased-in from 2008 through 2015, require substantial reductions of NOx (for engines above 56 kW or 50 Hp) and particulate matter (above 19 kW or 25 Hp), as well as more stringent hydrocarbon limits. Meeting these emissions standards has significantly increased the cost of diesel engines and the space they occupy on a machine. This article addresses the large market of 18 kW, or 24.9 Hp, diesel engines currently exempt from aftermarket treatments (Tier 4 Exempt).
Cross Company has partnered with InMotion to provide a premium flywheel mounted generator with motoring and starting capability for a cost effective hybrid vehicle design. By utilizing this type of engine and generator/motor design, you can produce the same power as a larger Tier 4 engine at a reduced cost, saving you – the OEM – money.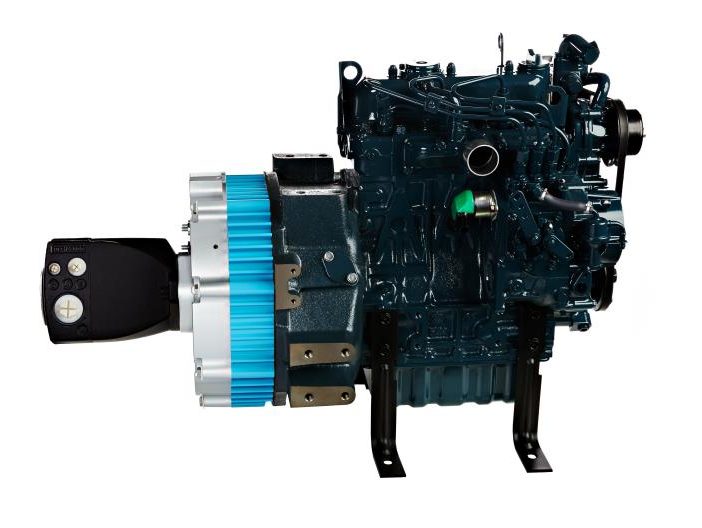 From left to right: Hydraulic Pump, PMAC Generator/Motor, Diesel Engine. Courtesy of InMotion.
Increase Power Output Without Being Tier 4
The largest advantage of this type of hybrid system is the ability to build on an 18 kW diesel engine, taking advantage of its low cost and compactness, and increase transmitted power to the level of a 36 kW diesel engine. For example, if your application has a greater than 18 kW peak demand, the motor/generator is more cost effective than having to start with a larger diesel and adding the Tier 4 mandated after treatments. This example has the ability to add a hydraulic pump to drive traditional hydraulic functions in addition to being able to power other electric options such as electronic steering and electric motors attached to implements.
The highlights of this system include:
Eliminates the need for a Tier 4 engine.
Hybrid design uses reliable and maintenance-free brushless generator/motor.
Permanent magnet synchronous AC (PMAC) technology enables smallest possible footprint.
Allows for different nominal battery voltages from 24 volts to 80 volts.
PMAC technology is expandable and available from 6 kW to 24 kW power output.
Hydraulic pump interface to the generator/motor allows for mixed technologies on your mobile machine.
The shift between the two power sources is automatic, smooth, and designed to optimize efficiency. A properly designed hybrid engine cuts emissions in half and can be up to twice as fuel efficient. The battery recharges during operations that require less than peak demand and stores energy that can be utilized for peak demand when needed. This means your vehicle spends less time charging and more time getting work done. If necessary, the hybrid engine can run in an electric-only mode. This is beneficial to the environment, efficiency, and your ears. Quieter machinery is an added bonus for everyone.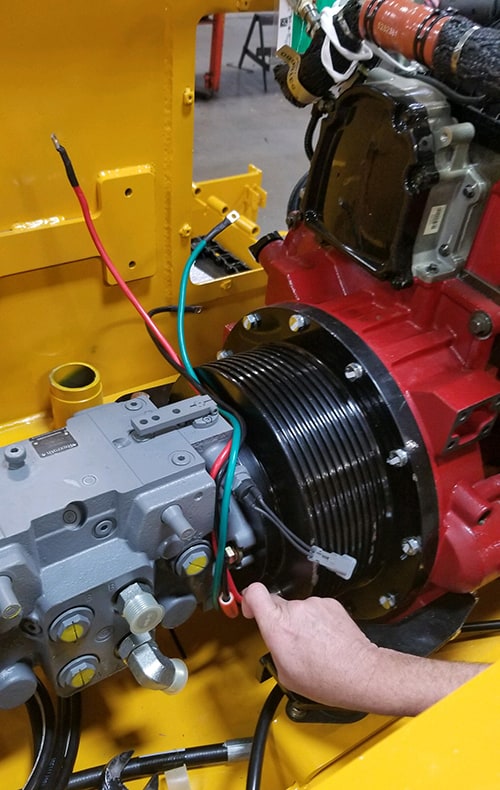 Generator mounted on a diesel engine
If you are building mobile machinery in the 56 kW (50 Hp) range that spends 50% or less of its time operating at peak power, hybrid technology is available to you today. By incorporating it into your machine design, you could significantly lower the cost of the machine, the cost of operation, the physical engine space on the machine, and noise and maintenance. Contact the specialists at Cross Company today to discuss whether a hybrid or an all-electric drive is right for your application.
See how our mobile systems integration team can help improve quality, increase efficiency, and reduce risk.