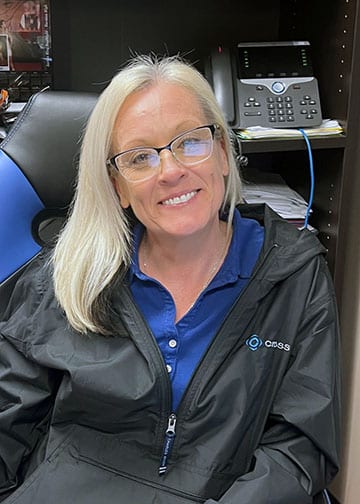 "Your growth is what you make it. If you have a desire and you work towards it, this is the place to be. We'll give you the opportunity!"
Amy started with the Oklahoma City branch of Cross in 2010, then called Accurate Labs, cleaning gage blocks prior to their calibration. Eventually, she moved into shipping and receiving where she worked for two years before being promoted to the shipping and receiving manager. When J.A. King acquired Accurate Labs in 2016, Amy was the out to vendor coordinator in addition to managing shipping and receiving and the other back office functions.
She took a slightly different path for her next move, however, becoming the out to vendor coordinator for all sixteen of the J.A. King branches, a huge undertaking! Around the same time, J.A. King acquired a calibration lab in Tulsa, bringing the total number of branches to seventeen. After a couple of false starts, Amy was parachuted into the branch in 2018 as the solo Tulsa coordinator, with her manager working out of the OKC office, about the same time that Cross acquired J.A. King.
A year later, in recognition of her strengths and capabilities, Amy was promoted to the Tulsa branch manager position, one of only three women in the role. She oversees the fifteen technicians and coordinators in this fast-growing lab.
She credits her success to working hard and playing hard. "I love what I do and the people that I work with. Our office has a real family feel and we try hard to keep that. It's a great team to work with."
Jeremy Larson, PMG's Director of Field Service responsible for Tulsa praised Amy: "Starting as a shipping & receiving clerk and advancing to a corporate out to vendor coordinator, Amy has always prided herself in mastering her tasks. She used that knowledge to improve processes and teach others. Working as a Service Manager with year-over-year double-digit growth, Amy has learned one person cannot complete all tasks and master them 100%. She has done a great job learning her staff's strengths and works hard to keep staff members in the correct roles. It is an honor to have Amy as one of my service managers."
Amy adds about Cross that "Your growth is what you make it. If you have a desire and you work towards it, this is the place to be. We'll give you the opportunity!"
Amy's Career Path At Cross