Automatic Palletizing Using Robots
The Cross vertical palletizing and unpalletizing robotic solution offers a flexible solution to eliminate continuous repetitive motion tasks.  It has a small footprint, ideal for tight packaging lines and is agile enough to adapt with the ever increasing complexities of your business, eliminating permanent, single task equipment.
Critically, ergonomic-related repetitive motion injuries can create a taxing burden on a business.  Additional expenses related to initial medical claims, workers' compensation, loss in production time, insurance premium increases and paperwork processing all inhibit a productive environment and can cost up to $70,000.  The Cross palletizing solution automates the palletizing process by moving the heavy load requirements from a person to a repetitive machine.  Staff can then be allocated to higher value decision-based work that is less mundane.  With the proper risk assessment, most collaborative palletizing system implementations can work right beside human operators without the need for shielded work cells.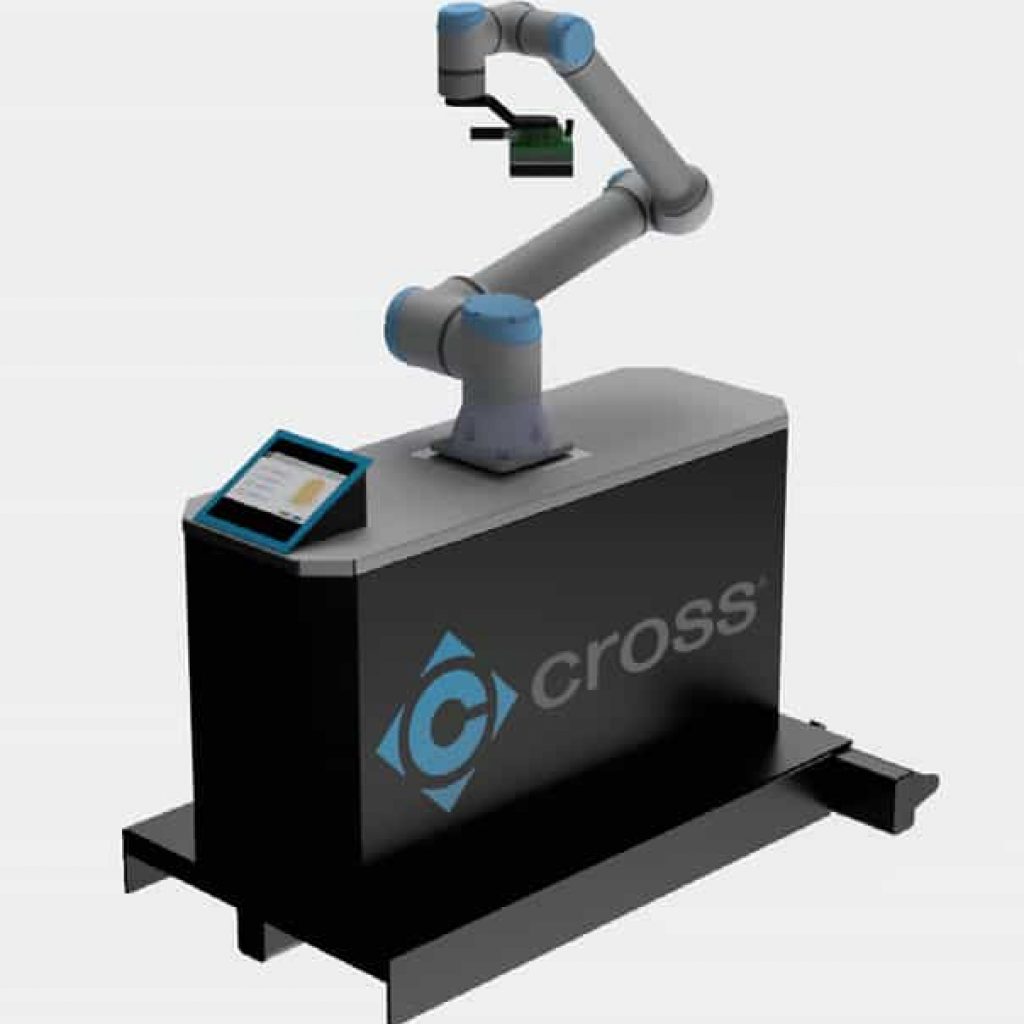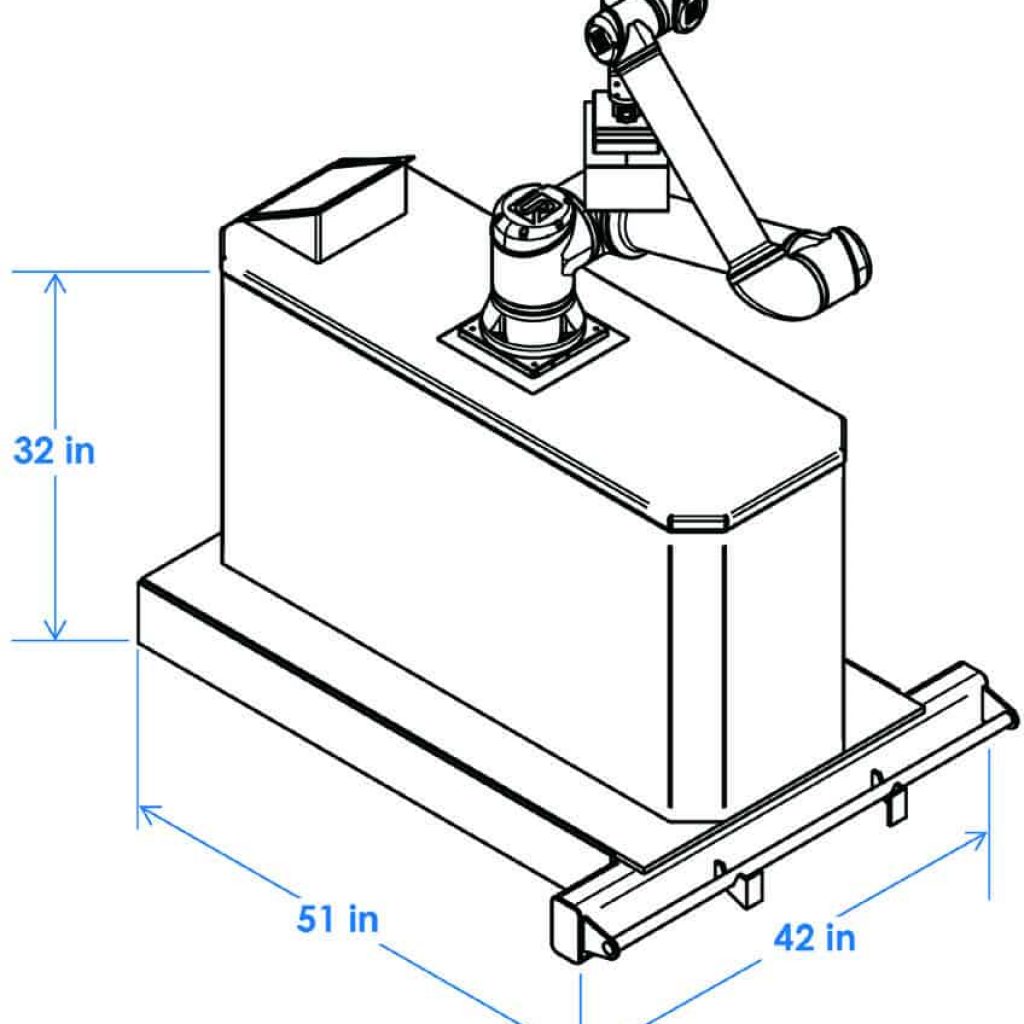 The Cross hardware solution leverages the ease of programming and deployment of a collaborative Universal Robotics (UR) system that can accommodate up to an 8kg product weight.  Both mechanical grip or vacuum suction cups can be customized for the end-arm tooling to fit the needs of your specific applications.  As your products change, the end-of-arm tooling can easily be swapped to accommodate your needs.  To extend the work envelope for a standard pallet size, an adjustable pedestal or 7th axis range extender is employed.  For optimum safety, the system features a Yaskawa functional safety unit to control the 7th axis speeds.
By only using flexible floor space, the system can easily be adapted to fit the size and weight requirements of food and beverage, consumer, and automotive products as well as mid-process palletizing.  Both single and multi-part stock keeping unit (SKU) handling per pallet are supported.  Product counting is used to identify either full or empty pallets while vision and other sensors can also detect product presence or absence.  A stack light status indicator can provide visual identification of process queues.  Alternately, an electronic signal can be used as a trigger alert.
The Cross robotics solution includes services for a turnkey system and a standard palletizing template to help mitigate any factory risk of adopting new technology.  This also allows new palletizing patterns to be enabled or redeployment as needed.  The Polyscope interface software offers teach pendant programming for further customization if required.
An on-site final acceptance test is performed after every system installation. Proof of concept services are available for unique parts, part presentations, or specific pallet configurations. Also available are customized training, concept evaluation, custom Cartesian solutions, maintenance and emergency support.
Current Cross customers report that the payback of their system is less than two years. For multi-shift operations, the payback can be much sooner. The flexible Cross vertical palletizing and un-palletizing collaborative robot solution will cut your production costs, eliminate ergonomic related injuries, and reduce quality issues.
Mobile – easy to move via a pallet jack or forklift
Easy palletizing software – enter key information and software calculates robotic movements. Does not require complex programming.
Utilizes collaborative robot which eliminates the need for safety fencing in most palletizing applications.
No wiring to conveyor system required
Pallet detection/location sensors
Standard vacuum gripper offering covers most palletizing applications
External compressed air is needed
Ability to customize end-of-arm tooling if needed
Learn more about Cross End of Arm Tooling options 
High Level Specifications
48" x 42" maximum pallet size (will accommodate smaller standard sizes)
62" Maximum pallet stack height
6"x6"x4" minimum box size
Maximum box weight: 16 lbs
Pick Speed: 8 boxes per minute
Power: 110 VAC Air: Compressed air source required with standard end-of-arm tooling.
E-Stop auto recovery
Easy Palletizing Software
Interested in sharing or downloading for later reading? Here's a downloadable PDF copy: Cross Vertical Palletizing Robot Solution. For more information about implementing a palletizing solution into your operation contact a Cross robotics expert to start a conversation! 
Learn more about Our Automatic Palletizing Solution