When talking with customers, it often becomes apparent that industry terms have different meanings for different people. One such misunderstood term is industrial hose, which customers assume only includes hose to carry air or gas. In reality, uses for industrial hose include abrasive materials, acid, chemicals, compressed gases, food, beverage, fuel, oil, steam, welding gases, and a number of other products. Let's walk through some of the most common types of industrial hose.
Air and Multipurpose Hose
Air and multipurpose hose is a versatile general purpose hose designed to handle air, mild chemicals, and water.  The hose inner tube is compatible with the light oil mists found in air tool lubricating systems. The multiple textile reinforcement provides flexibility. The cover is resistant to abrasion, heat, and the ozone.  The general purpose hose is available from 1/4 inch through 2 inch, with a variety of colors for ease of hose routing identification.
Common question: Can you get this in a hose assembly with end fittings attached?
Yes!  We stock assemblies in standard lengths, but will make custom lengths with ends that match your application to reduce the need for adapters.  If you prefer to buy in bulk and attach the fittings in the field, we can help you that too.
There is a wide variety of hose within the chemical hose category, but staying basic, chemical hose is used in high pressure or high temperature suction and discharge applications. We stock a hose designed to handle nearly 98% of commonly used chemicals, acids, and solvents. The cover is resistant to abrasion, mild chemicals, and the ozone.
Common question: How can this be used in both a pressure application and a suction application?
A dual wire helix is incorporated into the construction of the hose to give it full suction capabilities as well as handle pressure.
Food and beverage hose is typically used in applications involving fatty and oily foods, liquids, milk, potable water, and sanitary products. It's also used for in-plant and tank transfer, delivery, and transport.  The hoses meet the Industry Standards FDA, PMO, USDA, 3-A, NSF-51, and NSF-61.
Common question: Can you reuse a stainless sanitary fitting for a food grade application?
Yes, we often remove and reuse fittings by installing them with all stainless steel band clamps.
This is one of the widest ranges of products in the industrial hose line. Material Handling hose products are used in applications involving air – heating or cooling – drying, dust collection, filtering, exhaust, duct cleaning, textile fiber collection, cutting, and grinding just to name a few. One of the most used material handling hose applications would be pneumatic conveying systems for powder, pellets, or granular materials.
Common question: What types of industries use this particular product?
Injection molders, concrete plants, sand blasters, mulch sprayers, and vacuum trucks are heavy users of these products.
This hose is designed to handle oil and refined fuels like biodiesel, diesel, ethanol, gasoline, LP gas, or even hot tar and asphalt.
Common question: What kind of hose can handle biodiesel fuel?
The tube must be compatible with biodiesel and the best rated material for this application are special blends of nitrile, teflon, nylon, or viton.
Which Hose is Right for You?
There may be several choices of hose for your particular application and it may be confusing to make the right choice. The good news is that we have a team of hose experts ready to answer all your questions and help you select the right hose for your application. Contact us today to select the perfect industrial hose for your needs.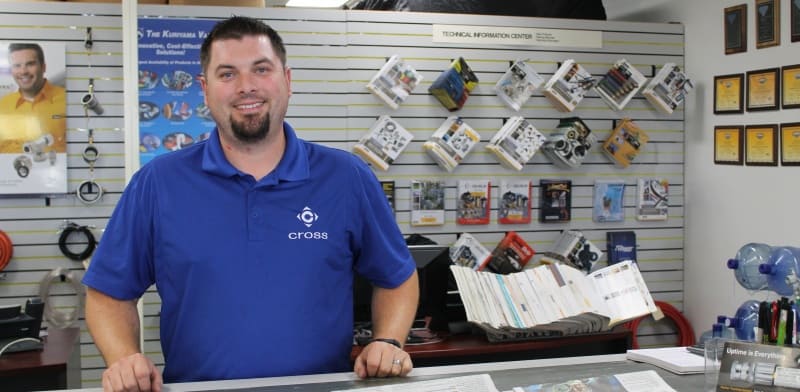 Here at Cross Hose & Fittings, you will find a wide variety of industrial hose suited for a range of applications. With our knowledgeable certified technicians, you can rest assured your conversion adapter from Cross is the best option for your equipment. 
Source an Industrial Hose Today!