Omron E2EW Proximity Sensors

Flexible and capable proximity sensors with I/O-link functionality
The recent increase in use of non-ferrous metals in manufacturing has caused part detection challenges for traditional proximity sensors. The use of non-ferrous metals such as aluminum helps to reduce weigh and/or cost for both simple and complex parts. However, if your proximity sensor fails to detect the part, it can result in damage and downtime.
The new E2EW metal face proximity sensors from Omron combine both long-distance sensing (three to four times sensing distance) and non-ferrous metal detection. Additionally, they can operate in welding environments without magnetic field and signaling issues.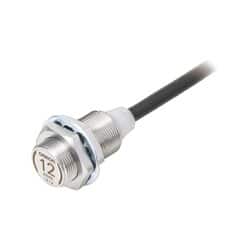 They promote flexibility. The E2EW families allow users to detect aluminum and iron at the same distance and standardize on fewer sensors.
They reduce error rates. The weld field immunity (WFI) feature allows E2EW sensors to operate normally in weld environments where magnetic fields can cause signaling issues for traditional proximity sensors.
They enable IIoT applications. The E2EW line uses IO-Link to help with sensor configuration and predictive maintenance.
They reduce the frequency of shutdowns. The E2EW sensors are full metal body sensors to handle difficult, collision prone environments, and ensure long service life.
See how our automation team can help improve quality, increase efficiency, and reduce risk in your operation