Modern HMI computers are now often using more and larger monitors. Dual screen configurations are common, and four or more screens on a single computer are not unusual. A 4K screen has a resolution of 3840 x 2160 pixels, equivalent to four standard (1920 x 1080 pixel) monitors in a square, all on one screen. 4K has the following benefits over the same pixel count split across more screens:
Cost Effective.
No borders in the middle of the screen.
Less cabling and other equipment.
Less complication in software dealing with multiple monitors.
Neat, classy look and feel.
HDMI carries audio to TV speakers along with video over a single cable.
However, the HMI software must be able to run "main screens" that don't fill up all the available space not taken by banners and menu bars. Make sure your HMI software is capable of this before moving to 4K screens (see below for more details).
A resolution of 3840 x 2160 is also known as Ultra HD, UHD, and 2160p. The designation "4K" also refers to 4096 x 2160 – the standard resolution for modern digital movie theater projectors. But TVs generally only have 3840 pixels across (6% less).
Selecting a TV / Monitor
The price of 4K screens dropped rapidly in 2013-2014, and as of 2016 are only slightly more expensive than a similarly sized 1080p screen. Prices seen in early 2016 include $250 for a 43" screen, and $400 for a 55" screen. Selection criteria for screens include:
Price.
Size.
Mounting method.
Compatibility with the computer. However, I recommend picking the screen based on the above criteria, then obtaining the necessary video card to achieve compatibility (see below).
Reliability is a factor, but I have not yet seen good MTBF data on any 4K screen. I also suspect most screens are constructed from the same few manufacturers, then packaged by the companies whose brands are seen on the bottom of the screen. I have had no problems from "off-brand" screens. And with the very low cost of screens, stocking spares for quick replacement is very practical.
Selecting a Video Card
An appropriate video card is required to drive a 4K TV. Considerations include:
Some high-end video cards require a separate power connection from the PC's power supply. Either make sure such a power supply and cable are available, or obtain a card without that requirement.
Ability to display at least 3840 x 2160 pixels. Note that some cards have different limits for different ports – make sure the port you plan to use supports the resolution you want.
Cabling. All 4K TVs have HDMI inputs. Make sure the display and video card support the same cable standard at the desired resolution and frequency.
Distance between monitor and computer. If they are within 50', a good quality HDMI cable will work fine. Above that may be a problem – you may need to move the computer or choose a different video format.
Frequency. Entertainment applications require a minimum of 60 Hz updates. 120 Hz or 240 Hz gives an even better experience, but 30 Hz is typically adequate for HMIs. HDMI version 1.4 will handle 30 Hz. HDMI version 2 will handle 60 Hz. Older HDMI versions below 1.4 will not support 4K.
Adequate graphics processing power and memory. But, if the above requirements are all met, this requirement will be met by default – if the card is rated to drive a 3840 x 2160 display at 30 Hz, it will have enough power and memory for the task.
Slot type. Most computers sold in 2016 have motherboards with PCI Express 3.0 bus architecture. Make sure the card you choose is compatible with your motherboard.
Slot height. Some computers have standard height slots; others have low profile. Some cards require standard height slots; other "low profile" cards will fit either type by swapping plates.
Multiple monitors. Typically with 4K, a single display is adequate – but if multiple displays are required, make sure your card can support them, or get multiple cards (making sure your motherboard has adequate compatible slots).
The two 43" 4K TVs in the control room pictured above are each driven by a computer with EVGA GeForce GT 740 2GB DDR3 cards (P/N: 02G-P4-2740-KR). This is a low-profile, single slot card with no extra power connection required, able to drive one 3840×2160 HDMI output at 30 Hz.
Orientation
A portrait orientation (as pictured above) is a great way to increase screen space in a control room. A 55" display mounted in portrait is about as wide as a keyboard next to a mouse pad. But, special mounting hardware is required and the view over the screens to anything behind them is restricted. If a view out a window or to camera screens mounted behind the main screens is important, landscape may be a better choice. And landscape requires no special mounting – simply set the screen on the desk.
HMI Configuration
Traditional HMI configurations usually include banners, such as for the most recent few alarms across the top or bottom, navigation menu bars, and key parameter bars. Then, when a "main screen" is opened, it fills all the space not consumed by banners on that screen. Multiple monitors are used to display multiple main screens.
A 4K HMI implementation must change this. Generally, all banner items can be consolidated to a single banner. A banner on the bottom is ideal, as the top may be too far away from operators' eyes to be clearly read. The top areas of screens are better utilized for trends or gauge displays that don't require text to be easily read. Then when main screens are displayed, they should consume only as much space as they need, so that they "float" in the space available above the alarm / menu banner. In this sense they may be configured similarly to popup faceplates. In this scheme, there is no reason for all main screens to be the same size – busy screens may be configured larger, while sparse screens may be shrunk to consume less screen space.
Screens should be movable by the operator and configured to appear where they were last placed by the operator.
Engineering Workstations
A 4K TV can also enhance an engineering workstation.
Old and busted: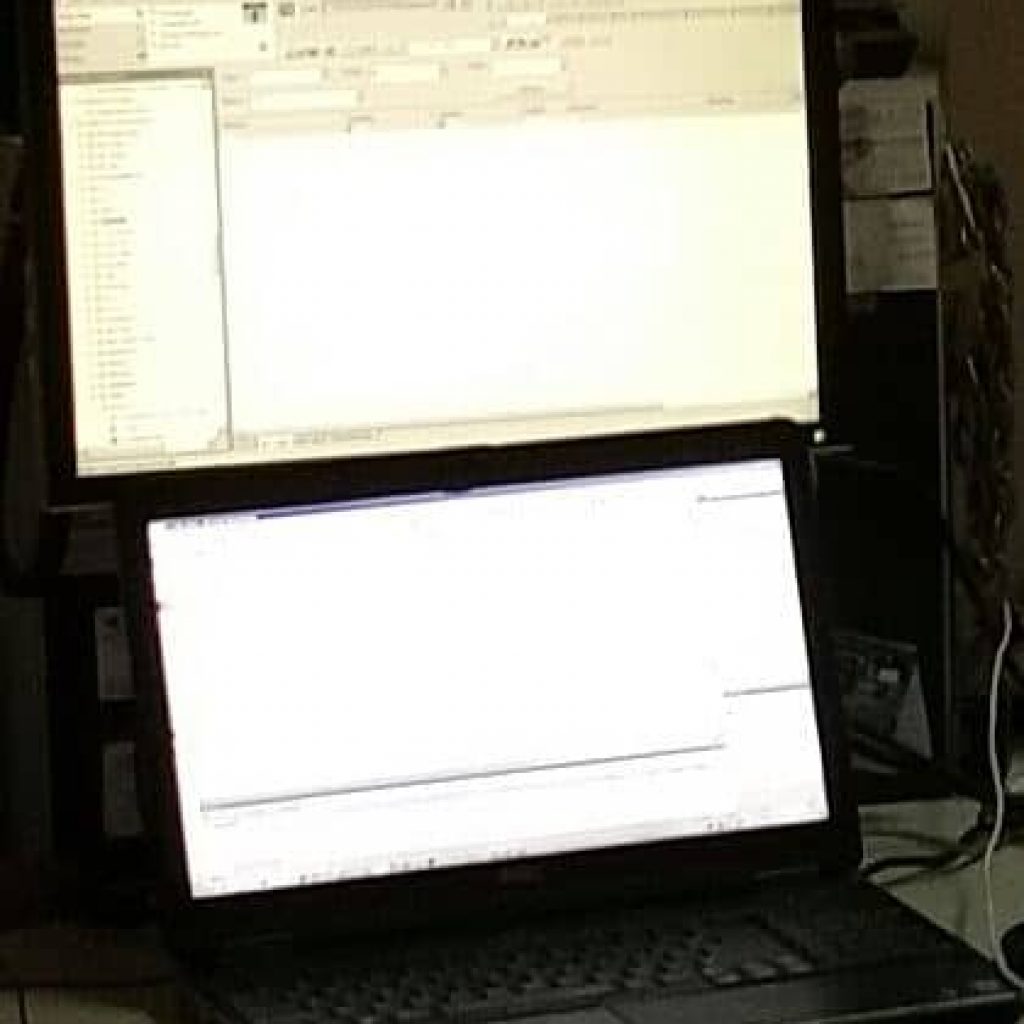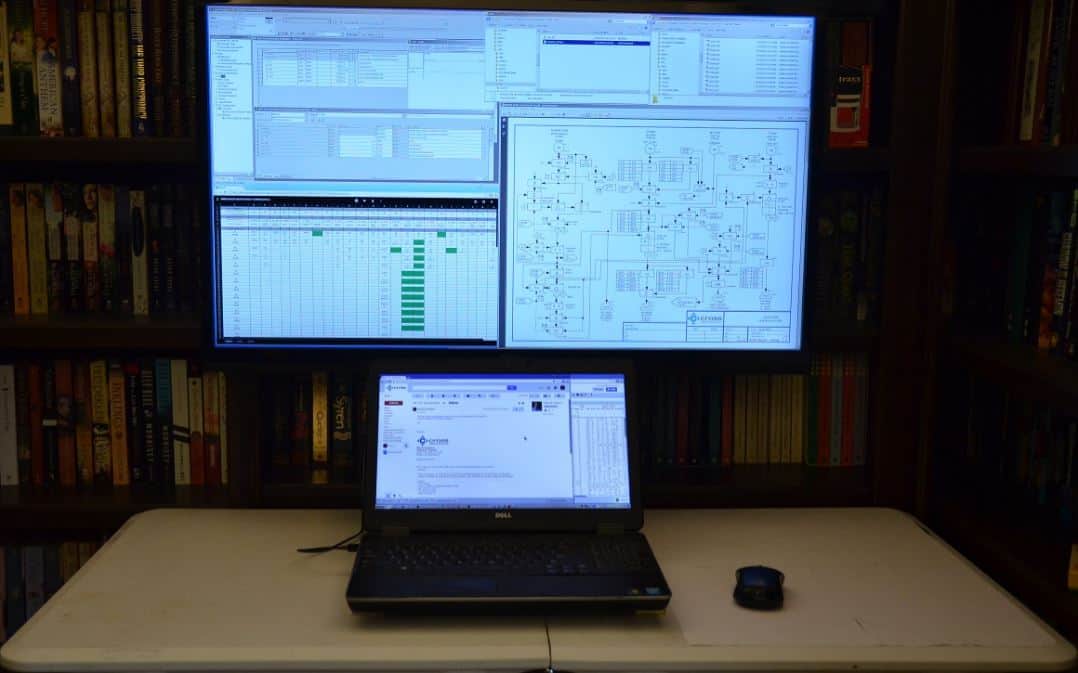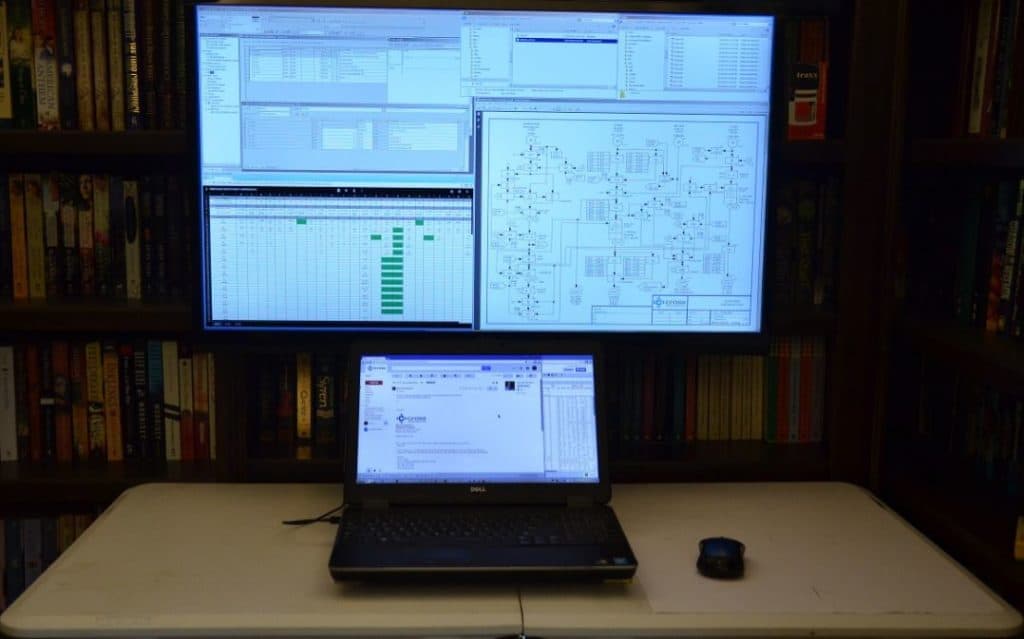 Summary
4K TVs represent a cost-effective step in supporting superior operator performance by displaying more relevant data in a more simple, clean fashion.