Land Ametek's VIRALERT 3 is a cost-effective solution for taking temperature while maintaining social distancing.  It is the first IR temperature monitoring system to provide a camera and a temperature controlled reference source on a single mounting.  This provides continuous calibration to ensure accuracy while keeping the system easy to use.  The thermal imaging and visual camera are in a single housing with an  installation time of less than 30 minutes by an untrained user.
Some unique advantages of this system include:
Quick and simple alerts: green for go, red for alarm display in less than 2 seconds
1 week lead time
Single compact system and mount eliminate errors due to measurement distance
Can be used indoor or outside as reference standard can be adjusted to accommodate hot or cold ambient conditions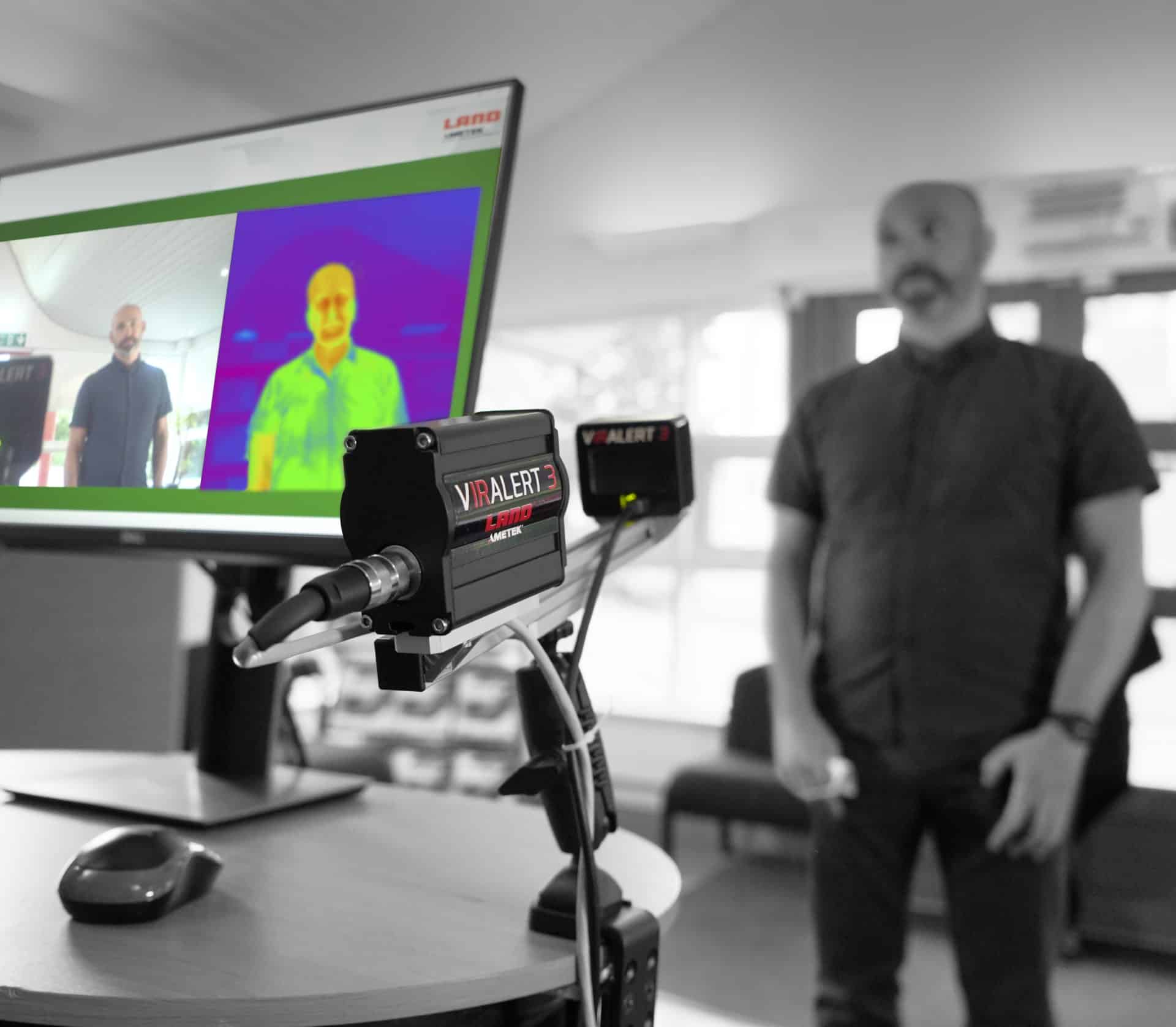 Accuracy: +/- 0.5⁰ C (+/-0.9 ⁰F) at a distance of 1 meter
Software: Continuous live thermal and visual impage with automatic face detection.  Abnormal high temperatures displayed in red, with on-screen and audio alarms.  Calculates core temperature from measured skin temperature.
Imager: Connects to a local PC for display and power.  Operates between 10-50⁰C (50-122⁰F)
Imager visual: CMOS color sensor 1.2MP (1280×960) resolution at 50 fps
Imager thermal: With a measurement range from 30-45⁰C (86-113⁰F), the imager has a 39 x 31⁰ field of view, frame rate of <9H and temperature resolution of <0.12⁰C (<0.22⁰F)
Blackbody reference source: Powered by a 5V DC (USB) from a universal power adaptor, the fixed temperature reference source is at 38⁰C (100.4⁰F) for a combined accuracy/stability of +/-0.2⁰C (+/-0.3⁰F)