This is an Efficient World Class Platform
Parker is a valued supplier-partner with Cross Company
Message from Mike Holland:
For end users and OEM's alike, Parker's newly released PAC controller hit's it out of the park! Parker really did their homework on this one. They've combined machine control, motion control and visualization all into one compact, well thought out piece of equipment. They provide easy access and versatile programming options that make this product ideal for end users. Additionally they've included visualization and virtually unlimited axis control at an extremely economical price making this an ideal choice for OEM's. Couple all of that with Parker's history of proven quality and technical expertise (did I mention free software!) and it's easy to see why this innovative product is generating so much activity. 
This is a great example of how Cross Company-Automation Group continually seeks out and delivers leading edge technology to our customers. For more information on how this product and many others can be applied to your applications please contact us directly at 800.866.4568:
Powerful, integrated, and designed for the global machine market, the Parker Automation Controller (PAC) provides OEMs with a standards-based automation solution designed to tackle the most demanding applications.
ThePAC consolidates advanced logic, multi-axis motion, signal handling, and web-published visualization into one performance driven solution, thus eliminating the need for unnecessary hardware and communication links, and increasing developer efficiency.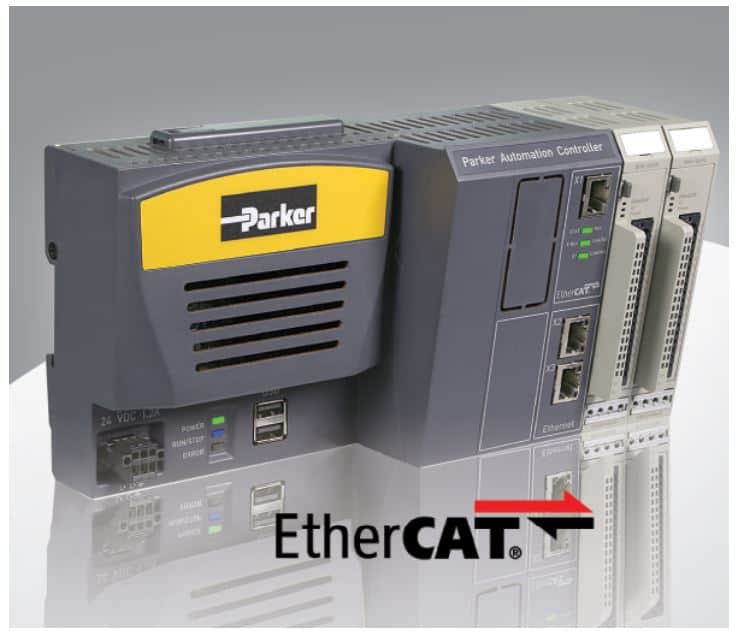 The PAC employs the industry leading EtherCAT communication protocol for motion, I/O, and third-party device connectivity. Combined with the Parker Automation Manager IDE for application development, the PAC provides OEMs with an engineered solution for the most demanding applications. It is a single intuitive environment for application development, industry standard programming,machine-to-machine communication, network separation and Intellectual Property (IP) protection methods.
With the standard dual LAN capability for network separation, built-in OPC Server, Modbus TCP functionality, and the ability to integrate directly into Ethernet/IP and Profinet networks, the PAC provides unprecedented connectivity for complimentary devices and network isolation for IT professionals.
Engineered for Demanding Industrial Environments
The solid state design is precisely engineered for demanding industrial environments. The powerful, yet energy efficient Intel® AtomTM processor allows for fanless operation while supporting dual-cores, 64-bit instructions,and Hyperthreading technology. Coupled with the removable, solidstate SD storage media, all moving parts have been eliminated for a robust, industrial grade control solution.