Parker is a valued supplier partner with Cross Company
Message from Mike Holland:
For end users and OEM's alike, Parker's newly released PAC controller hit's it out of the park! Parker really did their homework on this one. They've combined machine control, motion control and visualization all into one compact, well thought out piece of equipment. They provide easy access and versatile programming options that make this product ideal for end users. Additionally they've included visualization and virtually unlimited axis control at an extremely economical price making this an ideal choice for OEM's. Couple all of that with Parker's history of proven quality and technical expertise (did I mention free software!) and it's easy to see why this innovative product is generating so much activity. 
This is a great example of how Cross Company-Automation Group continually seeks out and delivers leading edge technology to our customers. For more information on how this product and many others can be applied to your applications please contact us directly at 800.866.4568:
The PAC I/O System Comprises a Variety of Modules for Digital, Analog and Temperatures Signals as well as Communication Interfaces
The modules connect directly to the controller via the built in EtherCAT bus for local architectures and are extended to remote locations via the extender and bus copuler modules supporting both local and distributed I/O architectures.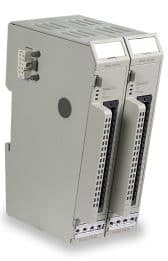 PAC I/O modules feature a removable cage-clamp terminal design which provides for easy wiring and assembly and allows for
the removal and insertion of modules without interfering with wiring
LED status indicators for the EtherCAT bus
I/O, power and each signal channel
front-face shield-grounding to the din-rail
removable label inserts
easy access front mounted module disconnects
laser etched identification and schematic information
PAC I/O communicates natively on the EtherCAT bus and is unencumbered by protocol converters providing the full functionality and throughput of high-speed EtherCAT to meet demanding I/O requirements.
Accessories and Options
Communication Options
The PAC emloys the industry leading EtherCAT communication protocol for motion, I/O and 3rd party device connectivity. Along with EtherCAT, each unit also comes standard with Modbus TCP, an OPC Server and dual LANs for network separation.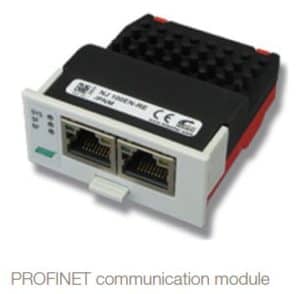 To compliment the standard protocols, the PAC provides options for Ethernet/IP, PROFINET and PROFIBUS allowing the PAC to integrate directly into Ethernet/IP and PROFINET networks for machine-to-machine communication.
EtherCAT
Ethernet/IP
PROFINET
PROFIBUS
Modbus TCP
OPC Server
Dual LANs