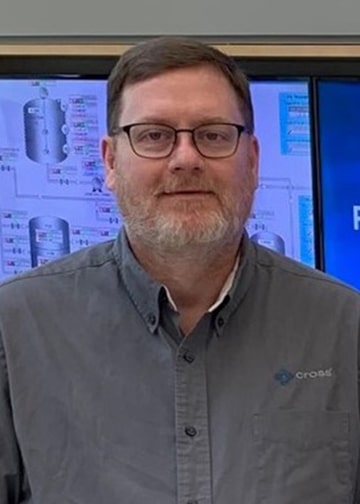 "Working for a place where I am also an employee-owner is the opportunity of a lifetime. I appreciate that Cross promotes from within and has a position that best fits what I'm looking for. Cross has given me the tools I need to grow and expand my knowledge. It truly is the best company I have ever worked for."
Ronnie started his career in the Air Force including time as a Crew Chief of an F-15 fighter jet. That knowledge gained about valves and hydraulics has translated well to his work at Cross. Ronnie joined Cross when Automatic Control Technologies was acquired by Cross in January 2000. At the time he was a warehouse manager.
In the warehouse, much of his time was spent building automated valve assemblies. The knowledge he gained in valve automation landed him a position on the Inside Sales team in 2003. Ronnie's favorite part about working inside sales was the relationships he built with customers and prospects. In his new role, Ronnie continued training and assisting the valve automation warehouse staff. Through his commitment and expertise, Ronnie became Valve Automation Manager in 2018.
His passion for helping others gave him the opportunity to be more involved in the company.
Ronnie was nominated by his colleagues to represent the group in the Cross Employee Owner Committee (CEOC). "Being a member of the CEOC for four and half years gave me the opportunity to learn more about Cross and have a deeper appreciation for our company culture."
In 2022, Ronnie was promoted to a role in outside sales as an Account Manager. When asked about Cross Company and his career journey Ronnie remarked, "Working for a place where I am also an employee-owner is the opportunity of a lifetime. I appreciate that Cross promotes from within and has a position that best fits what I'm looking for. Cross has given me the tools I need to grow and expand my knowledge. It truly is the best company I have ever worked for."
Ronnie's Career Path At Cross