Rexford grew up in Minneapolis, the oldest of eight children. He graduated from Millsap College with a degree in computer science and was hired by J.A. King for Nissan in Canton, MS immediately afterwards as a database engineer. In this role, he supported the quality control system and the QC technicians in their work with the automotive manufacturer from 2012 to 2015.
At one point, the customer needed some code written quickly and Rex was able to do it. They liked it so much that Nissan offered him a job. He talked to his boss at the time, Tim Barksdale, about what he should do and concluded that he liked the people at J.A. King more than those at Nissan, so he stayed with us. Shortly afterwards, he was promoted to Embedded Netsuite Developer, working with the large J.A. King embedded locations. Not only did he get to travel quite a bit and meet lots of people, he also moved to Nashville to work remotely when he wasn't at a plant. As he put it, "I was remote before remote was cool!"
In 2017, Rexford was promoted to the Interim IT Manager, which included all of his former role, as well as responsibility for non-embedded Netsuite and ordering equipment. He remembers his first day on the job vividly, as KingCal broke and he had to fix it, having never programmed in that language before. "It was a whole lot!," said Rex.
Shortly after Cross acquired J.A. King, the Enterprise Systems team (ES) was formed. He was a Netsuite Developer on it from 2018-2021. Rex is now our Netsuite Solutions Architect, heavily involved in the Phoenix project. In this role, he partners with the business groups to define their requirements for the system. Once he understands what's needed, he develops the technical spec and then leads the development team to make it happen.
Rex believes that "people are fun and endlessly complex. I think it's fun finding out how people talk to each other and then breaking that down into code." He is also a strong believer in advocating for yourself. "Figure out what you want and what the business needs, and then push for it," he said.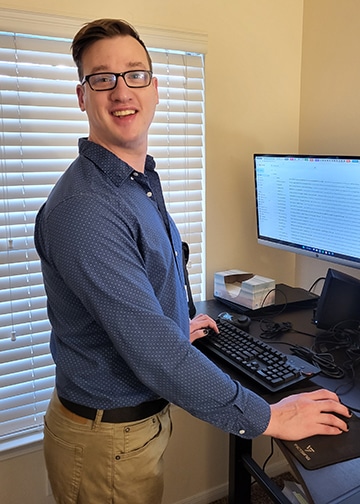 Rex credits his success at Cross to feeling like he has a voice.. "I like working here. My manager has always taken care of me and made sure I was doing interesting work."
Said Robb Hogg, Director of IT and Rex's manager, "When I first joined the ES Team, seemingly every request started with "I need Rexford to come spend a week with us" or "I need Rexford to visit a customer with me." It didn't take me long to figure out why he was in such high demand. He is extremely bright, humble, curious, and empathetic. This makes him really, really good at understanding what people truly need and consistently delivering more than they ask for."
"Since the acquisition of JA King in 2018, Rexford has grown from being an individual contributor into a force multiplier that makes the entire Development team better. He has recently taken on a formal mentorship role, investing in the technical and professional growth of others on the team. He has also demonstrated great leadership in helping us discover and implement new tools and processes to make our software better and the team more efficient. Rexford is also a key leader on our Phoenix project. He is the fulcrum on which we balance evolving business processes with custom solutions that our ES team builds for today and the future of Netsuite," he continued.
"Simply put, he is a fantastic representation of the Cross culture, is a great teammate, and we are all excited to see his continued growth and impact on the future of our business," Robb concluded.
Rex's Career Path At Cross