Dan Potter grew up in California before moving to Chattanooga at age nineteen to start his own sign company. Five years later, he sold the business and went back to school. Dan started with Cross in 1993 as a part-time warehouse associate, working his way through college. (At the time, Cross had fluid power branches all over the Southeast, including Chattanooga.)
While working in the warehouse, Dan was approached by regional operations manager Randy Hardy to participate in a training program for operations managers, based in Birmingham. He accepted and made his first of many moves for the company. The program was fairly short-lived and Dan proudly points out he was the one and only person to ever have that role!
The first office to have an opening for a newly trained manager was in Norcross, GA, so Dan moved to the Atlanta area to become the operation manager there. However, he quickly realized that he wanted to be in a more technical, sales-oriented role, so he moved to Greensboro as a telephone account manager.
In 1998, Dan accepted an account manager role back in Chattanooga. After a short eighteen months, the Potters picked up sticks again when Dan accepted an engineering account manager position in Birmingham. This proved to be Dan's sweet spot and he was in the role for fifteen years and the moving boxes went away.
When Mike McVay succeeded Rock Able as the group president for Mobile Systems Integration, he tapped Dan to be one of two regional managers, which he did for five years. In 2019, two of his salespeople retired and, faced with having to train two new people, Dan stepped into the role himself. This allowed him to do the technical sales that he loved but not traveling quite as much.
Dan credits his success at Cross with a hunger to learn everything about the role. He said ,"I was one of the last account managers hired without a degree, so I always felt at a bit of a disadvantage, that I had to work extra hard to make up for it."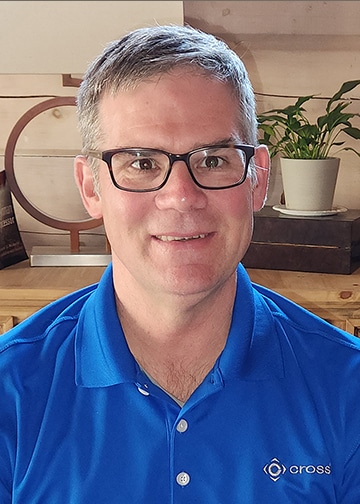 Said Mike McVay, "Dan is one of the hardest working and most dedicated Account Managers I have ever worked with. Dan has consistently demonstrated a commitment to Cross's core cultural values of servant leadership and customer focus. In his most recent role change, Dan has stepped into handling our single largest customer, Sherman and Reilly, and has done a fantastic job of keeping the momentum going after the retirement of their previous Account Manager. His customer focus and technical expertise have proven to be a key differentiator for him and continues to pay dividends in winning new business for Cross."
Dan values the culture at Cross and the benefits of employee ownership. "The culture really supports close knit friendships, " he said.
Dan's Career Path At Cross