Brooks to Meinecke –
Model Number Conversion Tool
Meinecke Meters were private labeled under the Brooks Instrument name for over 30 years, but were strategically dropped from their product offering in 2002 as they moved into the low flow, flow measurement market.
Today's WP/Dynamic Meters are the current day version of the WP-QF series meters that were sold by Brooks Instrument. They are also drop-in replacements for the older Brooks Meters. Use the chart below to convert your older model number to the current day version of your turbine flow meter. Even if you don't know your older part number, use the meter's features to build a current Model Number.
Step 1: Start with the meter itself… Cold Water flow meters are painted blue, they were and are still rated to 122°F; Hot Water Meters are painted red, they were and still are rated to 266°F. Start there!
Step 2: Not sure you chose the best match for your older WP-QF Series Meter? Call us! (866)905-7790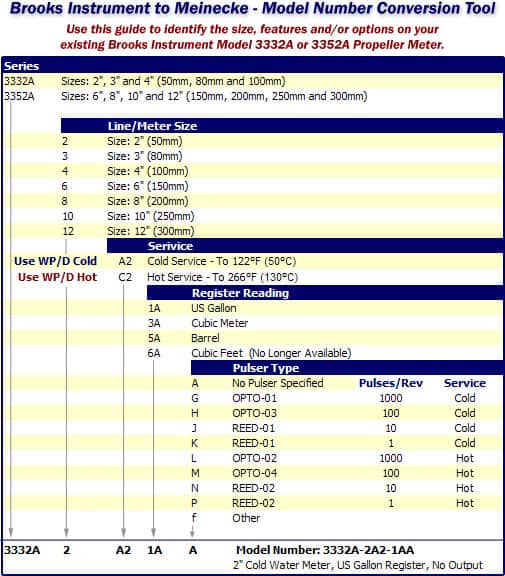 Are you interesting in learning more? Fill out our contact form with some details of your application and we'll have a specialist get in touch! Also, learn more about Meinecke as a products and solutions provider for Cross.