Obtain Measurement of Tank Level With Groth Thief Hatch
Despite the wonders of modern instrumentation, there are often times when you really need to physically "see or feel" a process variable. A gauge hatch on the roof of an atmospheric tank provides you with the means of doing just that. This small hatch conveniently opens up so you can drop a measurement device (such as a calibrated "stick") into the tank, to quickly obtain a physical measurement of the tank's level. These hatches are just small enough to take a measurement or process sample but not large enough to fit a person.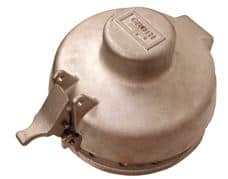 Groth offers the 6000 and 6100 gauge hatch for such uses.  However, until now, neither of these units has had the capability of being set.  Groth offers the Model 12-TH Thief Hatch which has the ability to have pressure and vacuum settings added to it while still fully functioning as a gauge hatch.
For many years Groth has offered protection for API 620/650 tanks (typically larger tanks) as well as smaller API 12 series tanks (which hold less than 750 barrels). You may have several of these in a row or cluster at your location which are known as tank farms or tank batteries.
As a low cost option to protect them,  the 12-TH Thief Hatch is the perfect solution.  It has a spring loaded pressure/vacuum relief valve incorporated within the device and possesses an active envelope gasket that actually expands with pressure.  In fact, each unit is quality tested to ensure it can get 1 SCFH at 90% of set pressure.  This means less leakage to the atmosphere and more money in your pocket!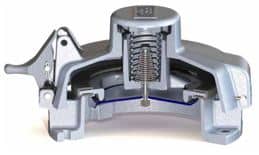 Regulatory compliance inspectors are like everyone else, they like the easy pickings of "Low Hanging Fruit" and thief hatches fit that bill. Inspectors will gravitate toward hatches because leaking and unsealed hatches can be found easily and written up. Often the inspector will check hatches first.
A leaking hatch is a failure to control emissions which is found in all enforcement actions. It can be the first "Gotcha" to get the ball rolling in searching for more site violations. The 12-TH with its ultra-tight seal is extremely important in avoiding those violations.  Maintaining your thief hatches gives a first impression to the inspector that this site is run properly; it is a basic good housekeeping standard.
The bolting pattern on an API 12 tank is unique.  The 12-TH Thief Hatch is manufactured to meet that bolting standard and will mate nicely to your tank for an excellent fit. As a matter a fact, the 12-TH Thief is designed for very easy mounting.  Anything you need to do can be done in the field while it's sitting in place.  
When you're able to do that, it reduces downtime and operational costs.  We can even provide you with a complete set of bolts to bolt your unit to your tank.  Flange gasket kits & maintenance kits (repair kits) which consist of springs, soft goods and retainer clips are also available.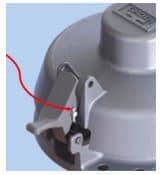 In order to operate this the 12-TH Thief Hatch as a as a PVRV, you will need to lock down the lid in order to keep the unit spring loaded.  This mechanical locking system will suppress the spring under the cap and must be engaged at all times.
If you wish to lock out anyone from having access to your tank, there is also a convenient place to add a padlock or lock out bar, securing the tank safely.
The 12-TH Thief Hatch has a very high flow capacity and is a direct replacement for the 8" API 12 gauge hatch.  It is made of very good corrosion resistant material and is good for elevated temperatures.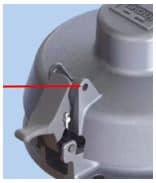 Highest quality on the market
Highest flow rates on the market
Lowest leakage product on the market
Factory tested at 1SCFH at 90% of set pressure
Low/easy maintenance can be performed right on the tank
Complies with API 2000 and API 12 standards
Maximum lead-time is 5 working days with some averages settings on the shelf for next day shipping
Wherever liquids or gases are processed or stored, wherever the world depends on safety and environmental vapor control solutions … We are there!  Give Cross Customer Service a call to discuss the Groth Model 12-TH Thief Hatch in detail.  We look forward to servicing you.
Start a Conversation With A Cross Expert