A Perfect Solution for this Pick & Place Application
Recently I was in a meeting with a large Machine Builder in North Carolina discussing a potential Pick and Place application.  Their customer had specified that the Motion Control would need to be done in their Allen Bradley ControlLogix PLC so I was going to work with them on a traditional three axis gantry (Belt and Ballscrew Driven Actuators, Gearheads, Bracketry…).  We discussed their application details (Stroke, Cycle Time, Load…) and I asked what their dream solution would look like.  Their response was;
"Ideally we would use a 5 or 6-axis robot, but the customer has specified that the control must be done in their ControlLogix PLC.  They do not want to support another robot controller and programming language"
Immediately I knew that we had a perfect solution, the Motoman MLX100.
The Motoman MLX100 Robotic Gateway enables programming directly from the Rockwell Automation – Allen Bradley RSLogix software environment with Add On Instructions (AOIs). This provides a Unified control (see image below) architecture for robot control, motion control, logic, and communications. The Motoman MLX100 brings together the widely used and accepted Allen-Bradley ControlLogix controllers with proven Motoman robots that range from 4-7 axis articulated arms and 5-300kg payload capacities.  Motoman is expecting to release this for the CompactLogix PLC's in the coming months.
Traditional Control vs Unified Control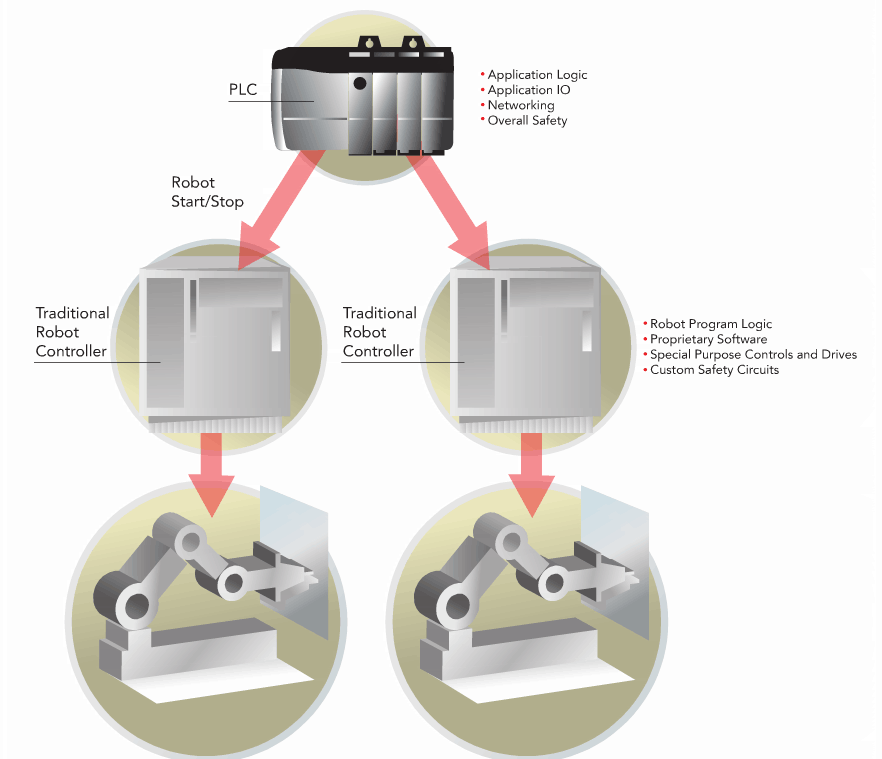 Designing a robotic system is a mixture of engineering and art. A combination of machine, robotic, vision, safety, and servo motion control all have to be linked together.  These robotic solutions are then integrated into the user's production environment. Designers of these Industrial Robot based machines, or workcells, have typically thought of three main components:
The PLC for Application Logic, IO, and safety
The Robot Controller to program and control the robot, typically using proprietary software
The Industrial Robot Arm or Positioning System to physically interact with the rest of machine
This is the Traditional form (seen above) of Robotic Control and it has been the standard since the conception of the Industrial Robot. This form of robotic solutions has been successful in thousands of applications ranging from pick and place to welding.  
With the Unified Robotic Motion Control approach we eliminate the proprietary Robot Controller and utilize Industry Standard components. This is where the Motoman MLX100 Robotic Gateway comes into play.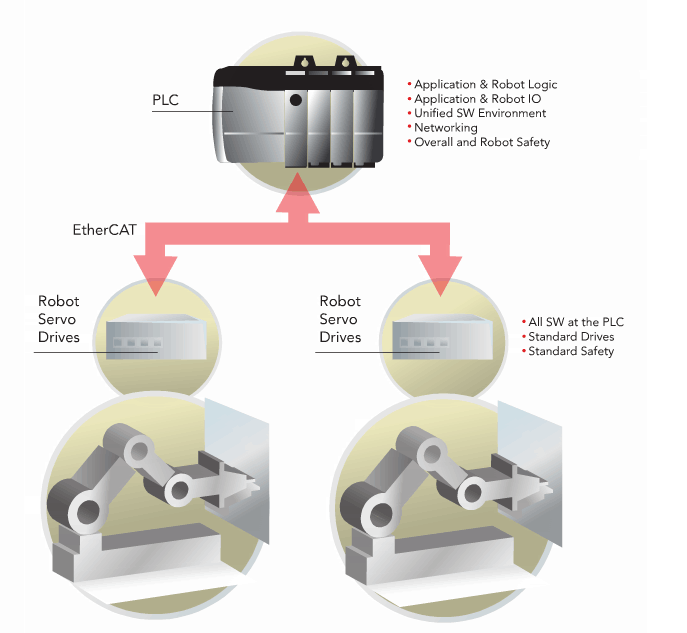 How does Unified Control help OEM & System Integrators and End Users?
OEM & System Integrators
Reduce the time and labor required to develop robotic solutions. The Machine Builder mentioned above estimated that they could save $4-5k per machine by being able to re-use robotic code and utilize the Allen Bradley ControlLogix that they are already comfortable with (rather than learning a proprietary robot controller).
Utilize your current PLC programmer's RSLogix knowledge by implementing the MLX100's Add On Instructions into the Allen Bradley software.
Lower machine costs by eliminating the Robot Controller and using off-the-shelf components (ControlLogix, Yaskawa Servo Drives, Ethernet Cables…)
Increase the customer's ability to service machinery by using industry standard components. This enables the end user to take ownership in their machinery and stock spare parts to reduce down-time.
End User
Decrease overall long-term costs due to leveraging the large knowledge and install base of Allen Bradley ControlLogix at most US based manufacturers
Potentially eliminate the need to hire a 3rd party for troubleshooting and support
Utilizes industry standard Yaskawa EtherCAT Motion Control Servo Drives making replacement/spare parts easy to stock and purchase
What type of applications are suitable for the Motoman MLX100?
The Motoman MLX100 comes pre-configured for a wide range of Motoman's robots ranging from 4 to 15 axes, payloads from 2-160kg, 3+ meter reach, and the capability to control two robotic arms. The integration of these products lends itself to pick and place type applications like: assembly, part transfer, picking, sorting, kitting, case packing, palletizing, and de-palletizing.  It even has preconfigured tools that integrate with standard Machine Vision solutions allowing it to be used in applications requiring vision guidance and line tracking.
However, the MLX100 is not the 'be-all and end-all' solution for every type of Robotic application.  If your application requires advanced path following used in welding, painting, dispensing or material removal, you are probably better suited with a Traditional Robot Controller like the Motoman DX100.  
Or you may need an industrial robot arm that is able to work side by side with humans, safely and efficiently.  For that we have a line of Cage-Free Industrial Robots from Universal Robots.
Download data sheets for the currently supported Motoman robots:
The initial purchase of robotic solutions are only a portion of the overall long-term costs. Since the Motoman MLX100 eliminates the need for yet another programming environment, you can immediately leverage your current support and maintenance staff that are likely already trained on Allen Bradley ControlLogix that you may already have at your facility. This can drastically reduce time required to get the machine up and running as well as wipe out the need to hire a 3rd party for troubleshooting and support. For the first time, companies can deploy and support a broad range of robotic solutions with their existing staff and take ownership of the robot software.