Get the most out of our LD mobile robot fleet
Omron's next-generation Fleet Operations Workspace (FLOW) Core software package offers an all-in-one solution for maximizing the capabilities of of your LD mobile robot fleet. Updated features included advanced navigation and mapping, intelligent fleet management, efficient charge management, and easy integration with existing IT systems.
Omron's FLOW Core software package will help you to increase flexibility, efficiency and productivity, simplify the integration and operations of LD robots and fleets, while maximizing reliability and uptime.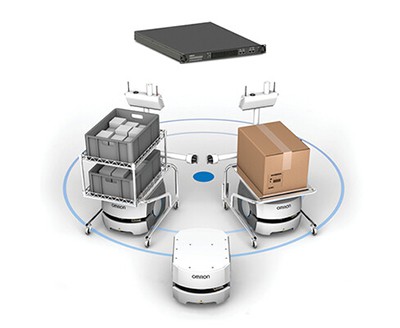 Intelligent job assignment with queuing management
Single software suite with easy MES integration
Powerful tools for map creation and editing
Task definition and assignment tools
Managed motion and efficient traffic control
Dynamic obstacle avoidance with real-time trajectory predictions
Cell Alignment Positioning System (CAPS) for improved accuracy
Easy integration with IT systems (MES, ERP and WMS)
See how our automation team can help improve quality, increase efficiency, and reduce risk in your operation