Omron CP2E Series Micro PLC

A small programmable controller with lots of functionality
The Omron CP2E Series is an all-in-one controller that provides advanced control that enables IIoT connectivity for compact machines. This small controller can help improve your productivity and quality by making it easier to track performance and data with simple programming.
Tracking data on smaller machines is often difficult because it requires an expensive controller to make it IoT ready. The CP2E is a cost-effective solution that can give you IoT connectivity for compact equipment. Almost anyone can set up these to perform complex control utilizing the predefined data and function blocks to collect and share data with your enterprise network.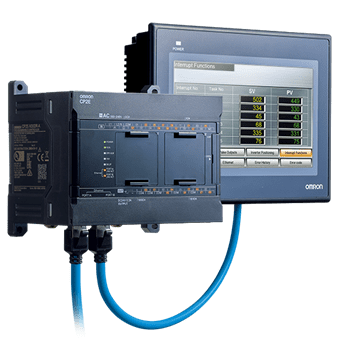 Improved connectivity for Ethernet and serial devices. The CP2E has two Ethernet ports with Ethernet switching function: host and HMI connectivity. Up to three serial ports are available for open connectivity to serial devices.
Reduced effort for the setup of complex machines. Function blocks make it easy to achieve 4-axis positioning function with linear interpolation, and the CP2E also provides a PID control with autotuning function block for stable temperature control.
Simplified troubleshooting. The CP2E's input/output terminal LED indicators ensure quick and easy root cause identification, while the controller's ability to automatically detect and recover from bit corruption increase machine efficiency and avoids CPU stops.
Increased peace of mind. The CP2E is a reliable "install and forget" solution for demanding environmental conditions, as its extended operational temperature increases reliability in special applications and its battery-free operation reduces maintenance costs.
Two built-in Ethernet ports with Ethernet switching function: Ready for Machine to Machine communication (CP2E-N type)
Up to three serial ports: Open connectivity to serial devices (CP2E-N type)
Four-axis positioning function with linear interpolation (CP2E-N type)
Battery-free operation and backup reduce maintenance
Function blocks and structured text improve programming efficiency
Operating temperature range from -20 to 60 °C for reliable use in special applications
Input/output terminal LED indicators for quick troubleshooting
See how our automation team can help improve quality, increase efficiency, and reduce risk in your operation